The ferry trundled through the water towards Istanbul. The city slowly rose up from the horizon, a disorganized collection of three, four, five-storey flats, minarets, occasional greenery, and a myriad of other towers. By the time we were thirty minutes out, it fully occupied one half of the horizon. Eighteen million people, all living in one city – it's too big to comprehend – that's almost the entire population of Australia. On the ferry I met a Dutch guy working at an interior decorating firm for high-end products. His most memorable assignment had been a down-to-the-wire job in Ibiza, designing, sourcing, and installing the curtains in David Guetta's house. His clients were the kind of people who would fly Dutch people out to New York just to put up the curtains, rather than have someone local do it. He had been in Bursa checking out his employers' handmade carpet factory; apparently the operation was 'very Turkish': he reckoned EU safety regulators would have had a heart attack, and the man showing him around offered a different factory for half the price.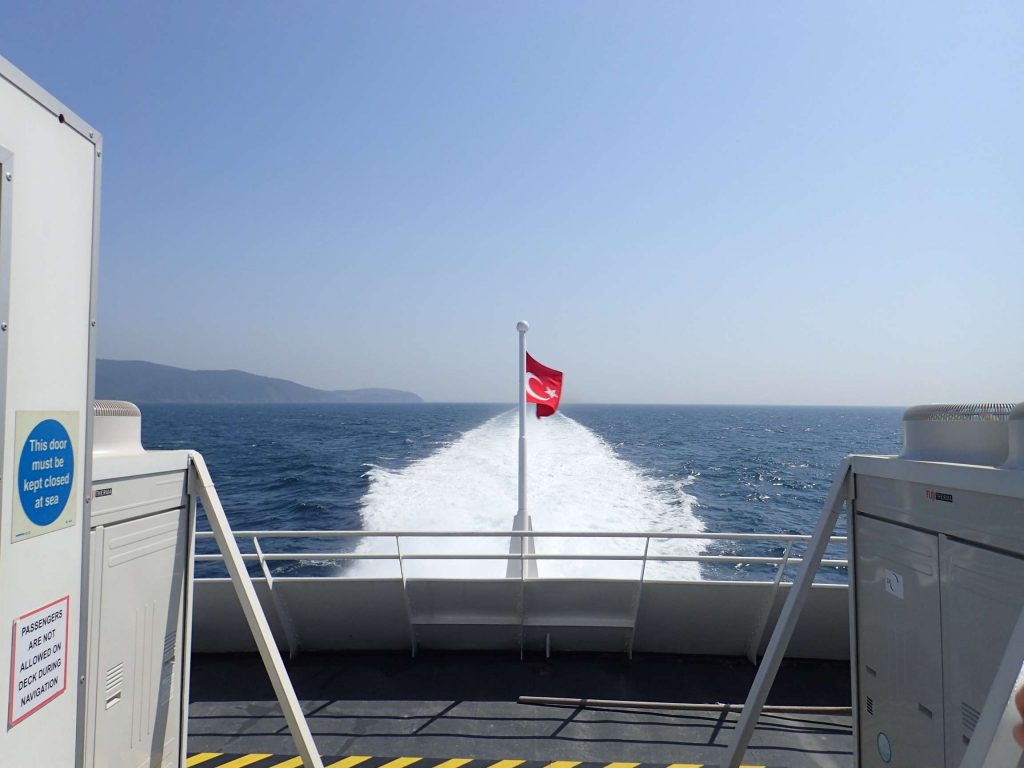 Arriving at the ferry terminal, I caught a tram to Sultanahmet district, where I had looked up a hostel. At 32 lira per night it was very highly reviewed, but I only ended up staying one night here. The hostel staff seemed to be more interested in upselling Cappadocia/Pamukkale/Ephesus tours and chatting with female guests than cleaning or maintaining a nice atmosphere; there were ants in the sugar and the air-con in the room was broken. This, plus my Turkish friend's suggestion to move to the more central Cihangir district, was enough to make me move after a night.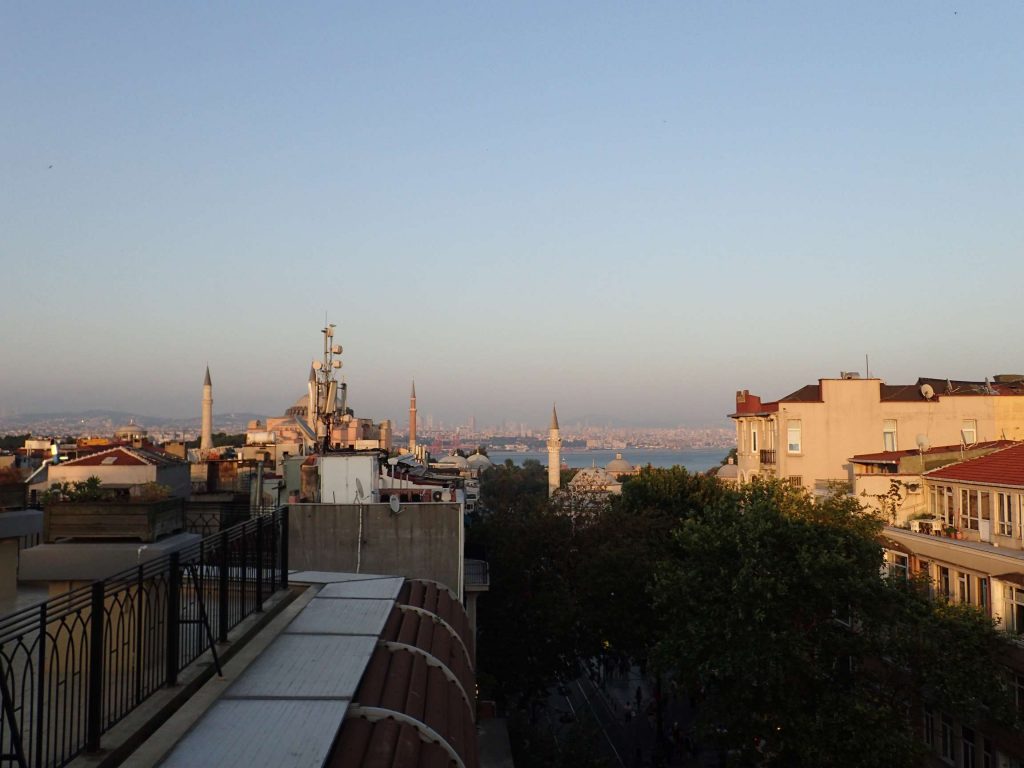 Sultanahmet is the tourist centre of Istanbul, the kind of place where everyone wants you to "have a drink my friend", rug shops and tacky souvenirs are everywhere, and dressed-up men are selling rip-off Turkish icecream – you know the one, where they whip it out of your hand while your friend film, and then you get charged twenty lira for what should be one.
Although it's definitely a 'tourist zone', because of its proximity to the Blue Mosque and the Aya (Hagia) Sofia, Sultanahmet is a surprisingly conservative zone. My Turkish friend took a 'modest' change of clothing for when she visited the area for a job. Many women wore headscarves and almost all of the locals were observing Ramadan – meaning during the day the many food places were open just for tourists; never a good thing.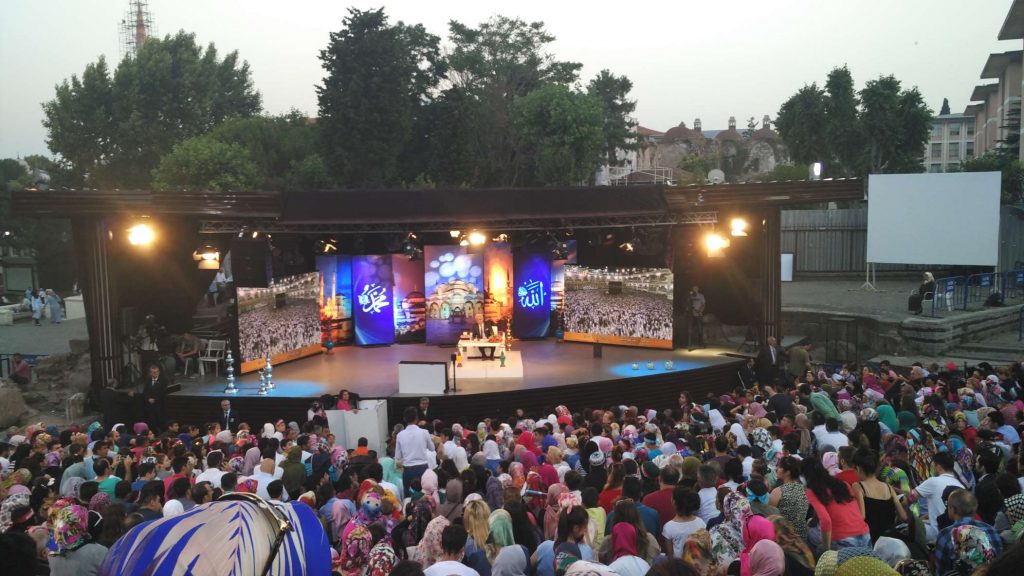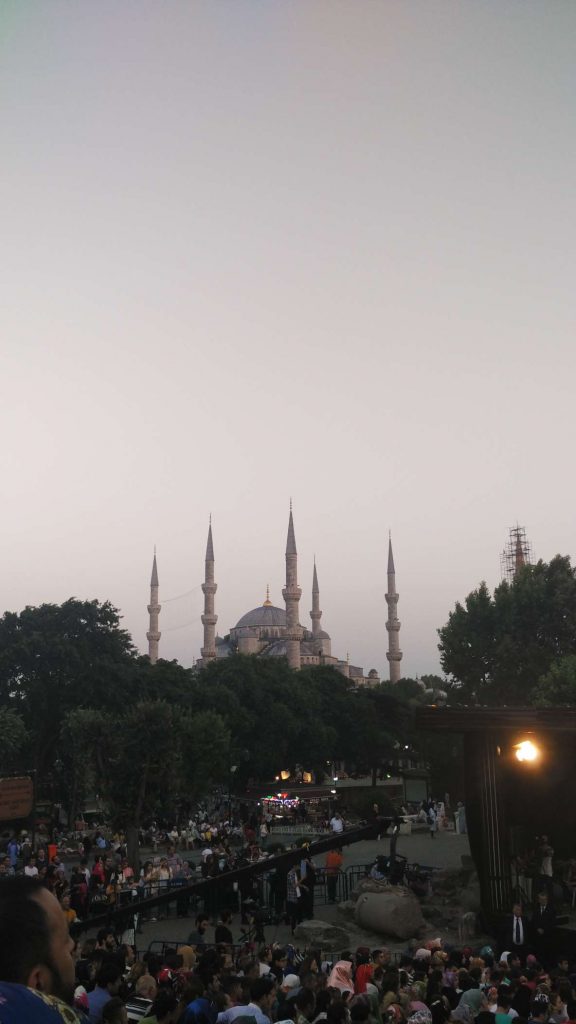 Large queues formed outside koftecisis (kofte (meatball) restaurants) as locals rushed to get their food in preparation for the feasting. It was quite surreal to be standing in the open plaza in front of the Blue Mosque, every single patch of grass occupied by a picnic blanket and several Muslims about to break fast. There must have been close to a thousand, maybe more, who all started eating at once when the muezzin's call began. You just sit there and think 'woah' – what a phenomenon, for the entire Muslim world to just reverse their normal eating habits for a month. The business hours, the sleeping patterns, all changed on such a large scale.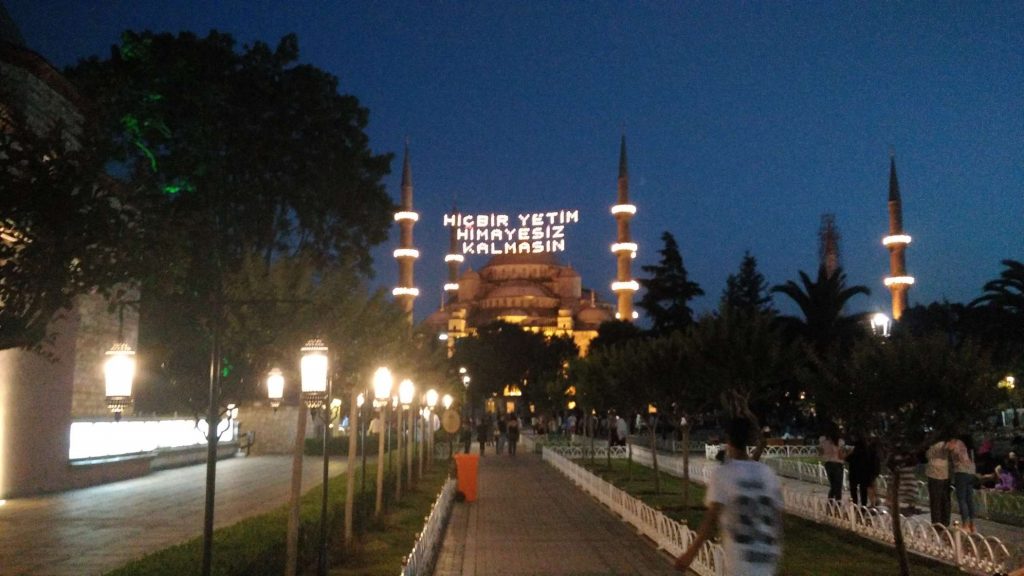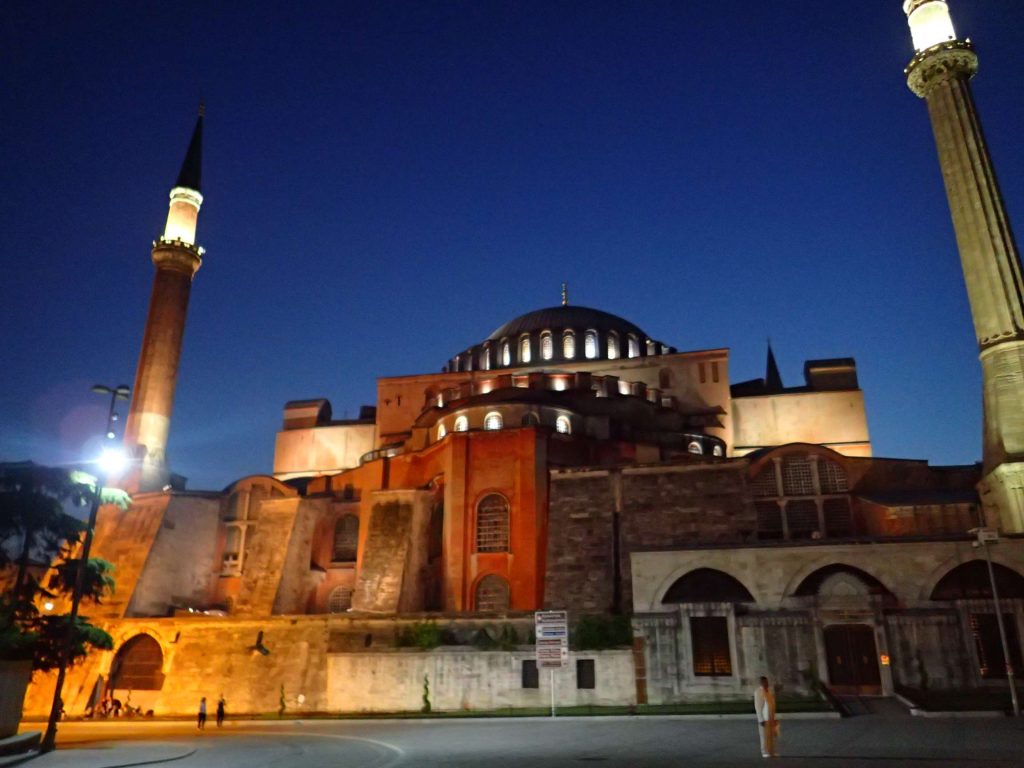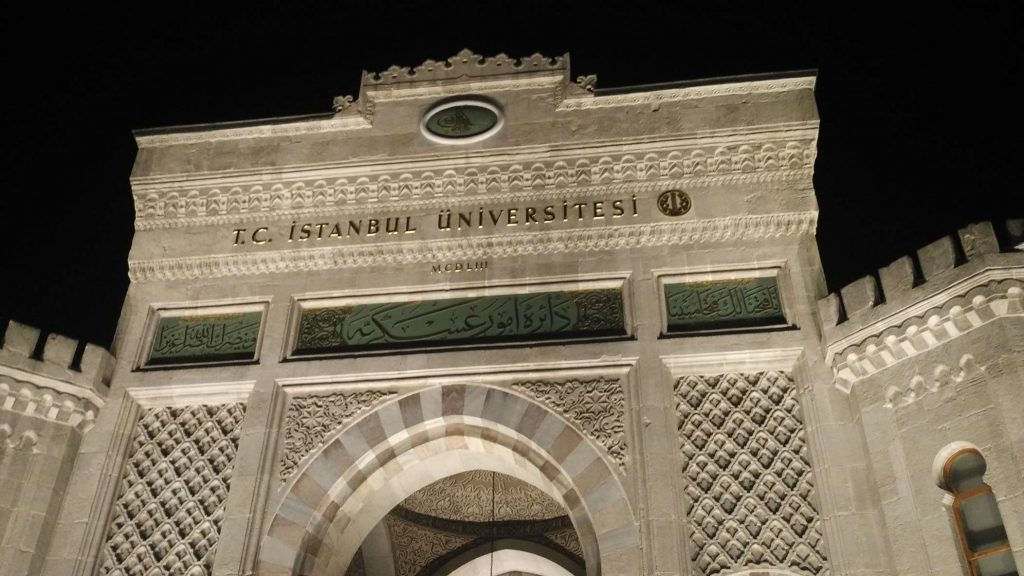 The next morning I went back to the Blue Mosque in daylight and had more of a look around.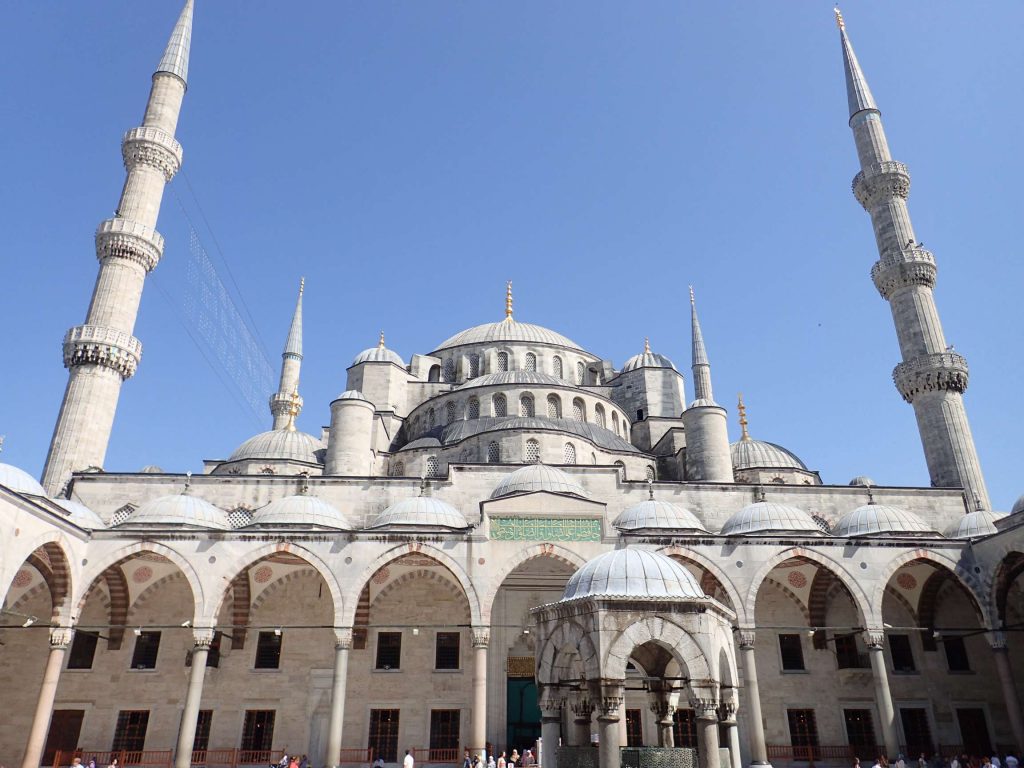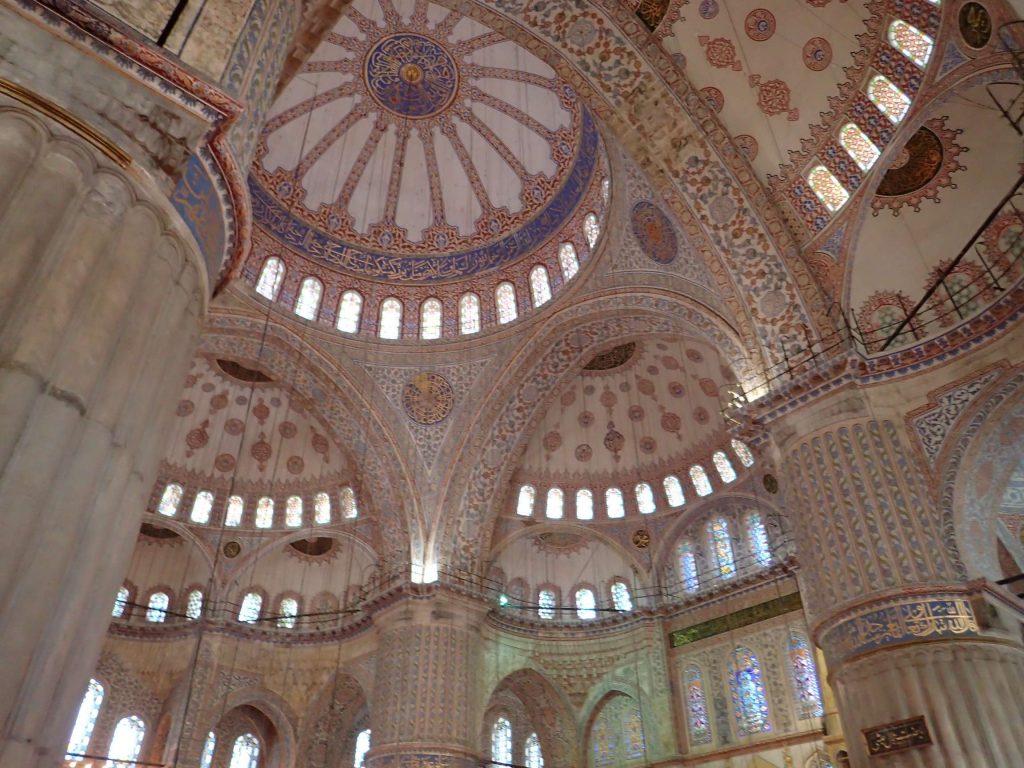 The roof is dizzyingly intricate, with carvings and scriptures all mixed together into a stunning lattice of blue, white, and gold. Glowing incandescent lightbulbs hang just a few feet above your head, suspended from the ceiling by vine-like wires. Even the carpet is woven into a pattern of red and gold. Tourists get a separate fenced-off area with a waist-high lattice barrier. About a quarter of the floorspace is for the camera-toting, while the rest is given up to worshipping Muslims. That's more than can be said for the Muslim women, though, who get a completely concealed pen behind seven-foot solid wooden barriers. They have separate areas to wash themselves before entering the mosque, too. Gender differences aside, the mosque rivals the most impressive churches and monuments – plus, it's free. I admit that I didn't see the Aya Sofia or the Basilica Cistern while in Istanbul – they were about $20 AUD each – but I rationalised it by telling myself I have to leave something to see next time.
I transferred to a different hostel later in the day – the excellent Jumba hostel, run by three friendly sisters. It's in an upmarket hipster neighbourhood called Cihangir ('c' is pronounced as 'j' in Turkish) a few hundred metres from the central shopping strip, Istiklal Street.
Lunch was a uniquely Turkish dish of Balik Ekmek, literally 'fish bread'. My friend and I had it riverside, straight from a gently swaying boat outfitted with a sprawling flat-top grill covered in frying fillets of fish. The fish is slotted into a hunk of bread with some lettuce and raw onion, where it goes very nicely with a squeeze of lemon and a liberal salting.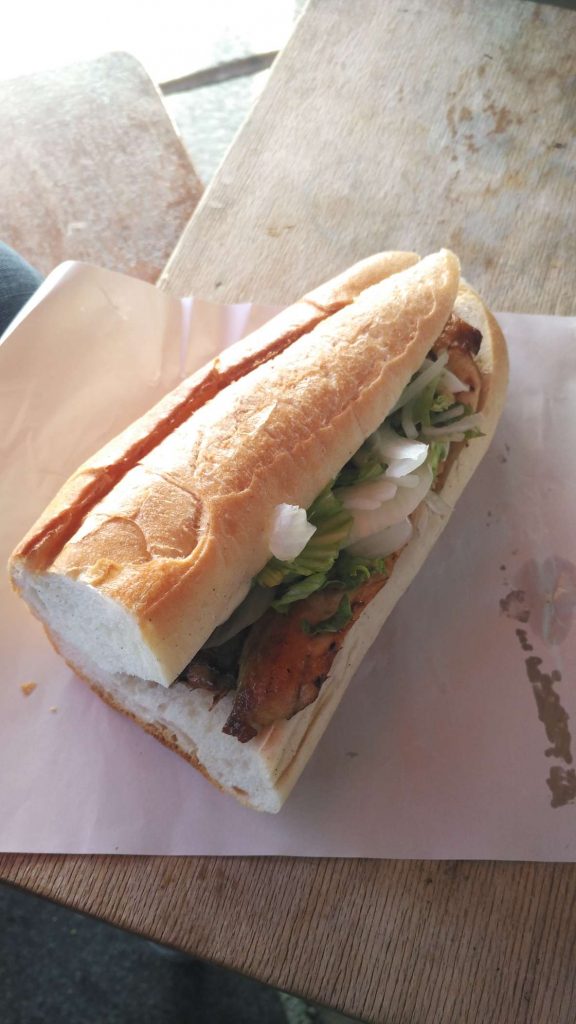 I walked through Cihangir with my friend; we ended up meeting some of her friends at a rooftop bar in Pera, the Turkish word for Paris and an old bourgeois district which was modelled after the French capital. Still shoe-less, I felt – once again – like a bit of an imposter in my flip-flops, but thankfully the bouncer didn't glance down; I'm not sure he would have liked what he saw.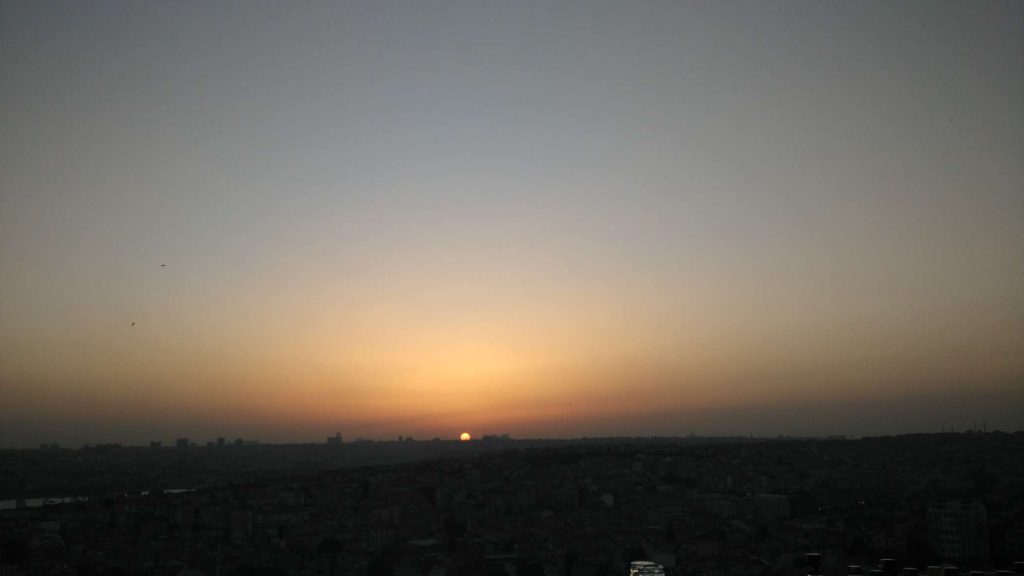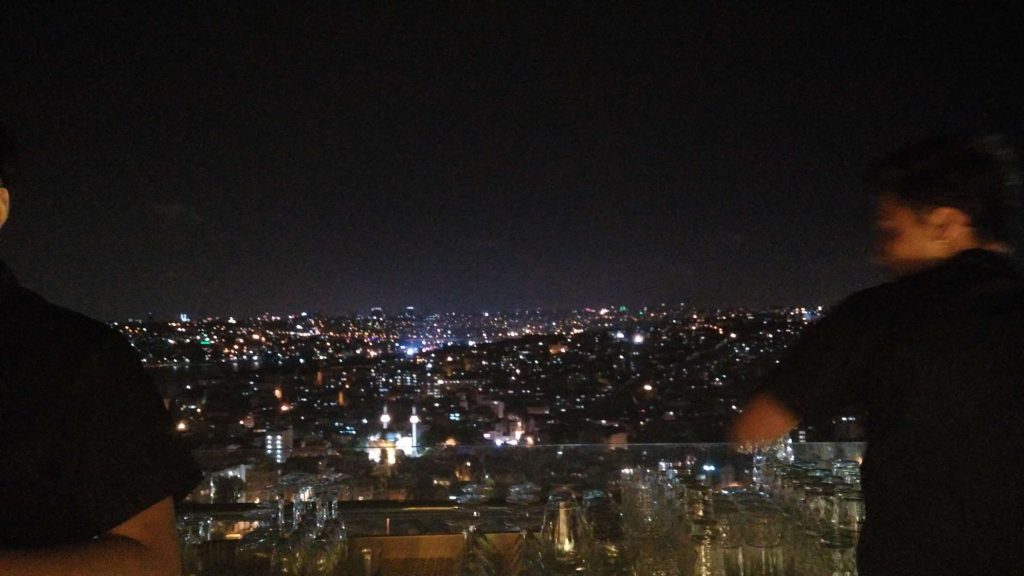 As they do, the night continued and we all found ourselves at an exceptionally good çöpşiş ('choepshish') place. It's Turkey's version of meat-pieces-served-on-a-stick; I optimistically thought the 'çöp' meant 'chopped' to go with the 'şiş', meaning 'kebab'. My Turkish friends laughed and said 'çöp' meant garbage, rubbish – the bits that can't go into anything else. Ah. Regardless of linguistic failures, the food was fantastic, all meaty and charcoal-y. In addition to the regular meat pieces there was a super strong liver skewer going around. To serve, you grab the skewer in one hand and a thin piece of lavash bread in the other. Grasp the meat with the bread and slide off to create a taco-like package. Season with chili or cumin and enjoy.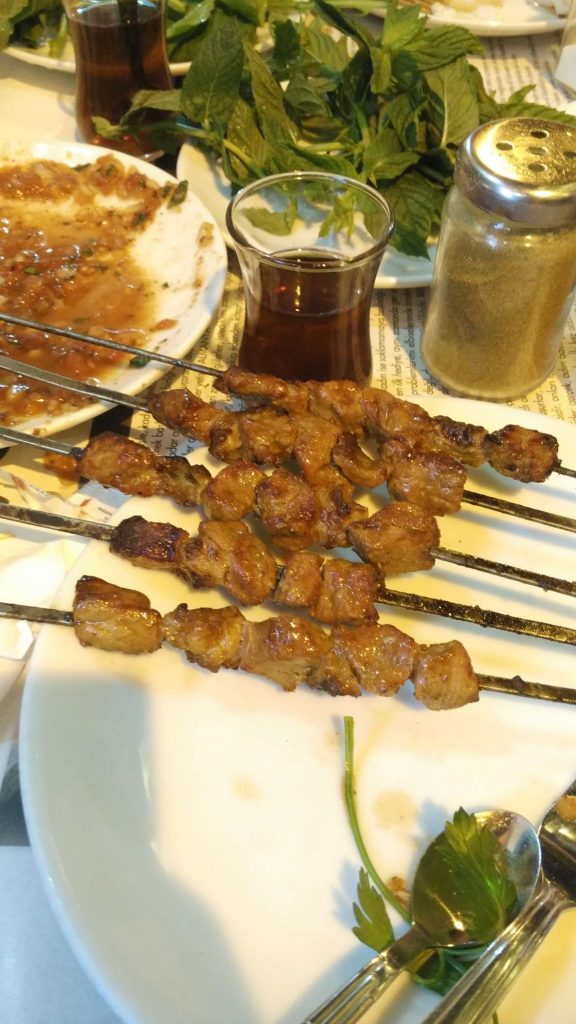 The night gets hazy after this. I think there were a few more bars involved… but I know I woke up in the early afternoon the next day. I did embarrassingly little that day, mainly catch up on Game of Thrones (I couldn't risk having it spoiled!) and wander Istiklal in the evening with another hostel resident.
The following day being Sunday and therefore market day, I actually made it more than 2km from the hostel. I followed a fruit market along a street for a while before I stumbled into a sprawling junk sale.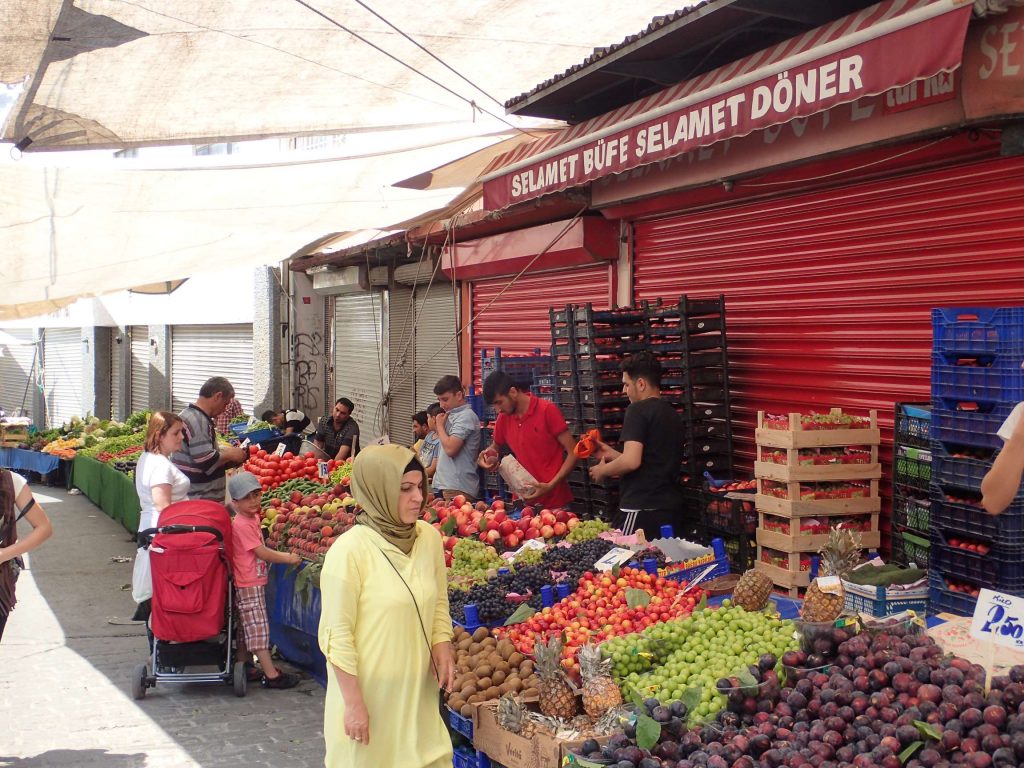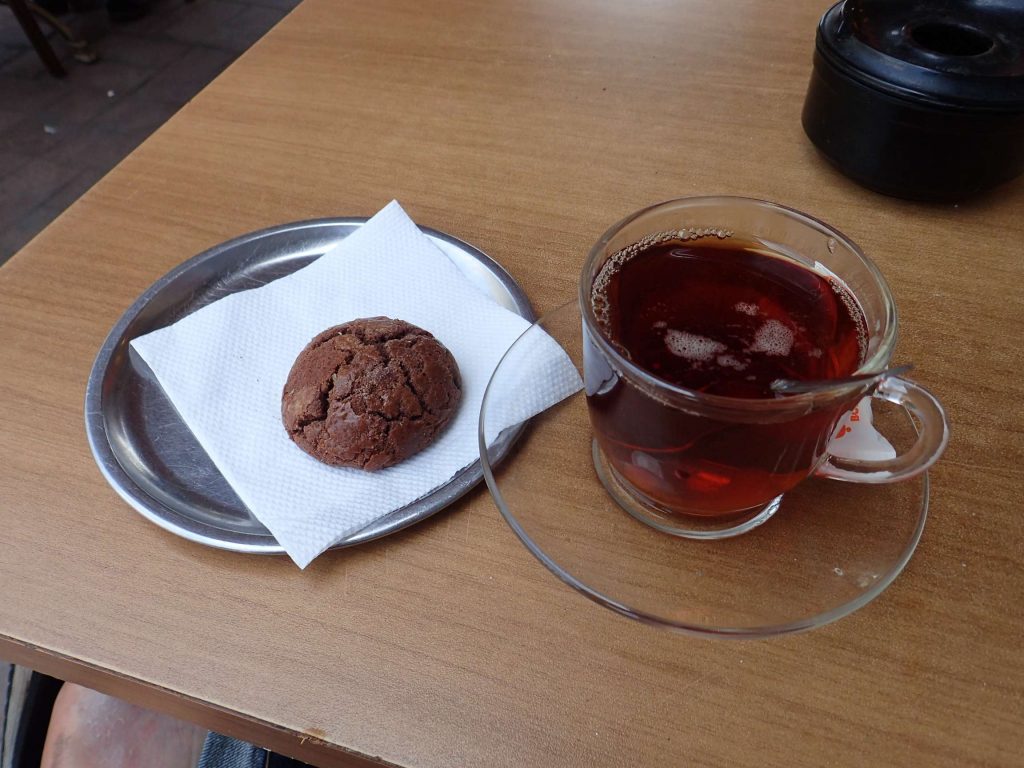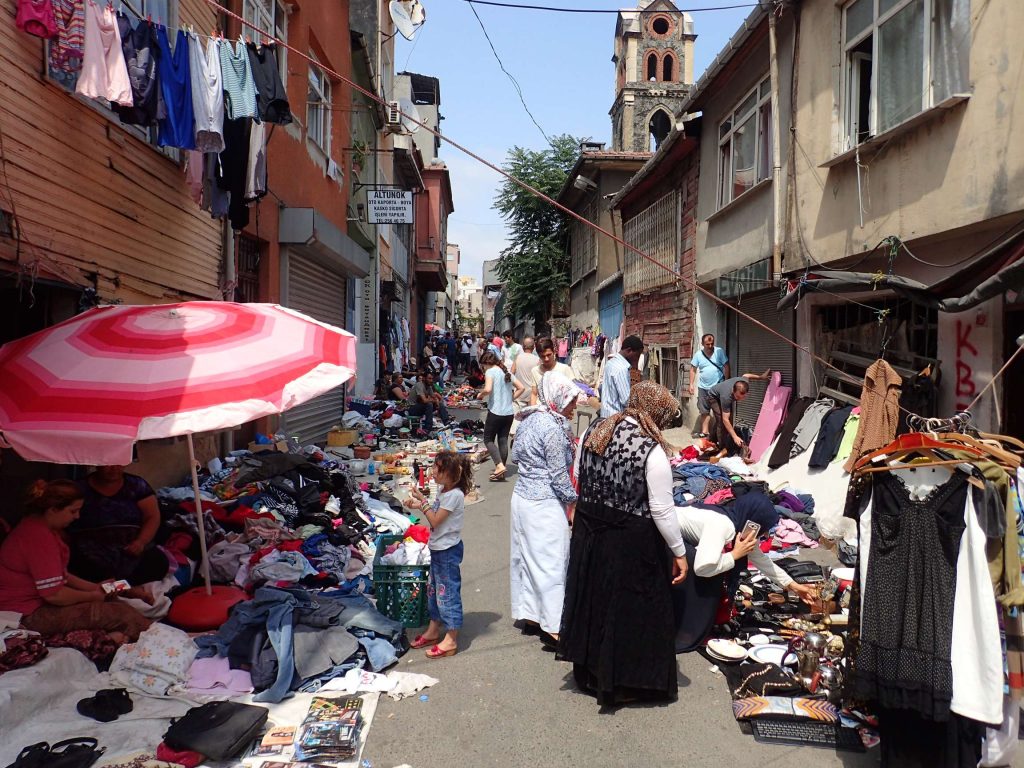 It seemed like everyone had just taken all the old stuff in their garage and laid it out on the ground. There were old motherboards, knives, some war medals, but mostly used clothes and shoes and DVDs. A fascinating way to spend the afternoon. I ended up walking all the way to Trump Towers (yes, there are two of them in Istanbul), then getting lost in public transport on the way back. It was particularly interesting seeing the fluctuations in conservatism – some places had filly hijabed women and heavily bearded men, others, like the central Taksim square and areas around Istiklal, were practically Western.
Back in Taksim I tried another Turkish specialty – well, less specialty and more drunken necessity: the islak hamburger. Islak meaning 'wet' in Turkish, it doesn't exactly sound or look appetising: it's a little hamburger with cheese about the size of slider that is soaked in savoury tomato sauce and kept heated in a little cabinet. You can find them all across Istanbul in the little snack stands, and I promise it tastes far better than it looks. Keep in mind that your enjoyment of it will be directly proportional to your drunkenness – so if it's good sober, it must be out-of-this-world when drunk.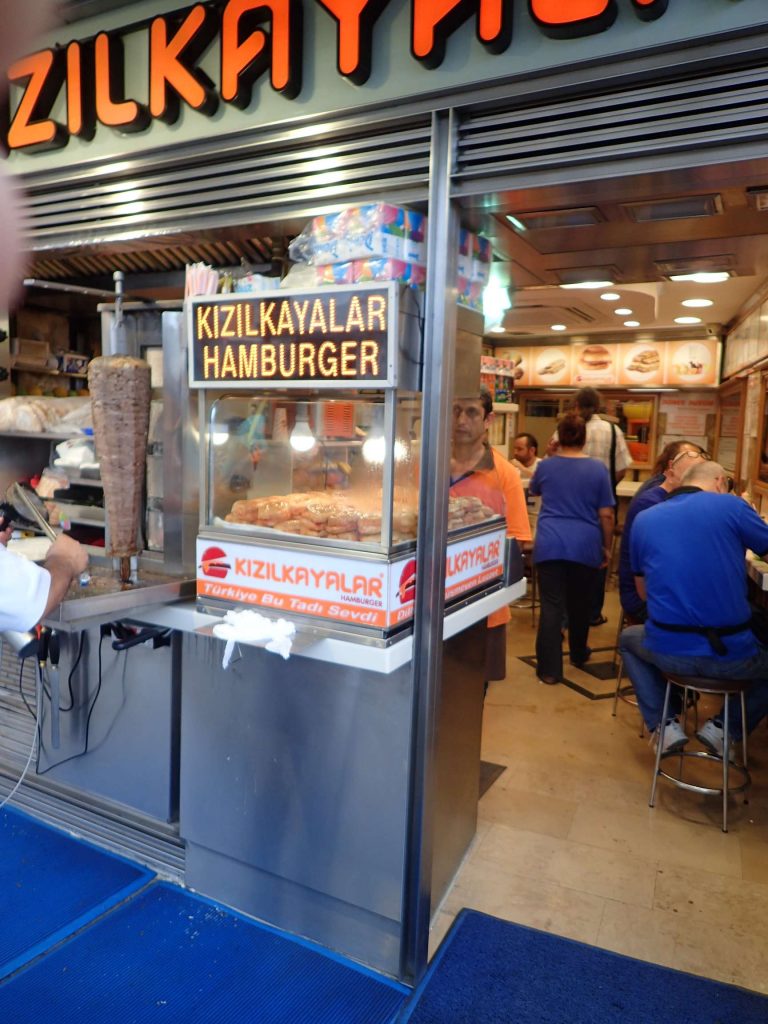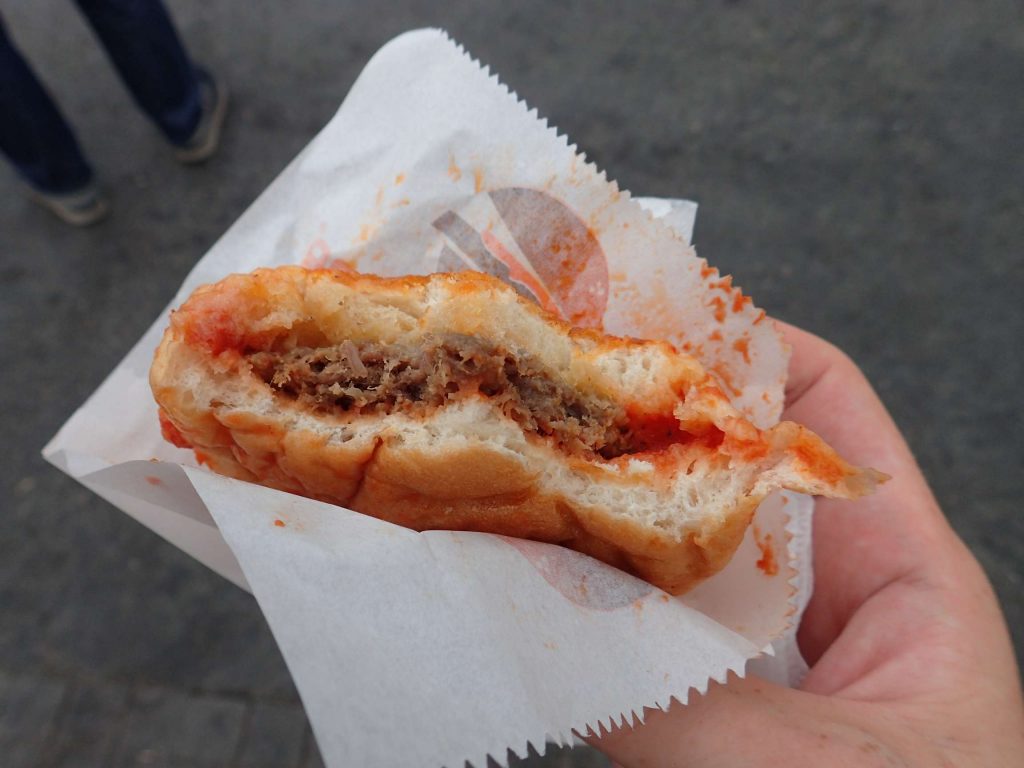 Istanbul is so full of nooks and crannies that I'm going to split it into two posts, so,
Until next time,
– Alex
This entry was posted in
Daily
,
Turkey