After arriving in Kunming from Jianchuan at 2am, the driver mercifully let me and a few others stay on the bus till 6am – when it would be needed again. I had, then, 5 hours to kill before my train. I wandered around the city for a good two hours, stumbled into a fish market, found some middle school kids about to take an exam (I don't envy them), then settled down for breakfast and procrastination.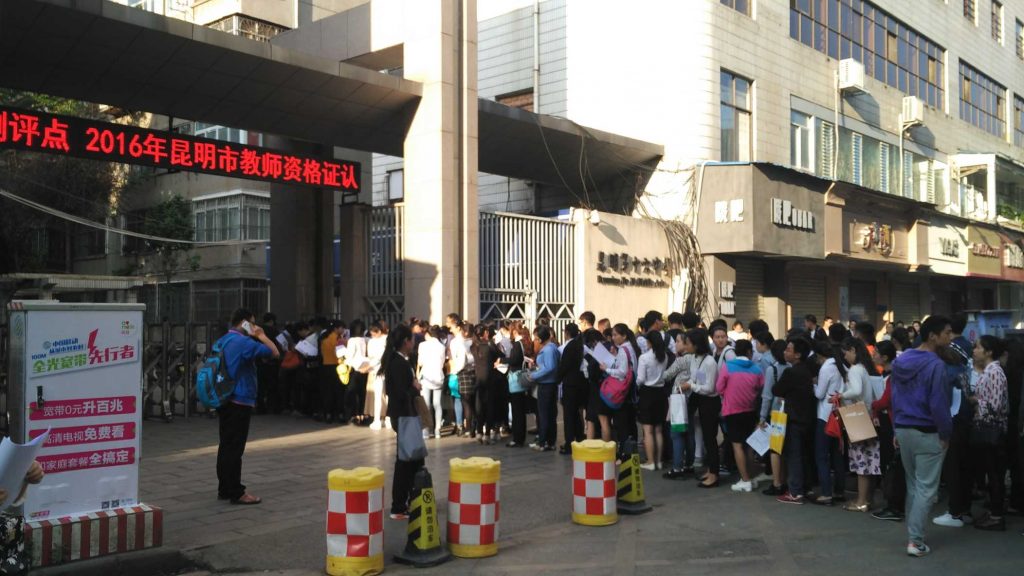 The train ride was uneventful, just 34 hours (about 20 of which were reading…) cruising through China. 3,174km.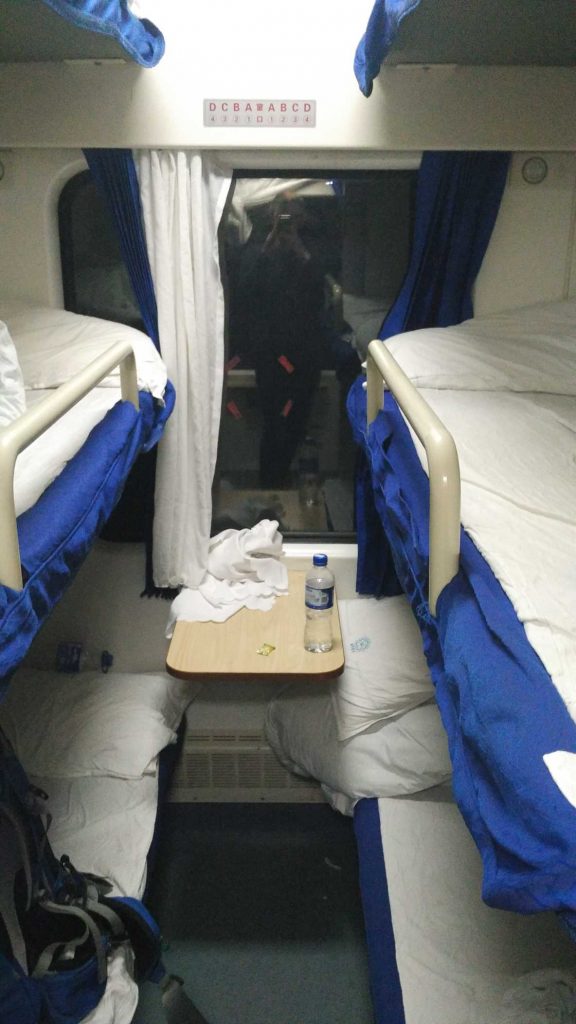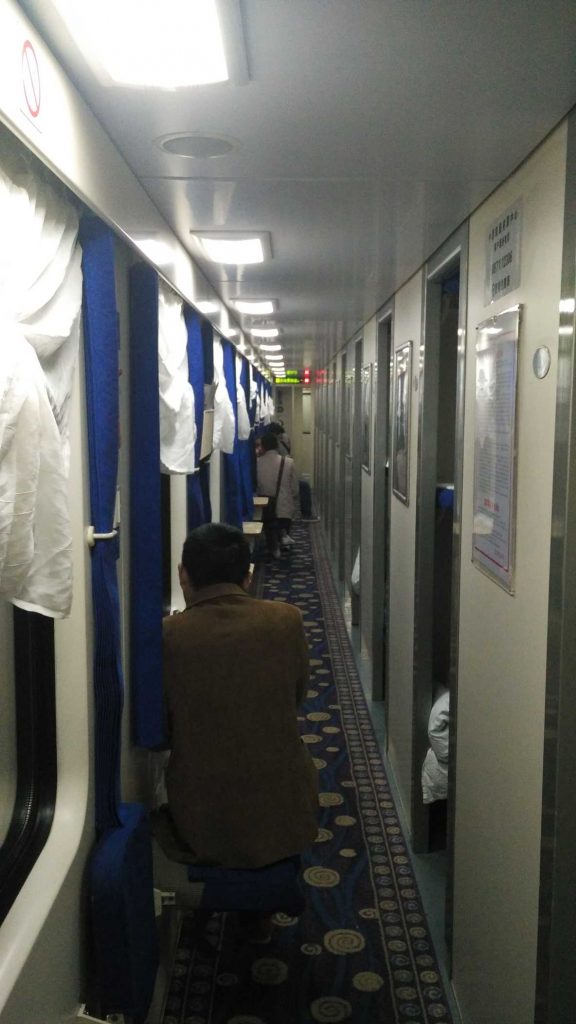 3,174km, 34h later I arrived in Beijing west station, at 9:42pm. I was greeted to the subway by a tangle of lines and station names: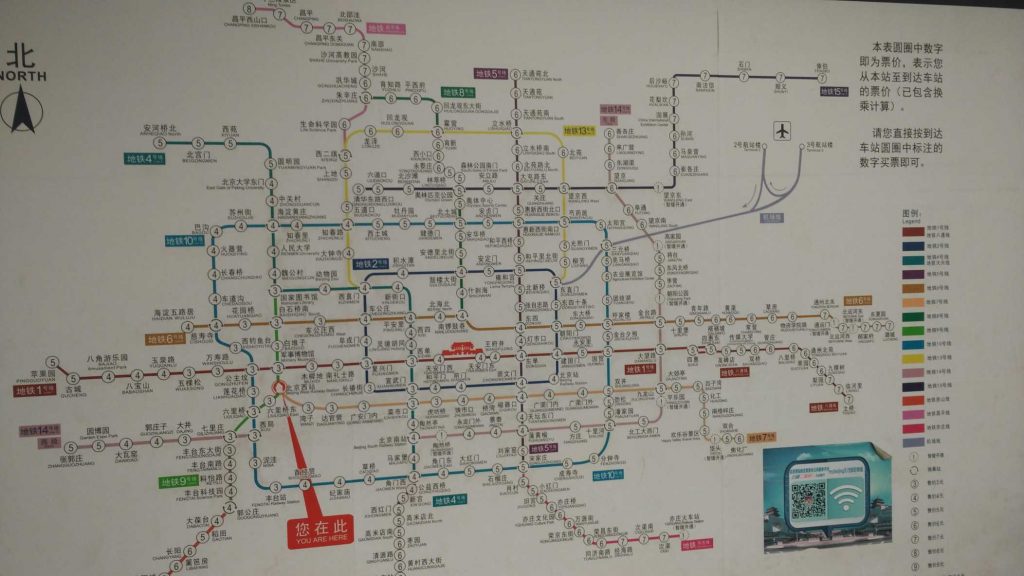 The subway seemed very similar to Singapore's, only with more pushing and shoving and less 'western courtesy' – pretty much what I expected of Beijing. Mind you, I was once again very thankful for my basic Mandarin: "I want go Qianmen. One ticket." (Wo yao qu Qianmen. Yige pian.)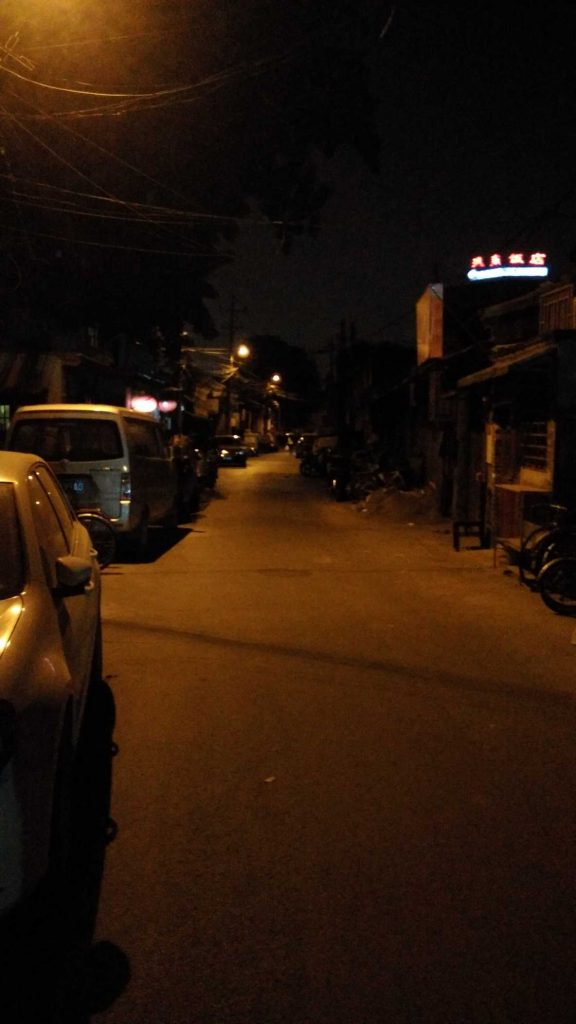 Before I'd left Singapore, a German friend who had lived in Beijing recommended I try China's own meat-on-stick, chuar ( 串儿). He – very helpfully – had written those characters in my notebook, so when I saw a neon sign with those symbols, I knew I was in the right place. 22 yuan ($4) later: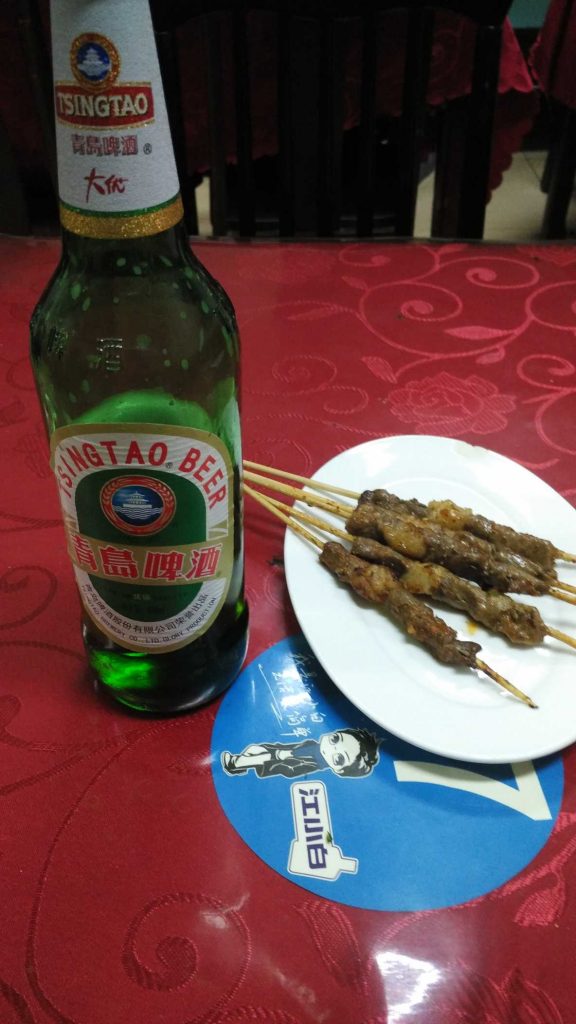 These are a must-try if you come to Beijing or anywhere in northern China; they come from Xinjiang in the far west, north of Tibet, but have thankfully made their way here.
I stayed at LEO Hostel, a perfectly adequate place in a great location. There's a 24h bar attached to the hostel with reasonably priced drinks, and food abounds up and down the street it's on.
The following day was more or less lost to the void of procrastination. I had two full days in Beijing, and most of the first easily slipped by as I wrestled with the VPN and wandered the streets of Beijing, attempting to find the place I was supposed to collect my train tickets. For the Beijing – Ulan-Bator leg and the UB – Irkutsk legs I've been issued paper tickets, while for the last two I just need to show my passport to get on.
Beijing does not strike me as a pedestrian-friendly city. It's a 21-million-strong sprawling mass of life, yet it seems like city planning was still a few thousand years away when the foundations were laid. From the oppressive smog (though to be fair, I had fantastic luck and had an entire day of blue sky) to the vast open (yet concrete) spaces – I'm looking at you, Tiananmen – the Beijing of 2016 would no doubt best be viewed from the air-conditioned comfort of a Communist Party Station Wagon. The charmingly claustrophobic Hutongs (old-fashioned residential neighbourhoods) offer a better glimpse of old Beijing, and some of that chaos is well-maintained, if obviously for the benefit of tourists.
Still, the big-city perks such as a subway and public toilets – confronting as they may be: with open chambers and little more than a ceramic trench, one has the joy of inadvertently making eye contact with a squatting octogenarian as he 'drops the kids off at the pool', so to speak. The big-city perks are welcomed nonetheless, it's much easier to get around here than in rural China.
The next day I, along with a friend from exchange who was staying at the same hostel, met up with three others from exchange and all headed to the Great Wall. We avoided the expensive hostel tour in favour of do-it-yourself – there are plenty of public buses for a couple of bucks each way. We took the 916 to Mutianyu, a section of the Great Wall which features two cable cars up and, as is sensible, a giant slide down. We chose to walk up. In our defence, a cable car ticket was 100 yuan ($10).
To say the least, the trip was 'worth it' – the views were stunning: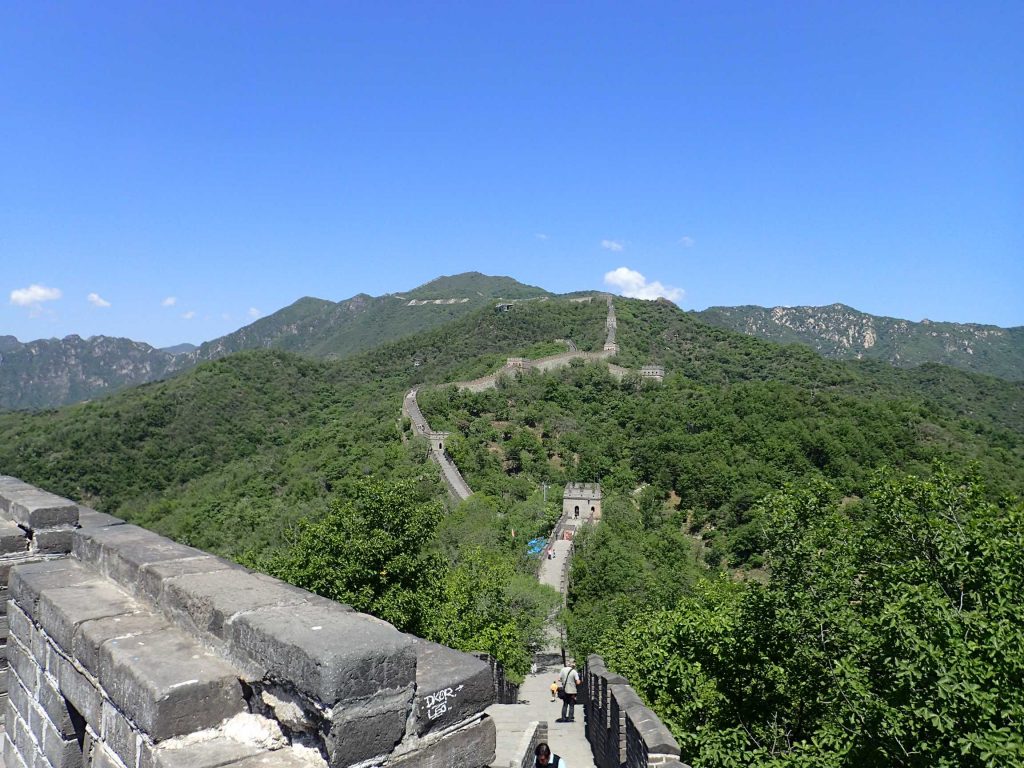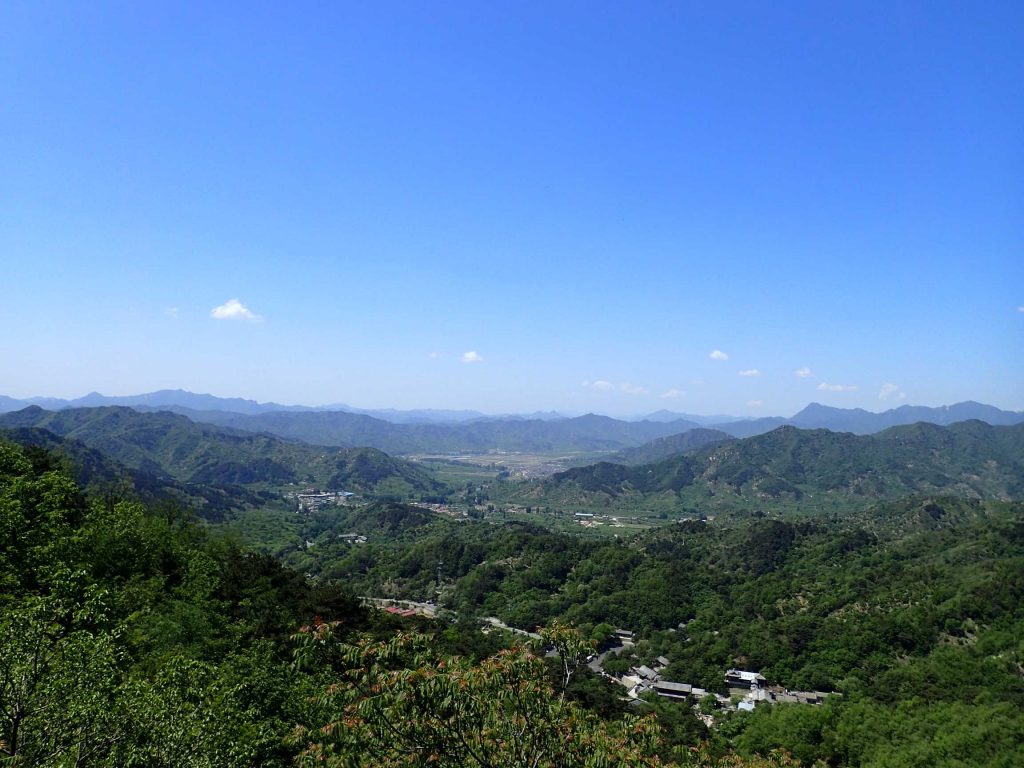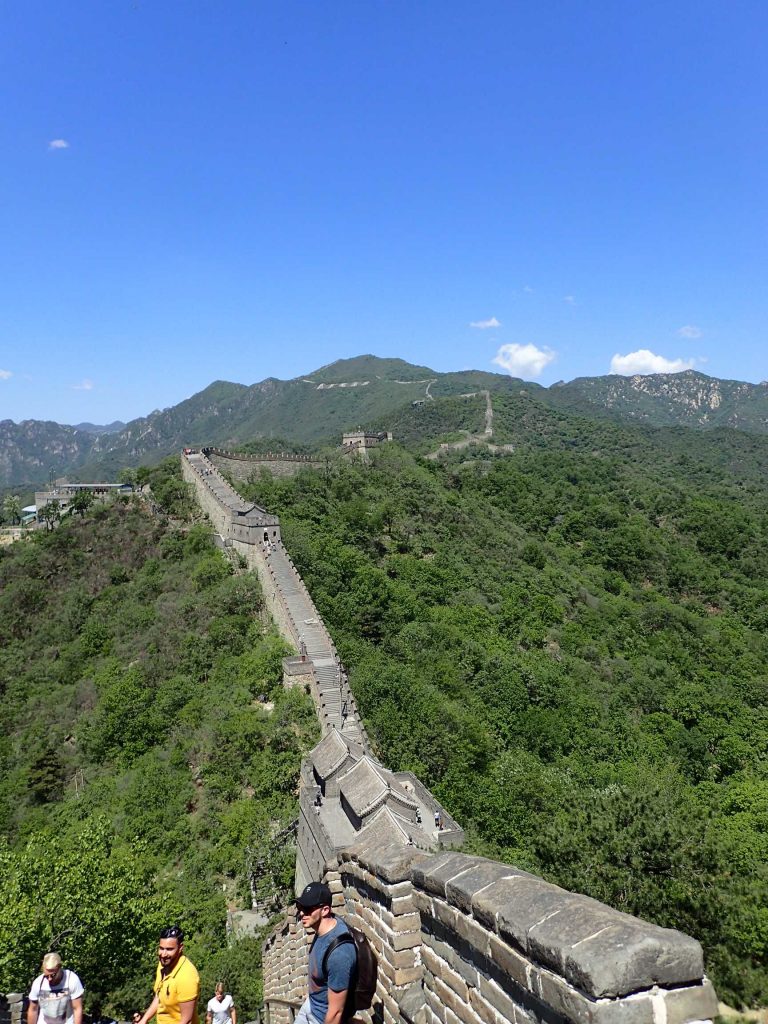 It's difficult to get a sense of the scale of the wall from the tiny segment we walked on, but just imagining how it stretches for thousands of kilometres is quite… humbling. It certainly looks sturdy enough to keep the rabbits out. Also, only when you're walking on the wall do you realize just how much elevation it loses and gains – it's always build on the mountain ridges for visibility, so to travel 500m horizontally you're dropping and then climbing 150 metres.
After seeing an elderly Swiss couple going down the giant slide at the breakneck speed of 10km/h, we decided to walk back down, as well. We were back in time for dinner: meeting up with the hostel-exchange friend and her friend doing in exchange in Beijing for apparently the best Peking duck in Beijing.
The walk there was half history-lesson, half awe-inspiring – the buildings of Tiananmen square lit up in all their glory.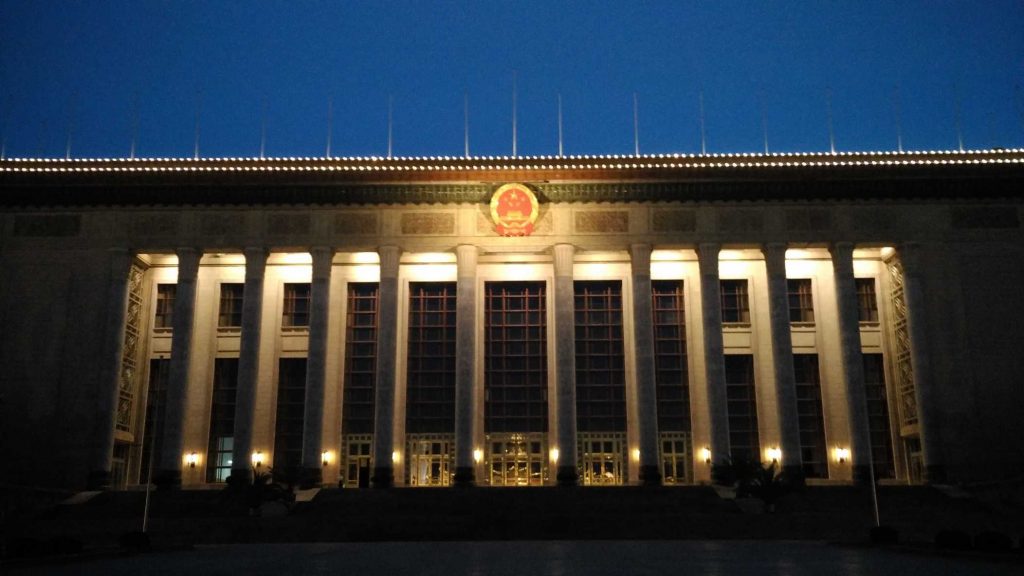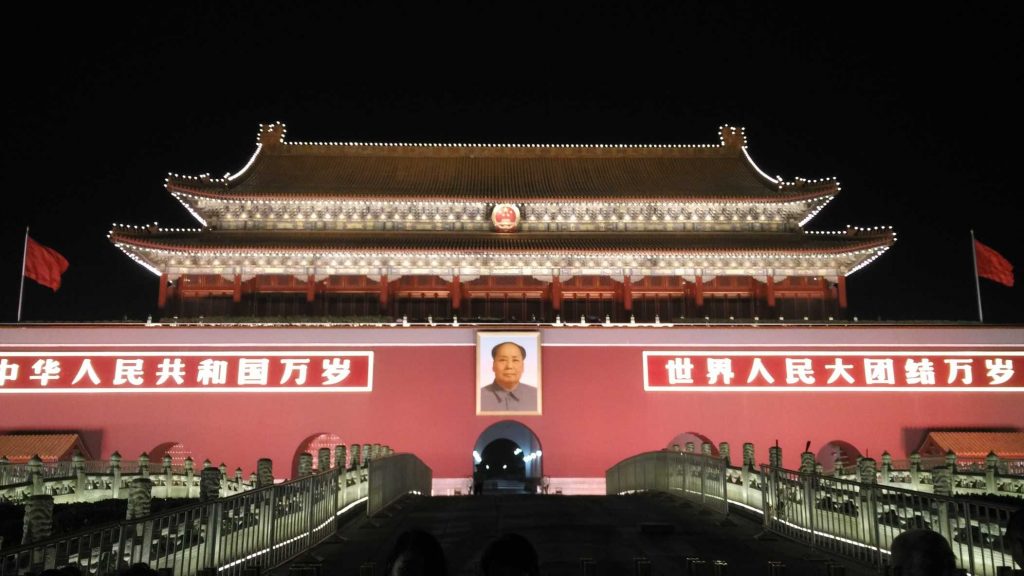 The place we were going to was called Da Dong Duck, a multi-branch restaurant – this one occupied an entire floor of a mall. My long-sleeve shirt and socks were drying in the hostel, so when the elevator doors opened, I knew I was underdressed in my flip-flops, jeans, and t-shirt. The place had chefs working a charcoal oven in full whites – even hats – periodically plunging a duck on a pole into the fire for a few minutes. The room(s) had recessed purple and blue lighting, and the waiters wore waistcoats and polished shoes. I hoped my whiteness and accompanying 'ignorant foreigner' status would explain my clothes…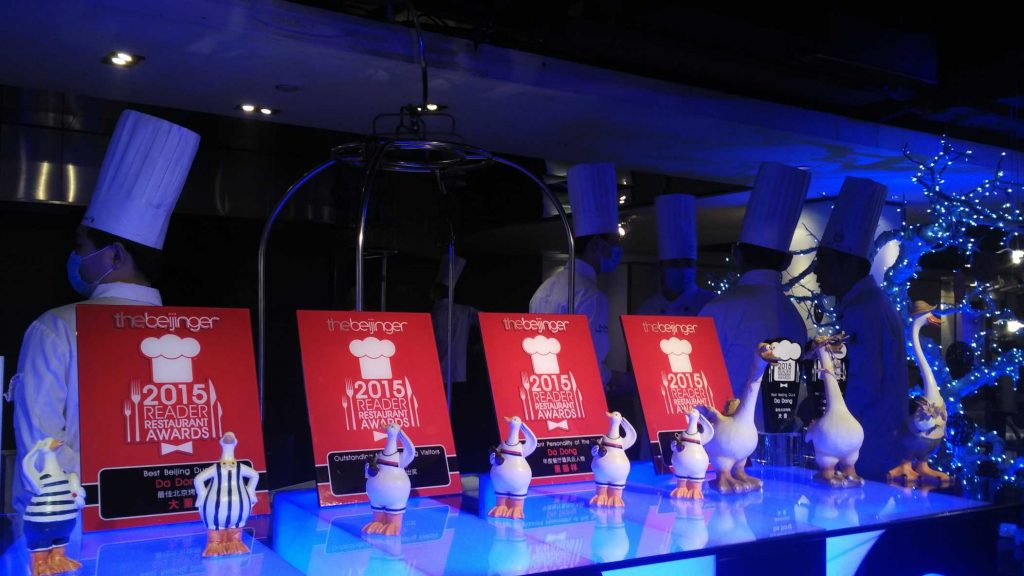 After much weeping and gnashing of teeth, we were seated and the specialty – 'ultra-lean duck' – appeared before us. With it, our own whited and hatted chef to carve the bird tableside.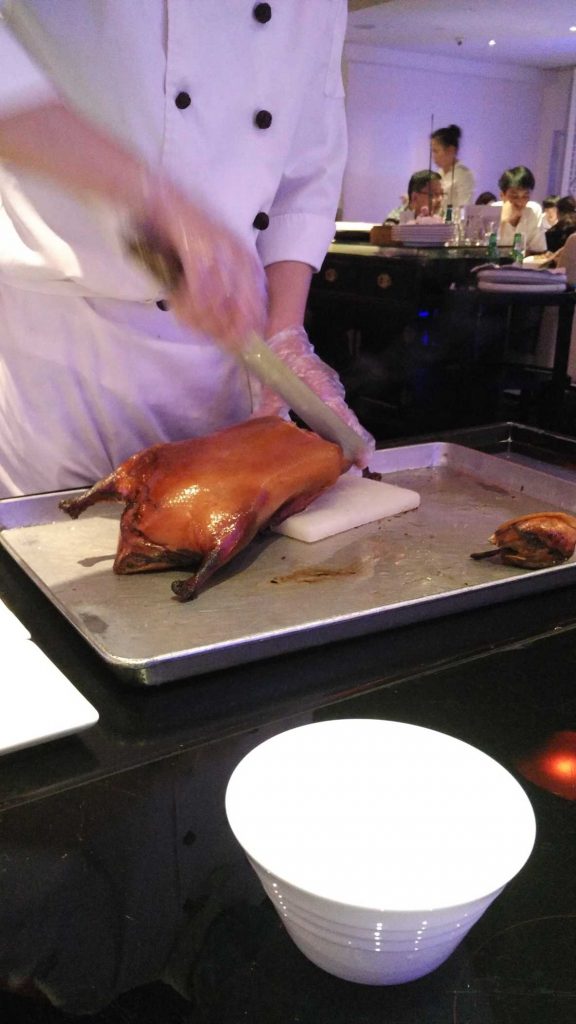 With a few deft strokes of a satisfyingly sharp knife, the bird's meat was separated from its body.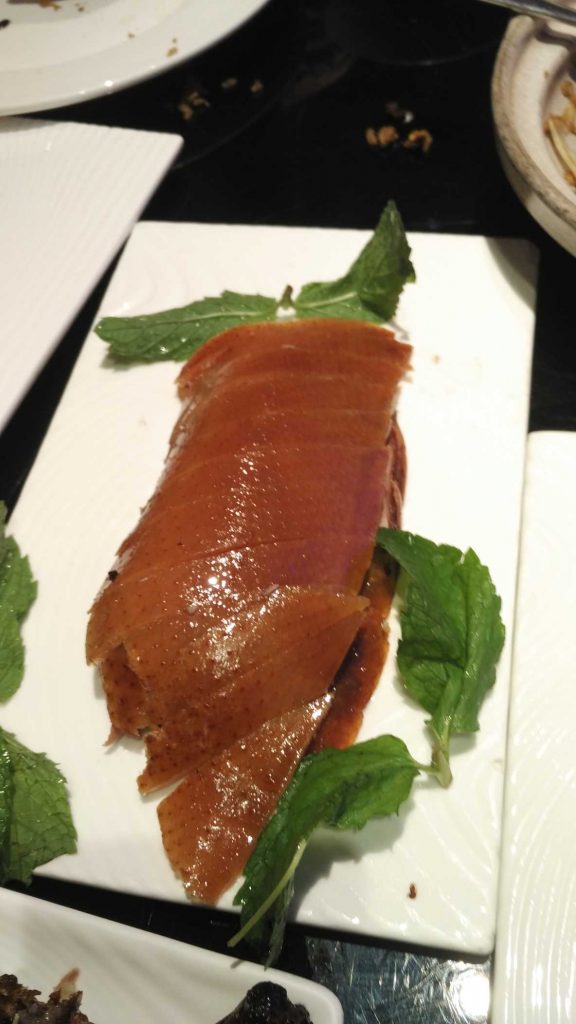 The duck was fantastic – the skin unexpected, though: I had expected Peking duck like back home, crispy, crunchy, caramelized skin. Instead, it was puffed, more like a prawn cracker, rich and almost oily. The meat itself couldn't have been better. I can see now how it's said to be the best duck in Beijing. The duck was 288 RMB – $60 AUD, so $20 each divided between three. We had plenty of duck each, leaving pleasantly full; not stuffed. With James-Bond-esque satisfaction, I realized I had managed to avoid being asked to leave on account of my clothing.
The next morning my friend and I were up bright and early to see Mao's mausoleum – the Maosoleum, if you will. Our smog-luck had ended and we were back to overcast, smoggy skies, but that didn't diminish the imposing 'city gates' in front of the mausoleum.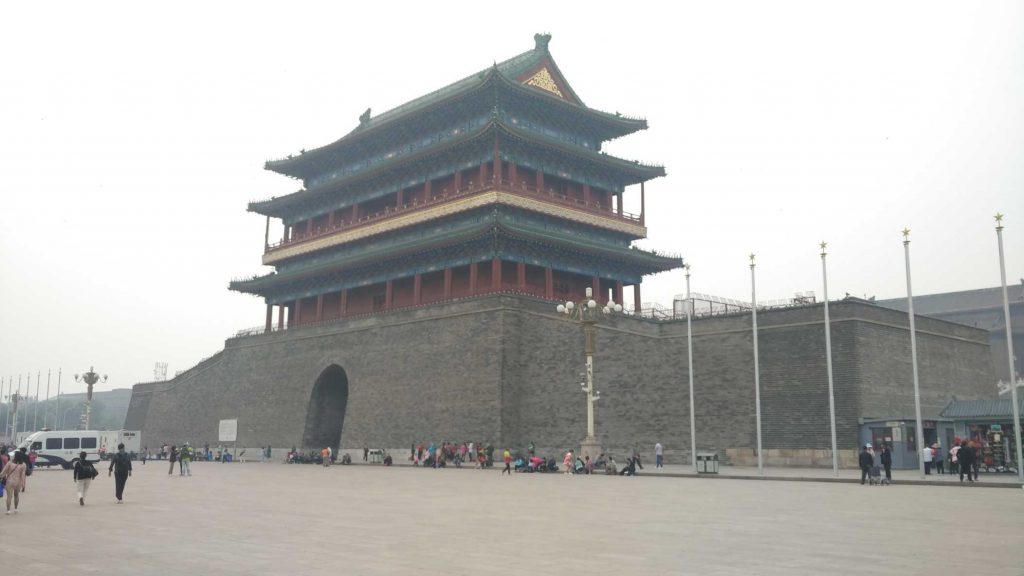 Despite our early arrival, the building was already choked with Chinese tour groups: matching baseball caps, one leader holding up a flag.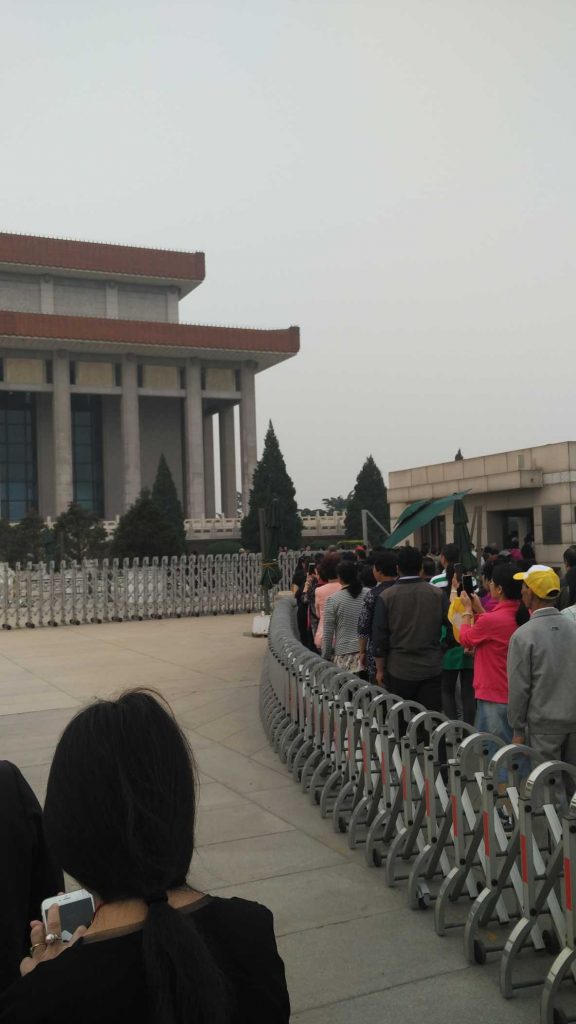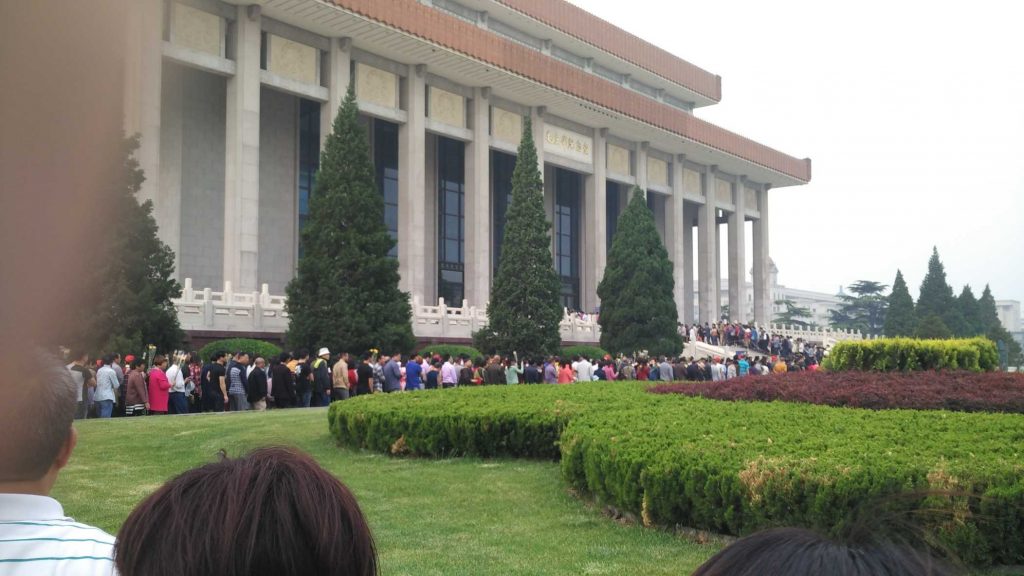 It was really a crush of people simply trying to get in to see Mao's body. Outside, people were selling dandelions wrapped in plastic like a rose for 3 yuan apiece. His body, with his apparently preserved benevolent smile, rests in exactly the kind of place you'd picture him building to house his own corpse: an enormous rectangular gray building lined with pillars and adorned with the Communist China crest. Outside, you have the classic Soviet-style statue of one figure – usually holding a sickle, sword, or gun – striding forward, supported by his countrymen.
Unfortunately, no photographs were allowed inside – I got the impression that smiling, talking or so much as thinking anything other than Mao was forbidden. After queueing in a crush of Chinese for 20 minutes, we finally shuffled in to a chamber with a massive Abe-Lincoln-esque statue of Mao sitting in a chair, legs crossed. In front of it, people would approach with said dandelions clasped between their hands and bow reverently several times – Mao's cult of personality clearly still persists some 40 years on. I had a suspicious feeling that the dandelions would be recycled many, many times. Entering the real chamber containing Mao's body, the crowd filled with anticipation, everyone pushing to get a first glimpse of the great man's body. We rounded the corner into the room and… were greeted by Mao's pendulous nostrils gazing across the small room.
As we got closer, more of his face and body came in to view – he was sealed in a glass chamber about two metres away from us. A cloth covered him from mid-chest down; he wore the classic pseudo-military double-breast-pocketed shirt he's often depicted wearing. To be honest, he looked kind of… fake. Slightly swollen and more orange than any human had a right to be, he could have been a botched attempt of Madame Tussaud's.
'Cultural experience' complete, I made my way to the train station for my 11:30am train to Mongolia.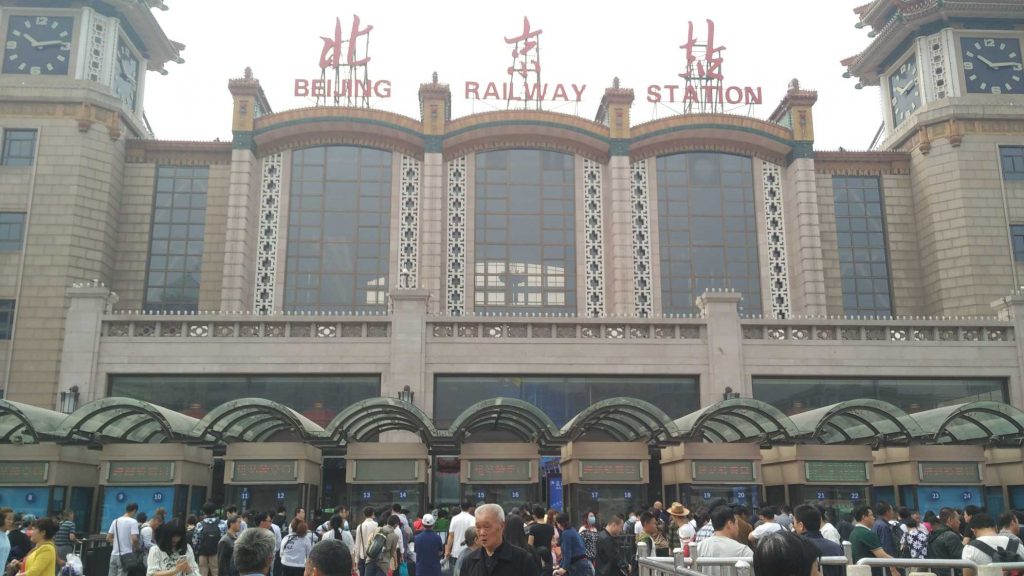 And here, my friends, I will leave you until the next post!
'Til then,
-Alex
This entry was posted in
Daily