The Mekong is a great destination to get away from the hustle and bustle of Saigon – after the chaos, the silence of the Mekong is all the more pronounced! My dad, my brother and I took a small overnight tour to see some of the delta.
We started with the usual: temples 'n stuff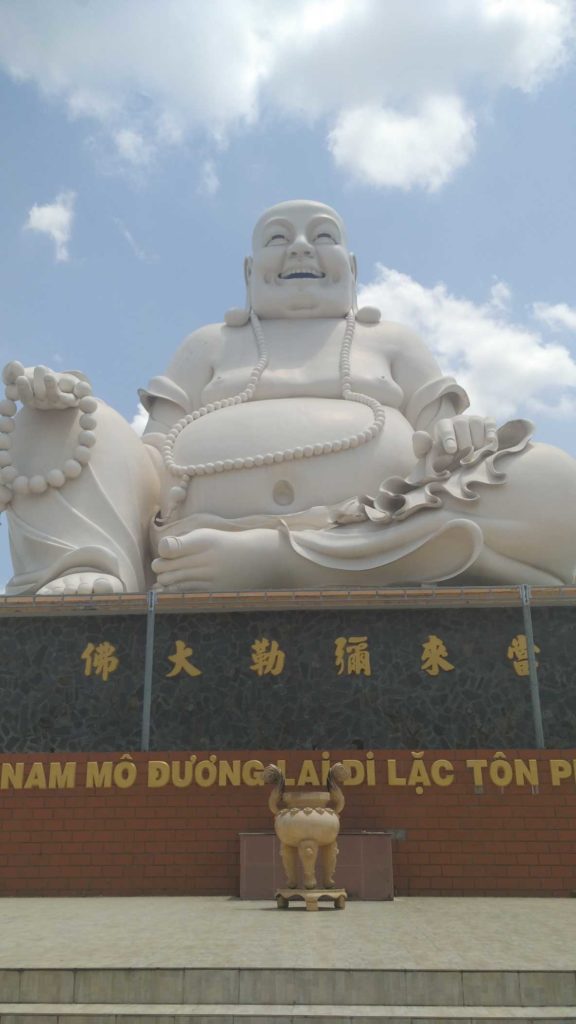 To be honest, there is such a thing as 'temple overload'. All I know for this Buddha statue in particular is that a) he's big and b) the second Chinese character – 大, da – also means 'big'. Fun facts with Alex. Yay.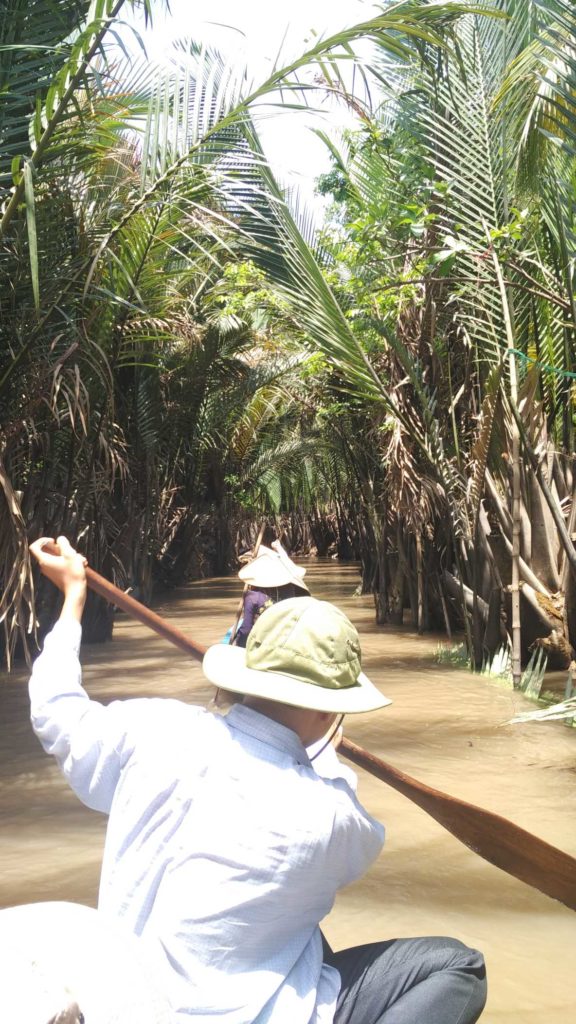 Next up, ferried down some very clearly built-for-tourists canals – makes for some alright pictures at least!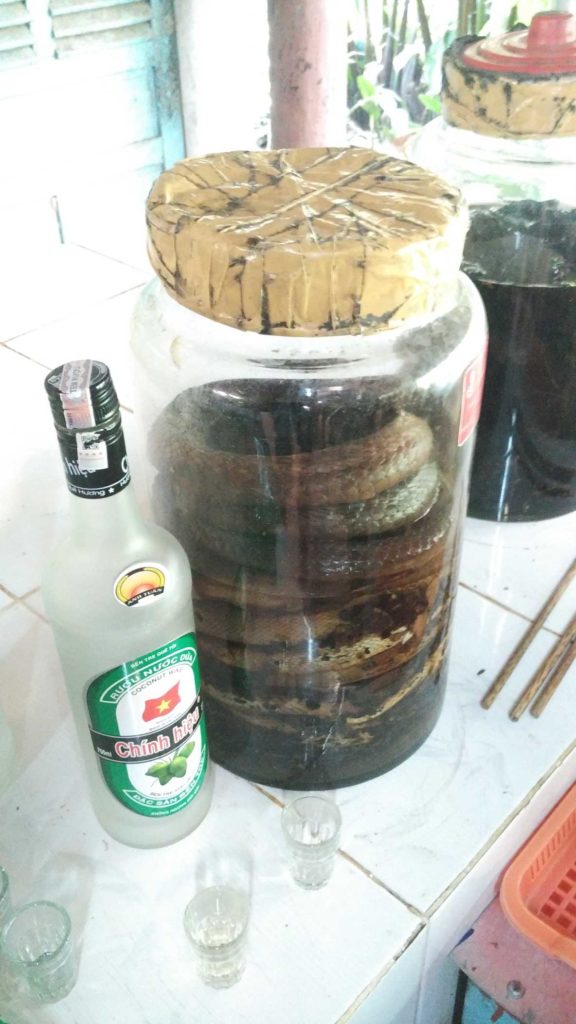 Thankfully, at just the right time we arrived at 'coconut island', where – you guessed it – there are lots of coconuts. They're coco-NUTS about coconuts! This leads to things like coconut wine (duh) and snake whiskey (..duh?). These were taster jars of liquor – I motioned to the lady, asking if we could try some, and she somewhat worryingly just grinned and nodded before walking off. What followed was several rounds of get-whiskey-without-touching-the-fermenting-snake, the absolute classic party game. I remember it well from my tenth birthday party. The actual whiskey was surprisingly great, really smooth and just a little bit savoury – a nice kick of umami. The rest of the afternoon was significantly more bearable.
BONUS – this was right after 'just enough' snake whiskey: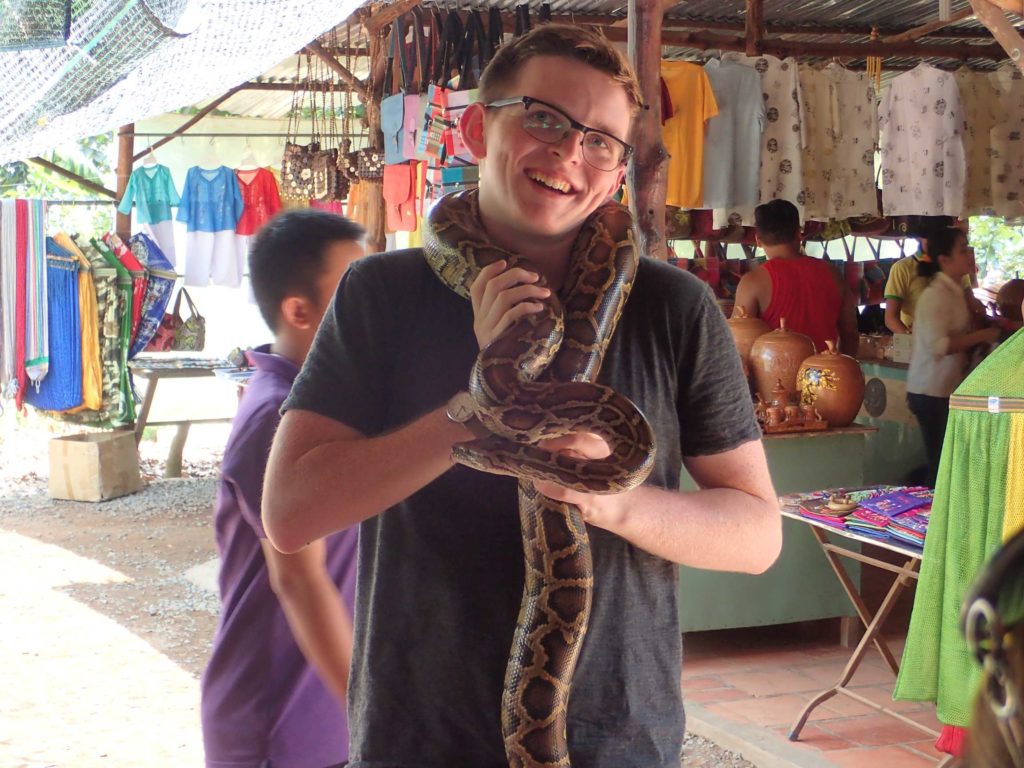 …It only occurs to me now that the guy around my neck will probably make some fine whiskey one day. The, uh, circle of life?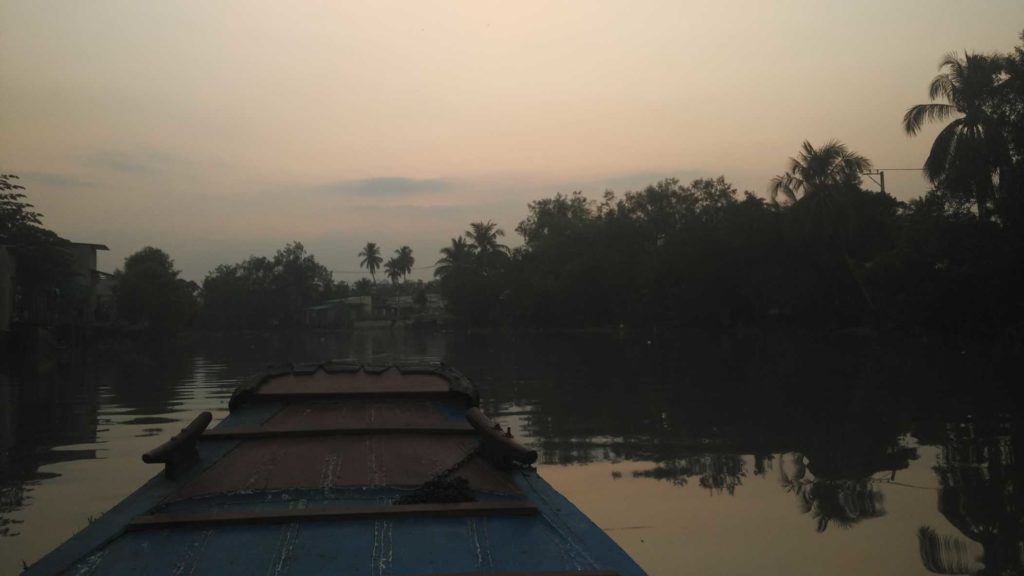 That evening we took a longboat to the homestay (dad opted for the hotel), you can tell we had a really arduous journey. On arrival at the homestay, the total four of us were slowly stuffed with spring rolls, fried white fish, and such Vietnamese specialties as 'pineapple chicken' (ironically the best one). Isn't there a scene like this in Hansel and Gretel? The beer was cheap, the company entertaining, the beds soft – would highly recommend. Mind you, this was a lot fancier than, say, the Sapa homestays – we even had our own rooms. The homestay family also had an adorable little dog that they had to keep chained up during the day – apparently it would otherwise be eaten by the neighbours… I suppose you gotta do what you gotta do sometimes. Or, maybe dog is just really tasty.
The next morning we were up at 6am to be at the nearby floating market by 7am. A simple but delicious breakfast of a miniature baguette (the banh mi rolls) with fried egg followed a leisurely motor down the river.
Upon reaching the floating market, various 'classic Asia' scenes: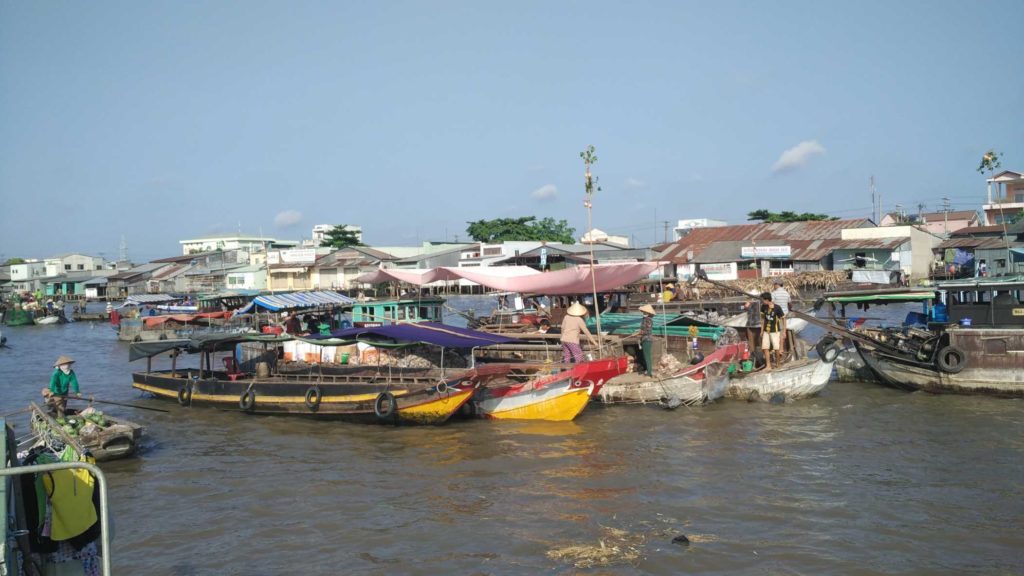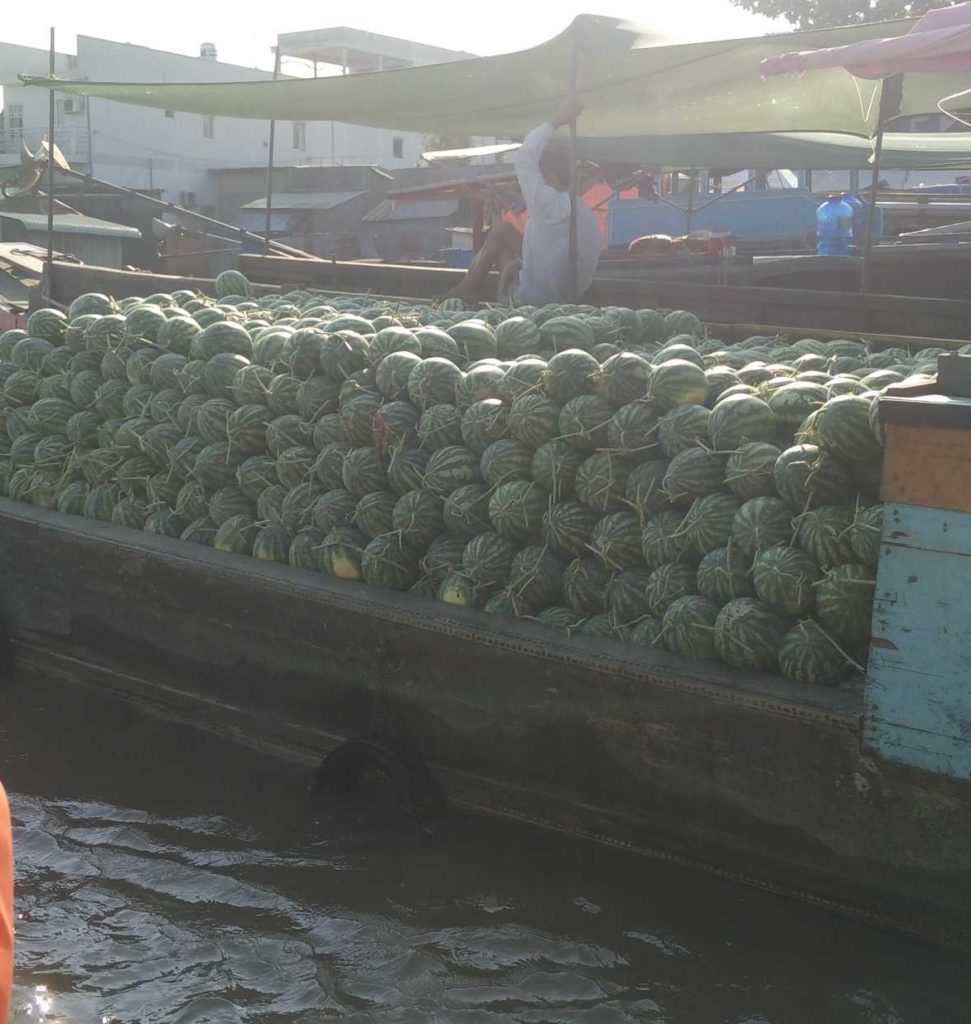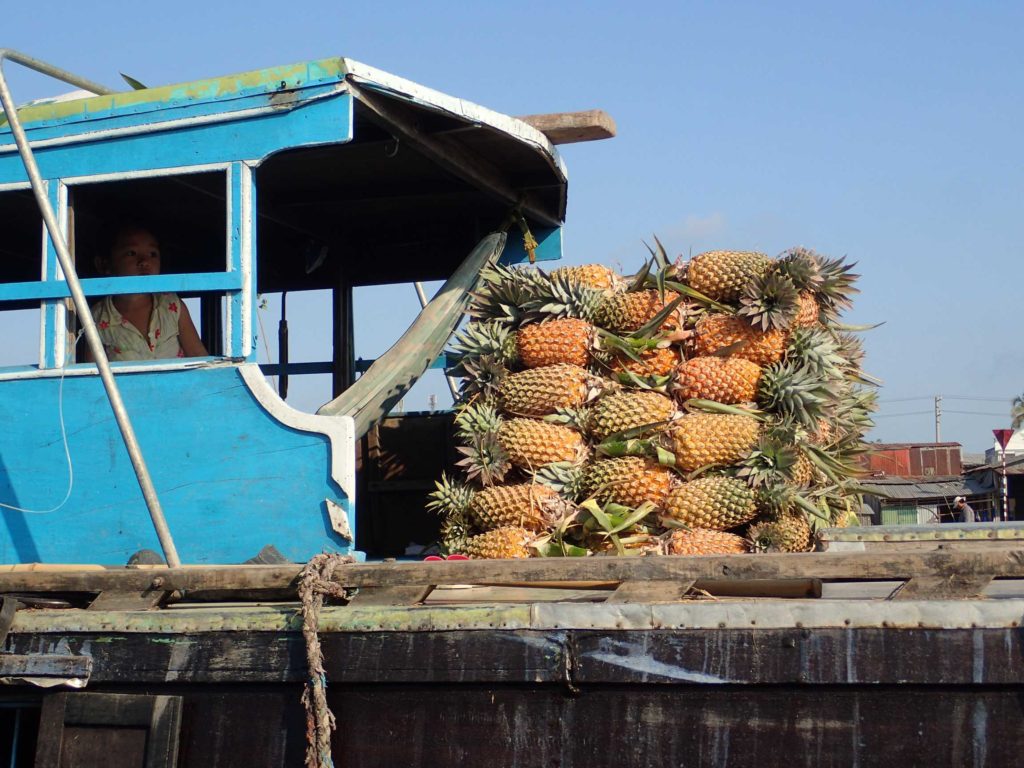 After a hard morning's work watching other people working, it seemed like a good time to get some well-earned noodle soup.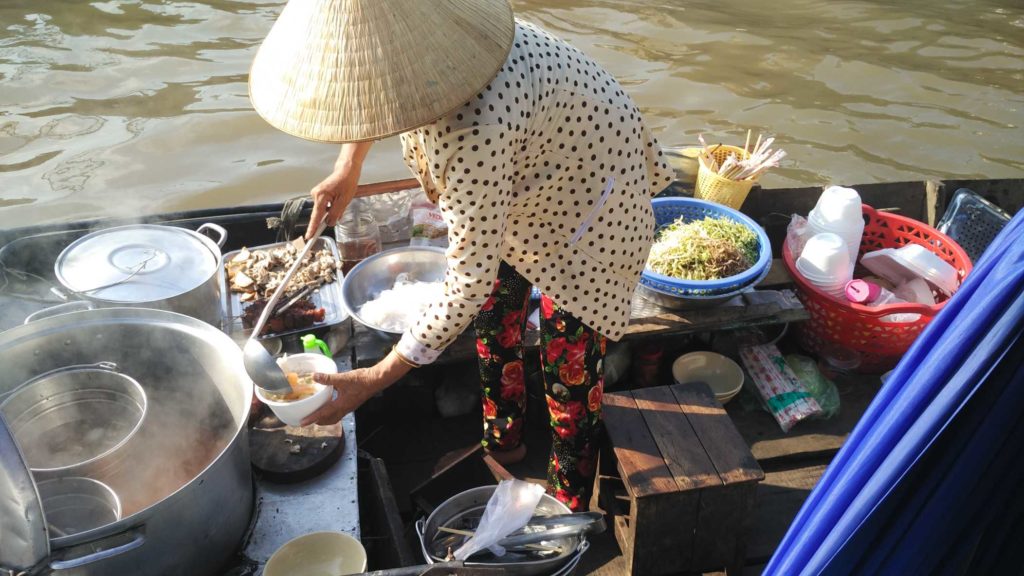 These old ladies all motor up to the main boat and pirate-style grappling hook on, all yelling variations of "buy my stuff!", it's quite a spectacle.
Finally, we visited a rice paper factory, here they are drying for storage/sale/shipment: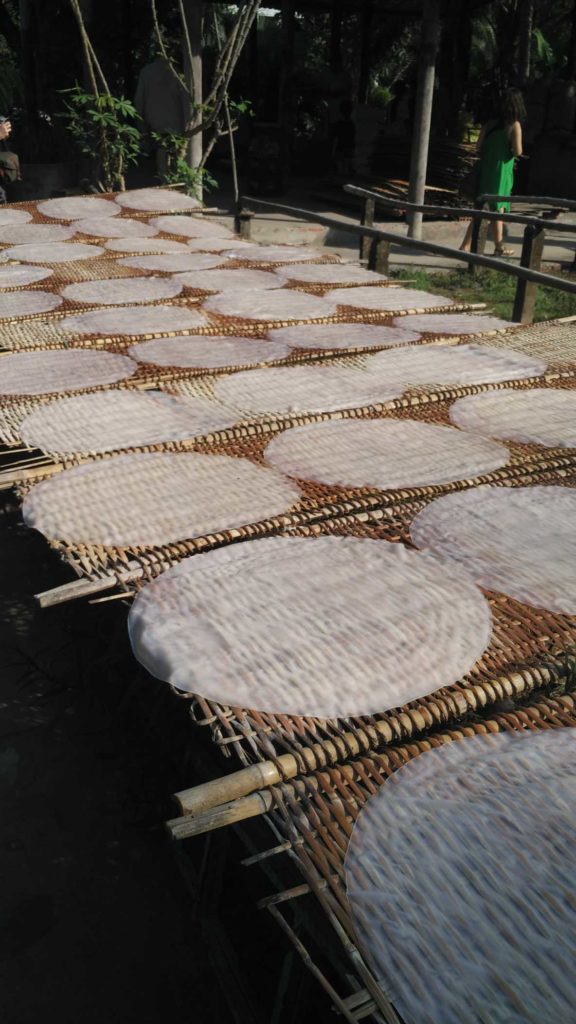 They're made in a similar way to crepes, actually – there's some cheesecloth/muslin suspended over a pot of boiling water, then the uncooked rice mixture is spread across the cloth, which is then left to steam. The end result is this. These two days then ended with a breezy 4-hour bus ride back into Saigon. Well, breezy if you have some great books to read – highly recommend Kon-Tiki by Thor Heyerdahl. About a guy who crosses the Pacific Ocean on a raft, very entertainingly written.
Tomorrow: Cu Chi tunnels and mental preparation for my train ride North.
Speaking of: turns out train seats sell out quickly here! Thanks to the Labour Day public holiday (and my own negligence) the 28th train is fully booked, so I'm getting the 8am 29th instead, arriving to Hanoi at 8pm. 36 hours… This will be an interesting ride! On the plus side I'm meeting my roommate from Singapore – George – that night in Hanoi, then catching the bus into China the next day. On the not-so-plus side, I will guaranteed be hungover for that trip…
Thanks for reading!
– Alex
P.S. Before I go, some bonus pictures that haven't fit anywhere so far: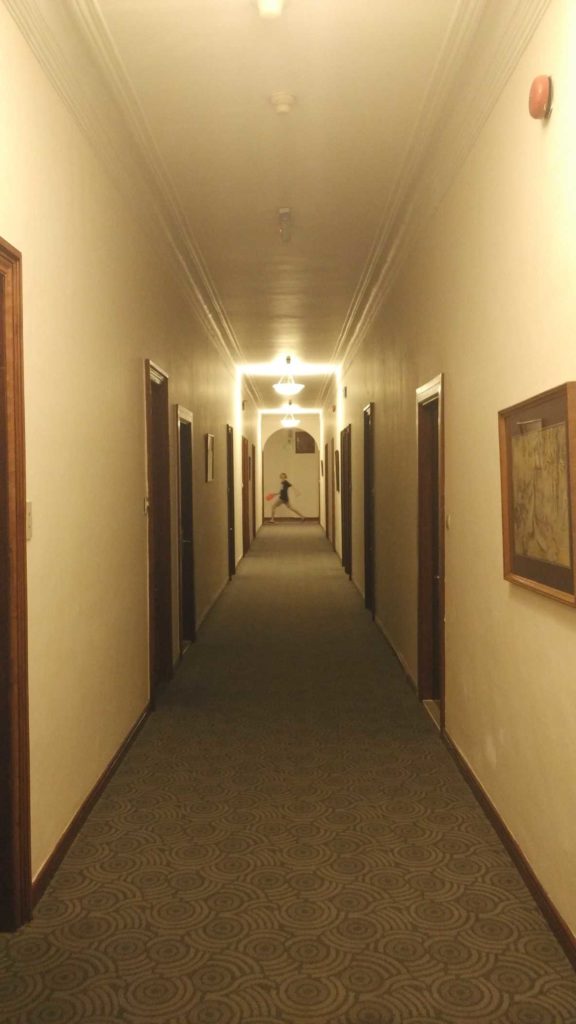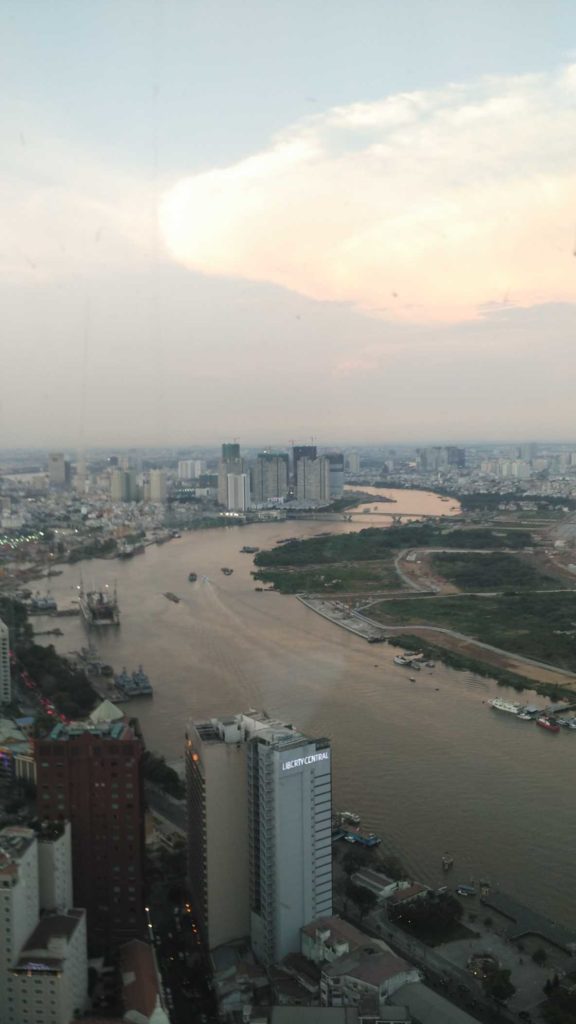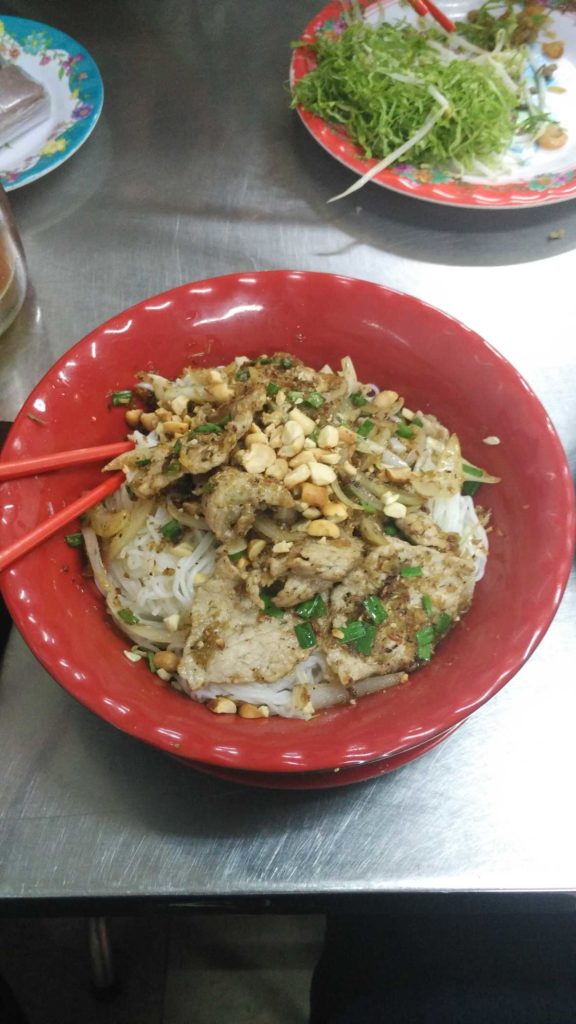 This entry was posted in
Daily