After just one night in Siem Reap, one morning in Angkor Wat, and one long bus ride, we've now arrived in Saigon. My brother and I met our dad here, and we're spending about a week together before I head off on my own for real – into China and beyond.
Some people say you need one day to see Angkor Wat, others say you should spend three… I guess those people would be horrified at our 2.5 hours. We had an 8:30am bus to Vietnam, so we were up bright and early at 5am to see the sunrise. We ended up paying 8 USD for a tuk-tuk into Angkor Wat, then to Angkor Thom, then back out to the bus station – probably too much but my haggling brain was far from awake. (side note: along with Cambodian Riel, USD is almost universally accepted – in fact you can only pay the Angkor Wat entry fees and visa in USD – this can lead to some unfavourable deals for tourists).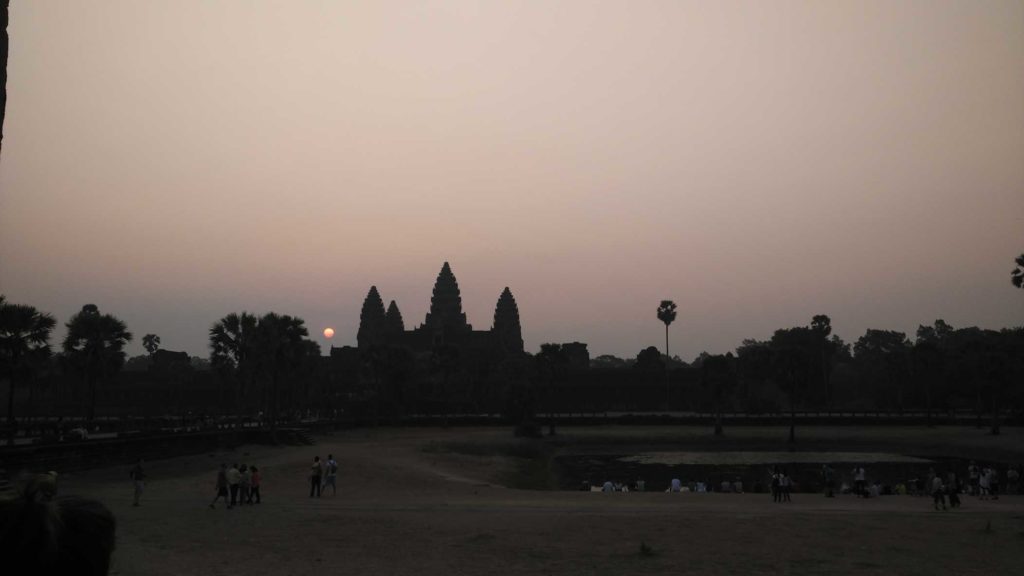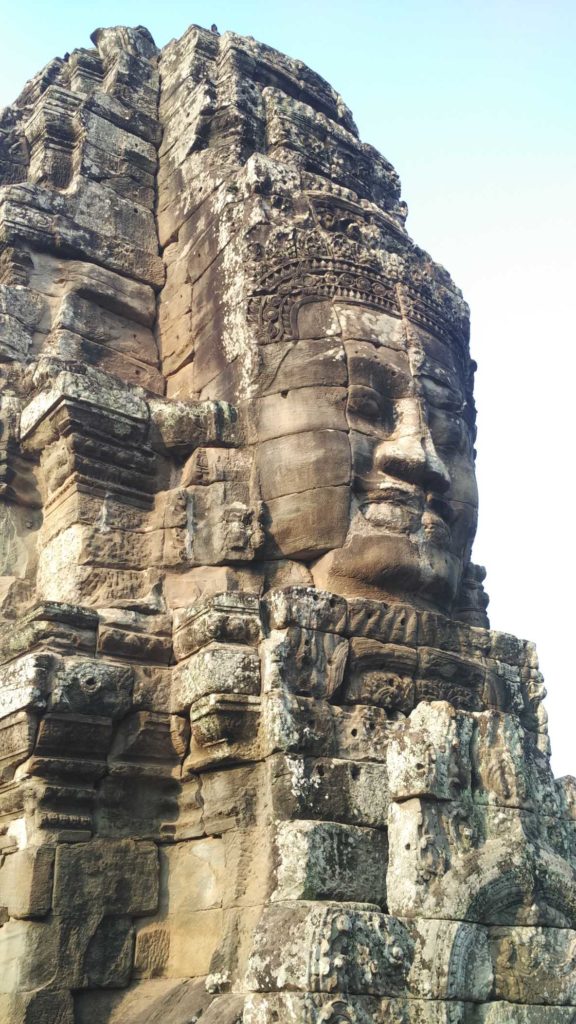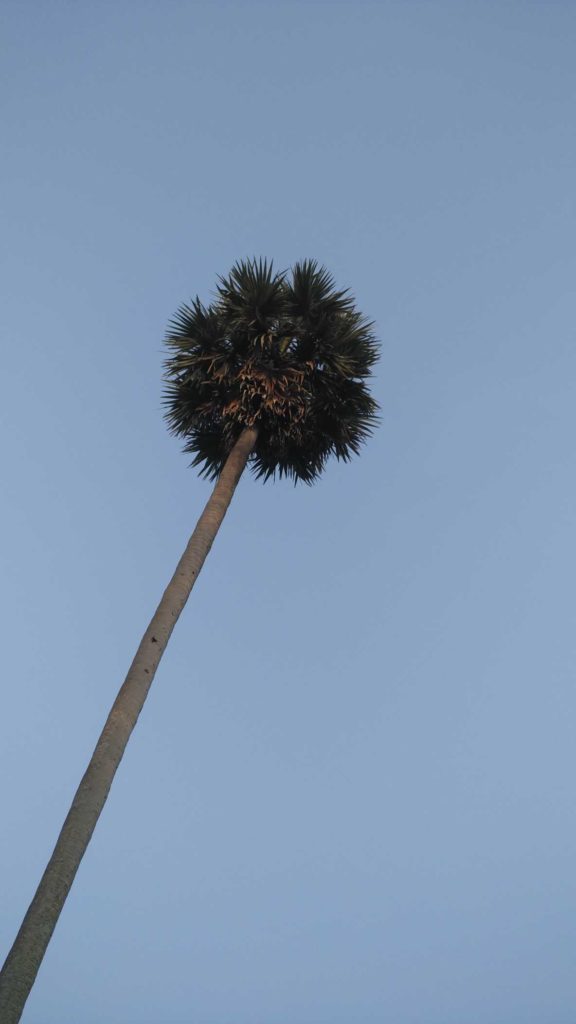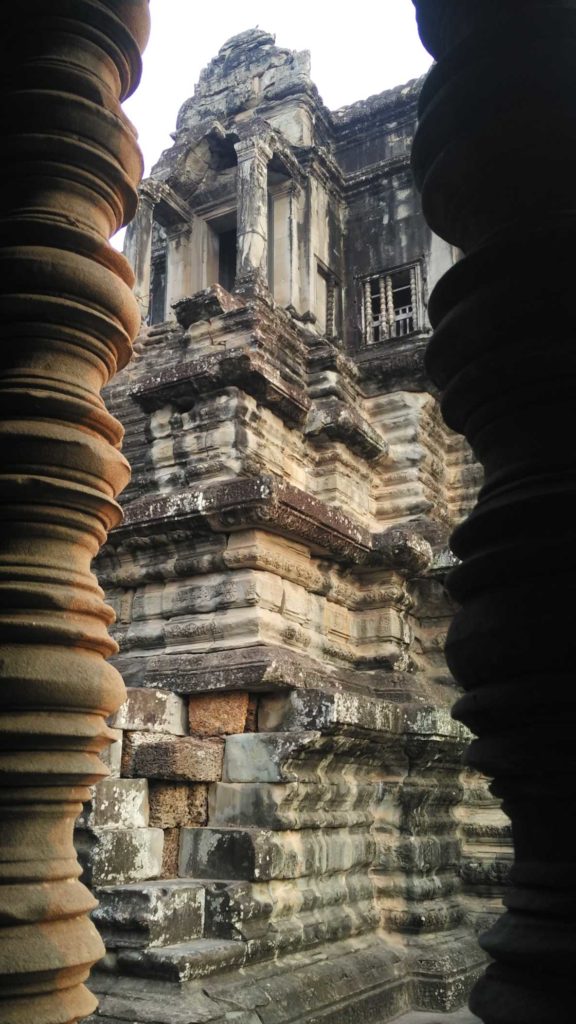 I'm still not sure what to think about Cambodia. I know some people fall in love with it – But coming in from the Thai border on that rattling minibus looking out over dusty roads and half-naked children, you can't help but think that this feels like the kind of place they send you if you do something wrong. Cambodia does have fantastic natural scenery and history, and is more 'adventurous' (read: less developed) than neighbouring Vietnam and Thailand, but it also feels like the economy revolves almost entirely around tourism – at least, in the obvious tourist zones. (Looking up stats, I know this isn't true, tourism is the third biggest sector – but tourism arrivals have doubled since 2010 and are five times the 2004 level) Of course, then you learn about the country's messed-up past and can't help but feel impressed it's even functioning today.
I know I only feel like this because I haven't seen enough of the country, and my opinion is just one of many. It's good to be back in Vietnam, where there's one currency and you feel ripped off far less often. Speaking of Vietnam, the food!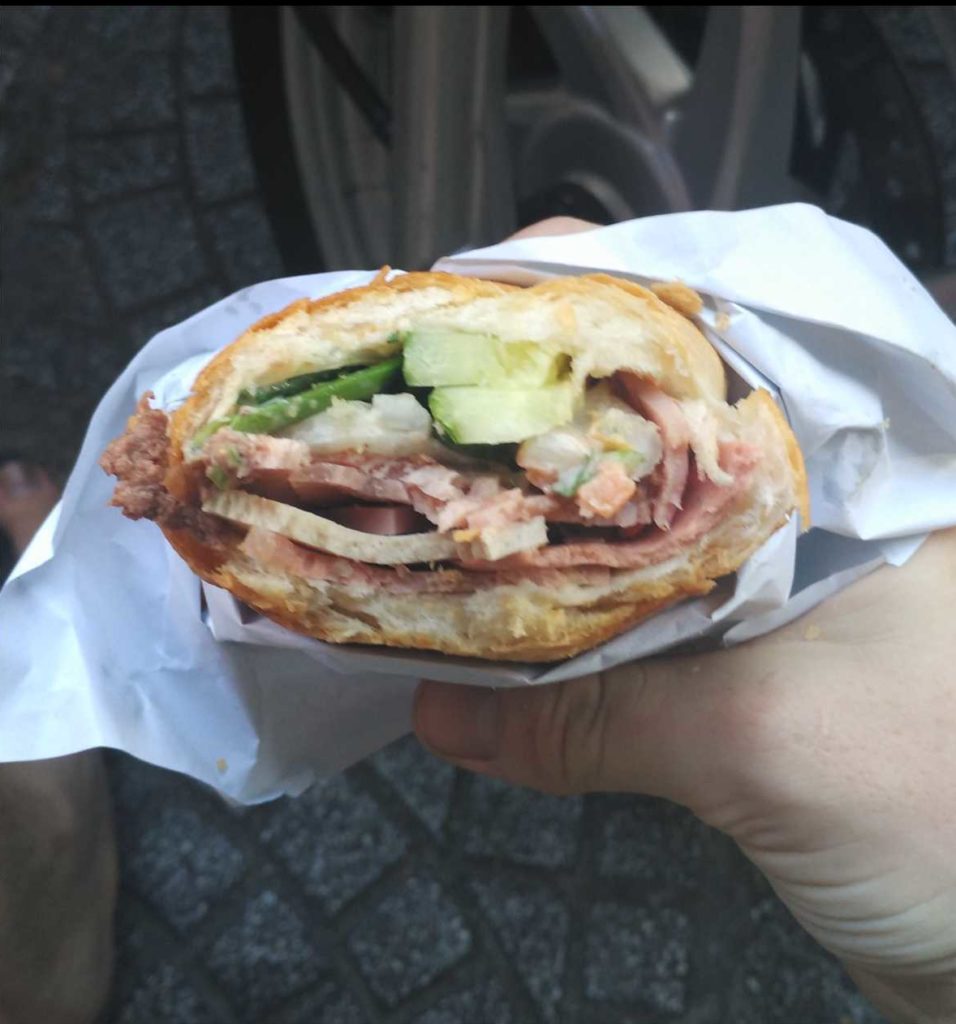 This is apparently known as 'lesbian banh mi' (no idea why), and according to the internet is one of the very best in Ho Chi Minh – I can confirm that. There's a queue out the door and 4+ employees assembling rolls with factory precision. They manage to stuff 8 meats in there, and it costs a grand total of 30,000 VND ($2 AUD) – expensive by Vietnamese standards!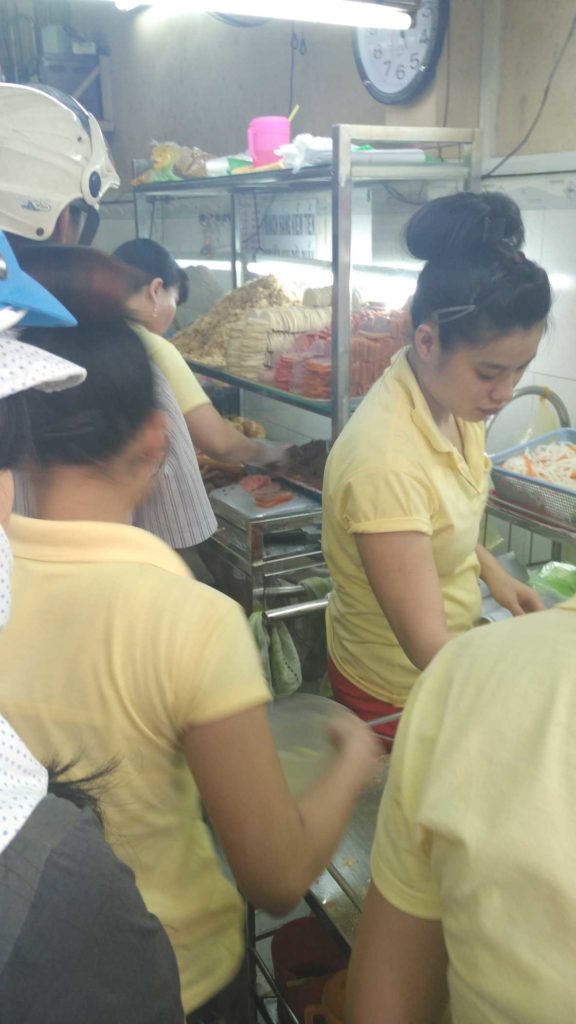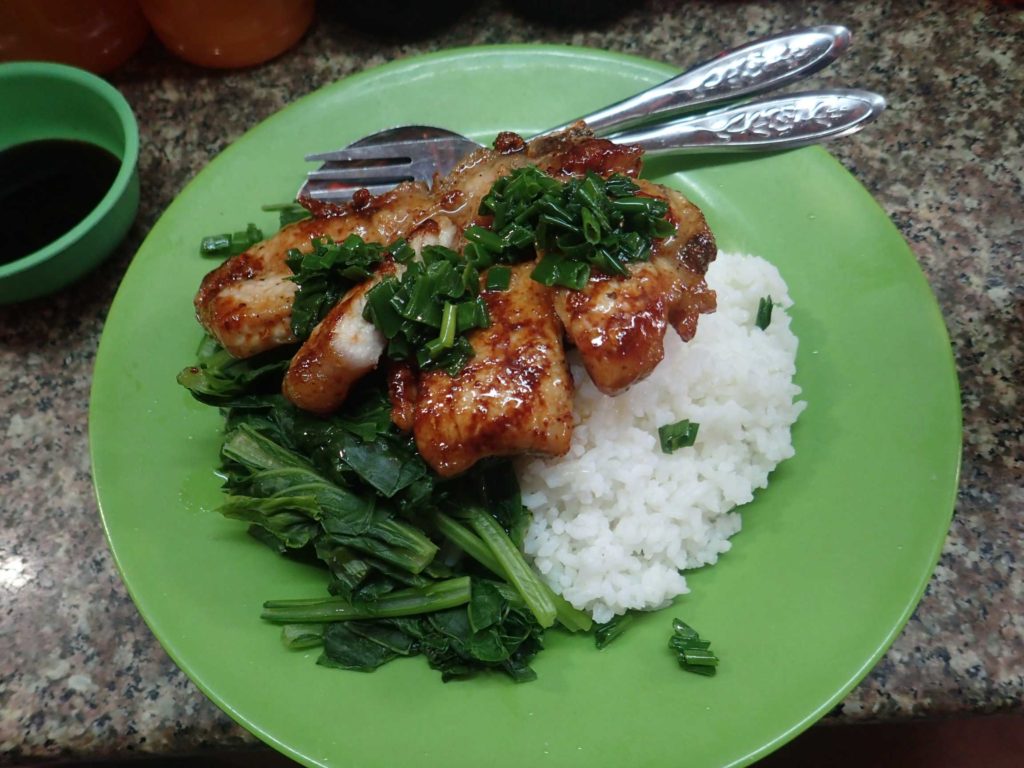 The pork and broken rice above is from Ben Thanh market – get up as early as you can one morning and go watch all the Vietnamese ladies doing their daily shopping. Nearly all the seafood is still wriggling and the meat is being butchered moments before sale. A refreshing change from cling-wrapped styrofoam supermarkets!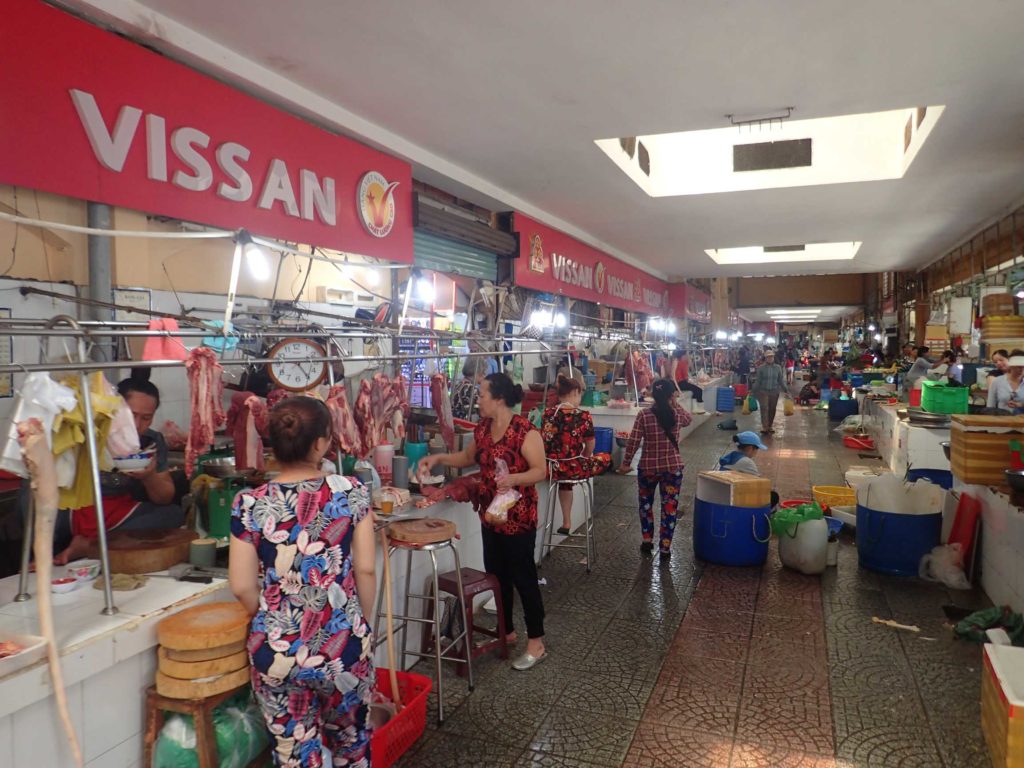 If you're ever in Saigon, the War Remnants Museum is definitely worth checking out. It's not exactly a pleasant visit, but it's probably one of the best museums I've seen in terms of sheer impact, it really gives you a sense of what actually happened during the Vietnam War (as someone who wasn't exactly around when it happened). I don't have any pictures of it – it should really be seen in person.
So one of the perks of meeting up with dad is that we're staying in the Hotel Continental Saigon, Vietnam's oldest hotel (est. 1880) and home to the hotel room where Graham Greene wrote much of The Quiet American. I know this is hardly in the spirit of slumming it and spending as little as possible but… to be honest I'm not going to complain! Any hotel that can pull off a restaurant unironically named 'Le Bourgeois' gets a tick in my book. I feel like I slipped through the cracks as the doorman pulls open the door to a ridiculously ornate colonial lobby – I shouldn't be allowed in here, with my wrinkled t-shirt and dusty flip-flops, and yet. And yet.
We're heading out to the Mekong on Tuesday, and the Cu Chi tunnels on Thursday, right before I get the train up to Hanoi that evening. I'm still.. not quite sure how I'll do China – I don't have as much time as I'd like but I would rather spend 8 days in 3 places than 8 days in 8 places. At the moment it's looking like Guilin in the south for a couple of days, then west to Dali in Yunnan to go hiking, and finally some tedious train rides through the interior to Beijing.
One thing I did forget to account for is that one of my very first days in China will be May Day/Labour Day/International Workers' Day, one of just seven annual public holidays. In other words, I'm expecting utter chaos – I know that Chinese New Year jams up the train network as a billion people head home for the New Year. I'm also in the process of organising what I'll do in my five days in Mongolia, currently it's yurtstays and horse riding!
'Til next time,
– Alex
This entry was posted in
Daily