I spent my first few hours in Moscow wandering around in awe. After a year of skyscrapers, small apartments, ramshackle alleys, 'Various Asian Buildings' (from hammocks to bamboo huts), and, most recently, wooden Russian houses, I was now surrounded by impressive European architecture: carved façades, soft colours, and wide, planned streets. A Muscovite would scoff at me calling it European, though. Moscow, like most European cities, is a very good place to live if you have money. And it is Europe – when I mentioned I was going to Moscow, every Russian I'd met waved their hand dismissively and said that Moscow is not Russia. Now that I'm here, I believe them. As I left the metro on the way to my first hostel, the very first car that drove past was a Bentley with a blonde woman at the wheel. I quickly lost count of the Rolls Royces, Maybachs, and Porsches. The sheer magnitude of wealth here is stunning when compared to the rest of Russia I've seen. To match the wealth floating around here, everything is a good 30% more expensive than the rest of Russia: especially noticeable when it comes to food – and coming from Asia!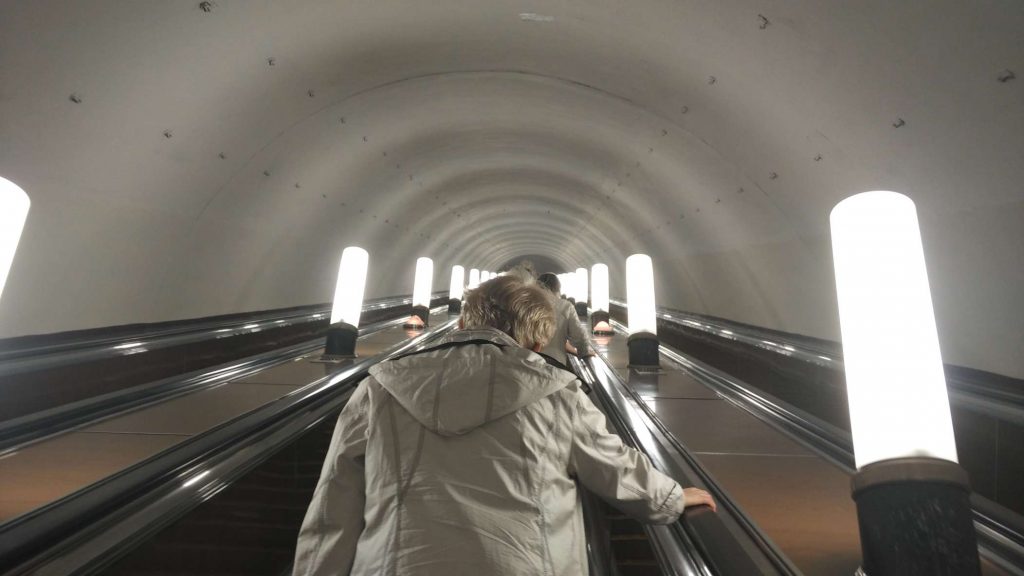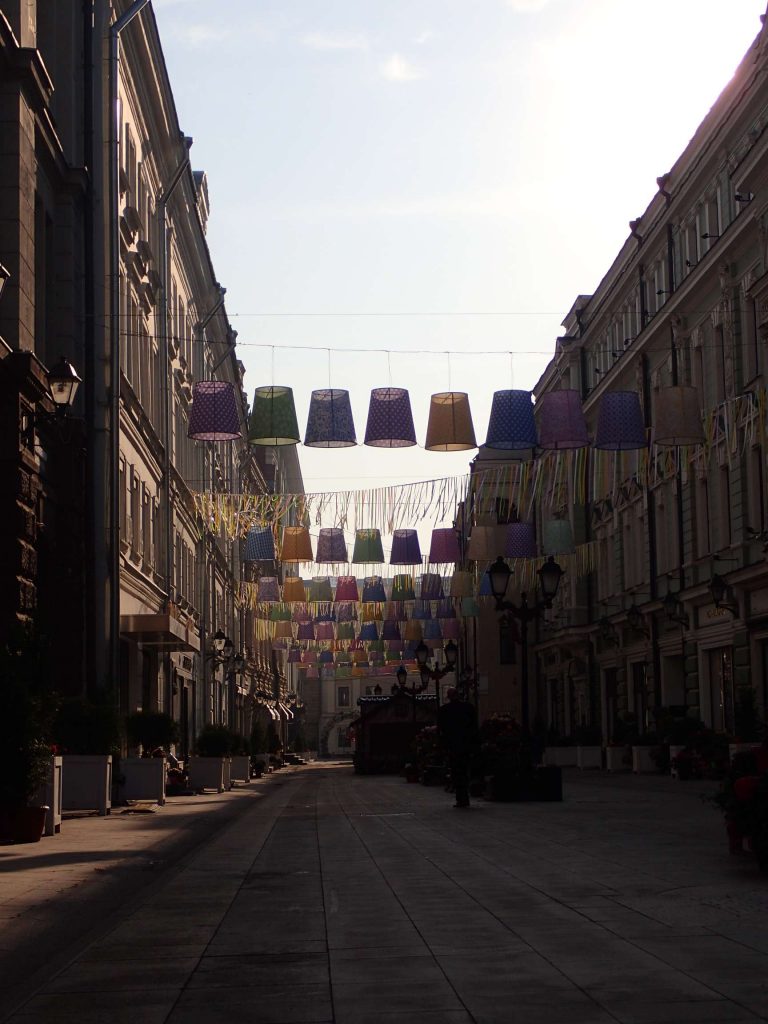 After arriving at 4:42am, most of this first day was lost to post-train lethargy. I found a hostel (iVAN Hostel, recommended by the two Italians from Mongolia) and promptly slept until early afternoon, when I got some writing and talking to friends done. I was scheduled to meet with a friend of a friend for dinner; we went to a Ukrainian place, Korchma. It was decorated like a farmhouse, and every 30 minutes or so musicians would come out and play – I gathered – famous Russian songs, as everyone was mouthing along under their breath.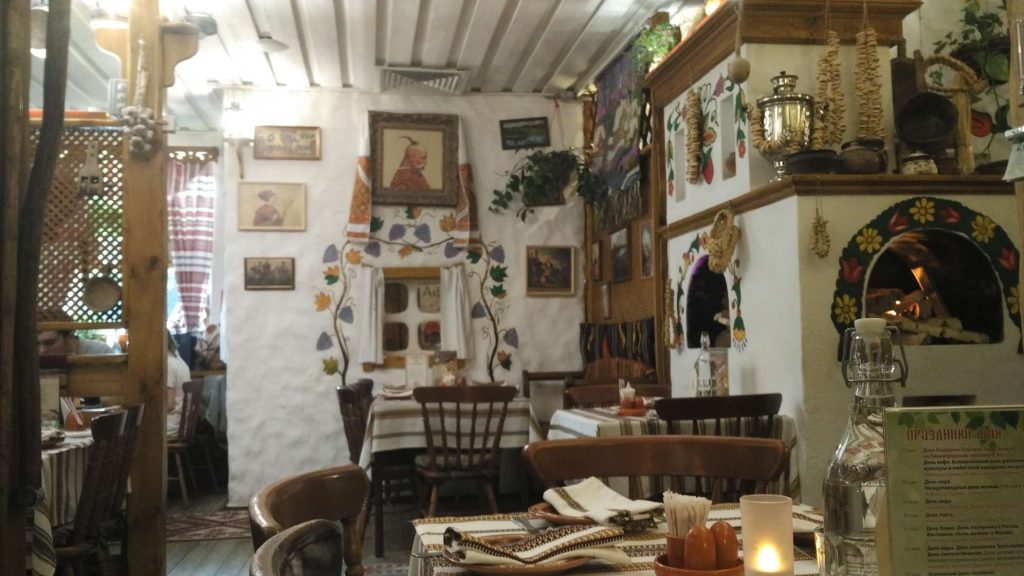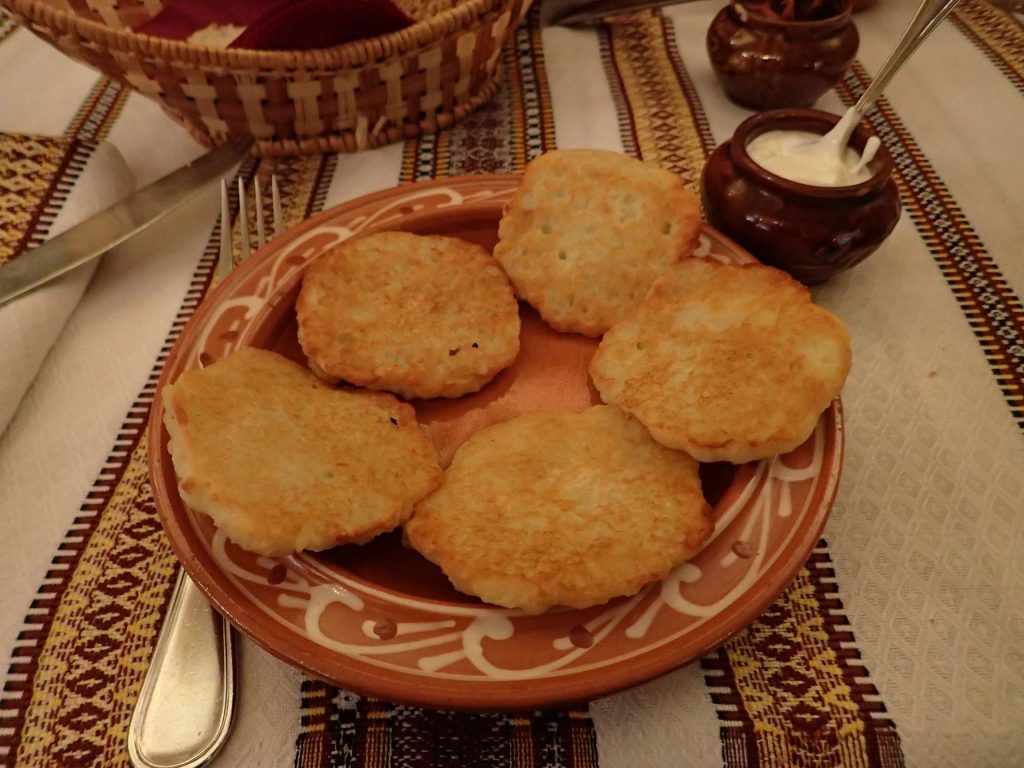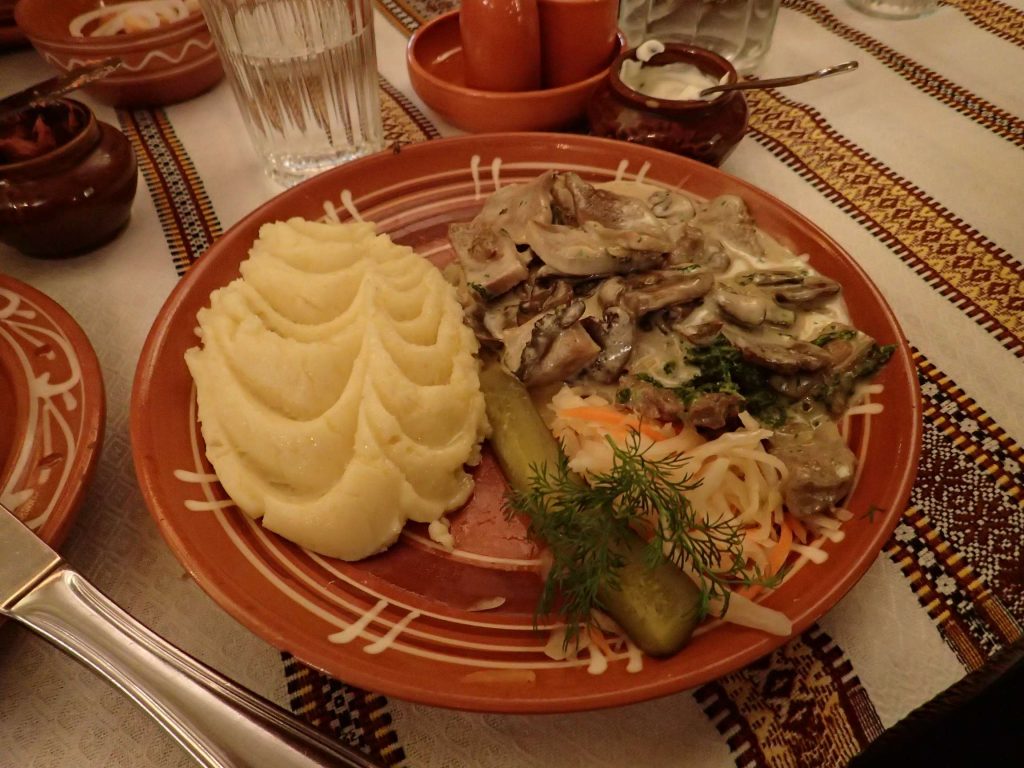 Thanks to Russia's ridiculous size, there is really no one dish natively found across the entire country. Much of what you and I associate with Russian food is actually Ukrainian – owing to the country's relative proximity with Moscow and St Petersburg. We ended the meal with an obligatory vodka shot. I say shot, but it was in reality sipped – it's by far the best vodka I've tasted, smooth and black-pepper-flavoured.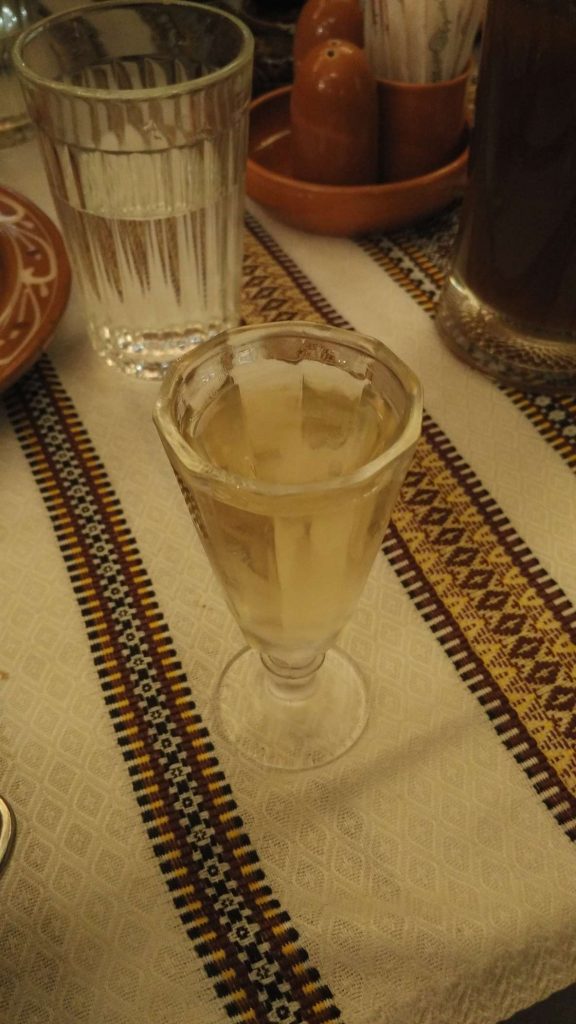 As one only can in Russia, we wandered around the Red Square and the River Moskva afterwards. The Kremlin loomed over us, an enormous gingerbread stronghold of the Russian Empire. Between the white icing and the lights in its walls, the towers bristled with hundreds of security cameras keeping a watchful eye on anyone who might fancy a piece of gingerbread.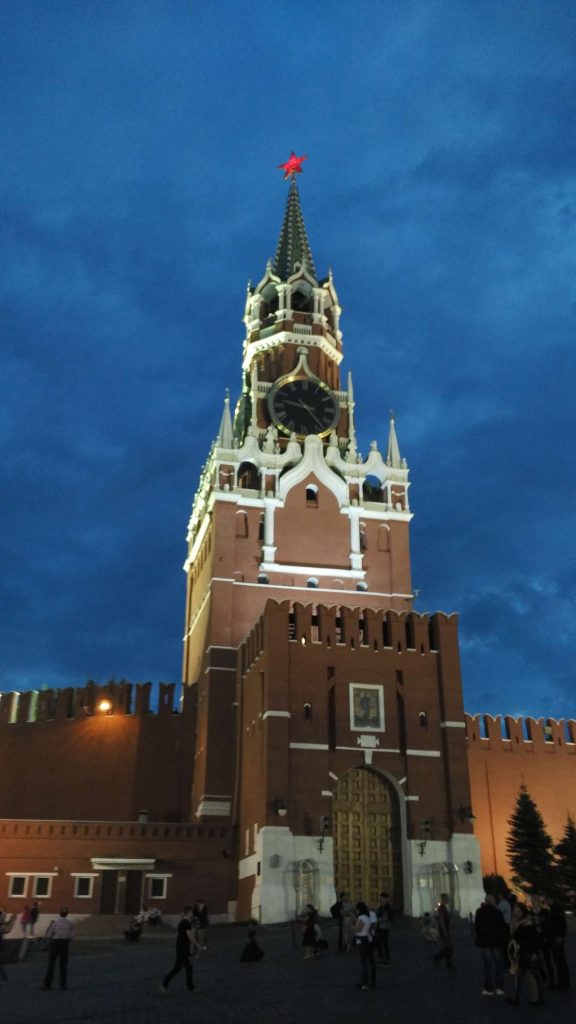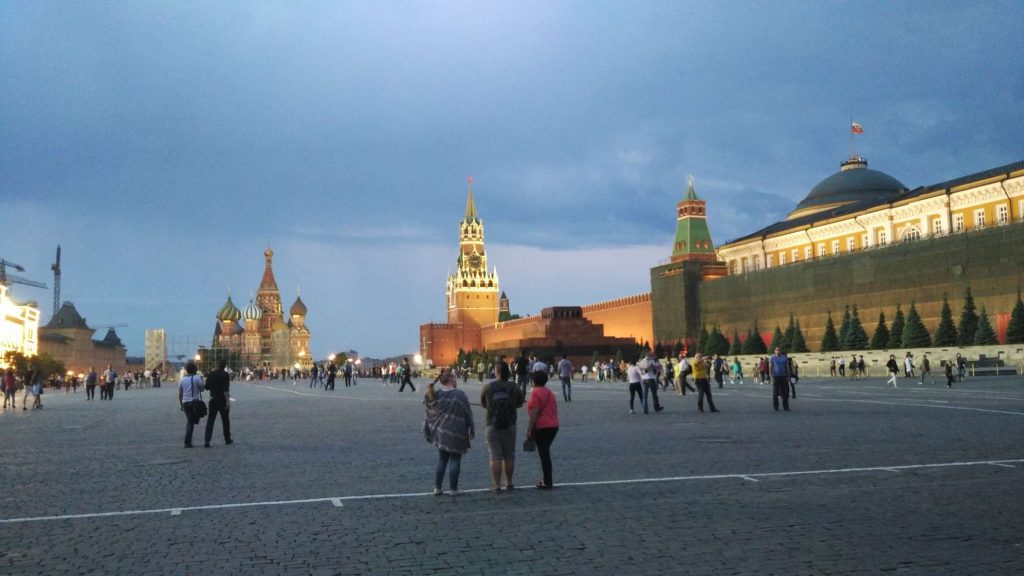 On one side of the square is the squat black monolith with one word in bold golden letters: ЛЕНИН (LENIN). It is, of course, where the revolutionary's corpse is preserved with questionable authenticity. His body's preservation was a state secret until after the fall of the Soviet Union: it's effectively dipped in a sort of wax and wiped down every fortnight. On the other side of the square is Moscow's most upmarket mall, the ГУМ (pronounced 'Goom'). More on that later. Behind the mausoleum is the Kremlin proper, and at the far end of the square is St Basil's Cathedral. Well, more like cathedral-ette; it looks like it could fit comfortably on a wedding cake. The various sugary multicoloured spires make it seem edible.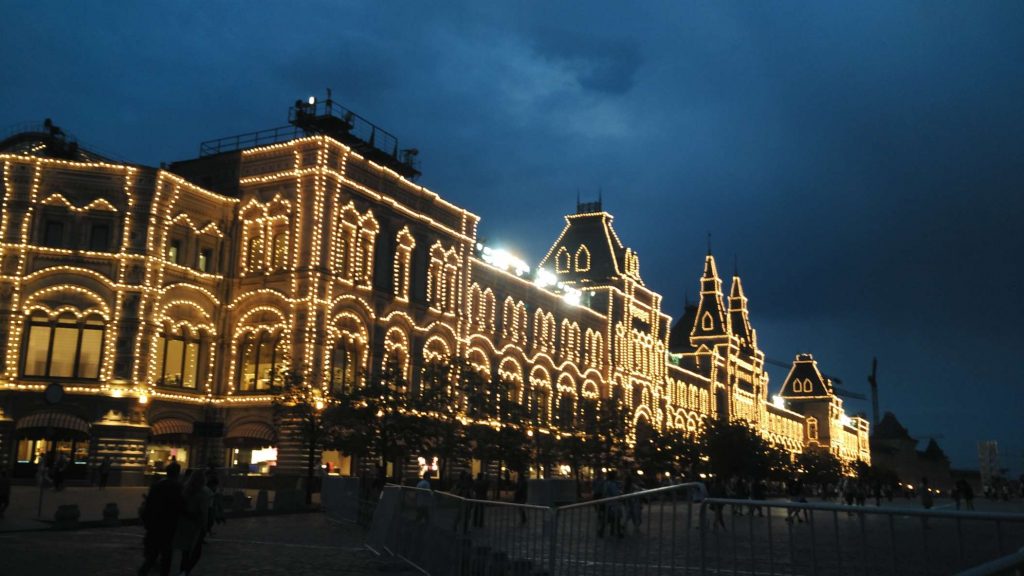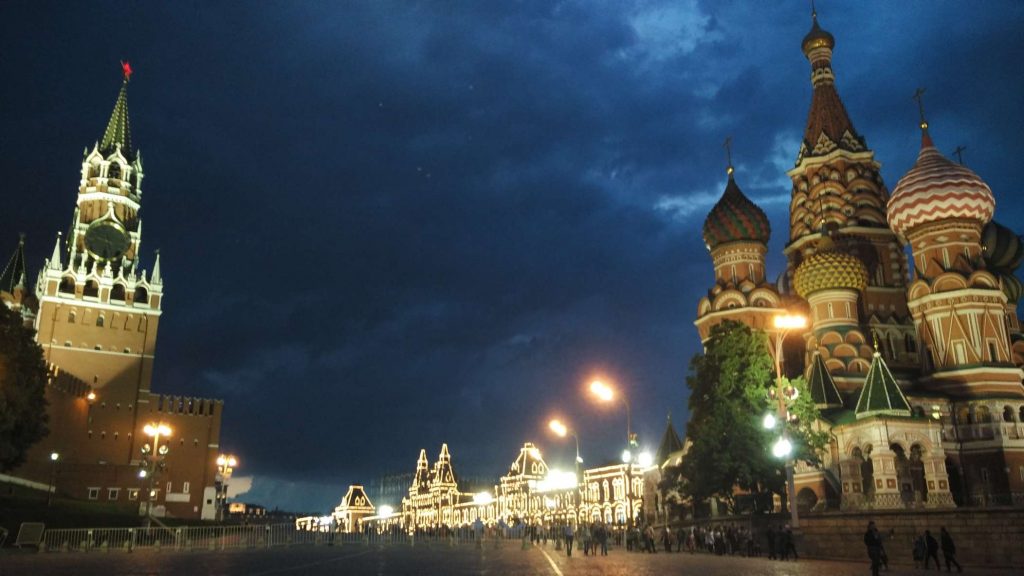 We ended the night in a Soviet-rundown-hipster-chic bar in a film festival, which was screening a 1.5 hour-long promotional film for Levi's Jeans – which inexplicably held the trendy Russians rapt attention. Moscow, it seems, is no longer just trench coats, Russian hats, and fur (though I'm not sure it ever was), but tattoos and hipsters alongside designer fashion and new money.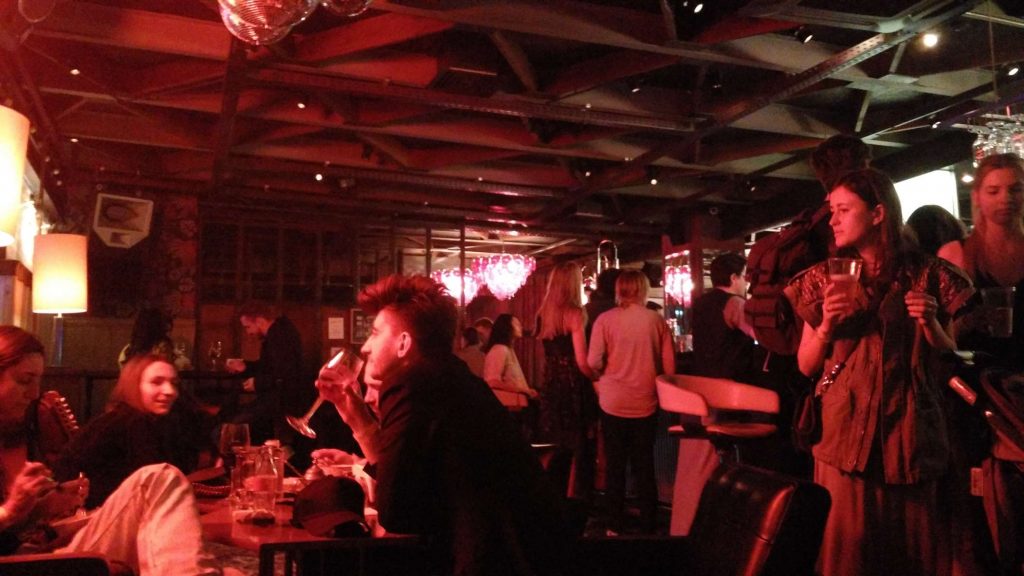 The next morning VDNKh Park (ВДНХ) and the adjoining space museum. The park is impressive in itself: it's an enormous space populated by buildings 'donated' by the various Soviet satellite states. There are buildings from Georgia, Belarus, Ukraine, all ornate and representative of their country's unique culture.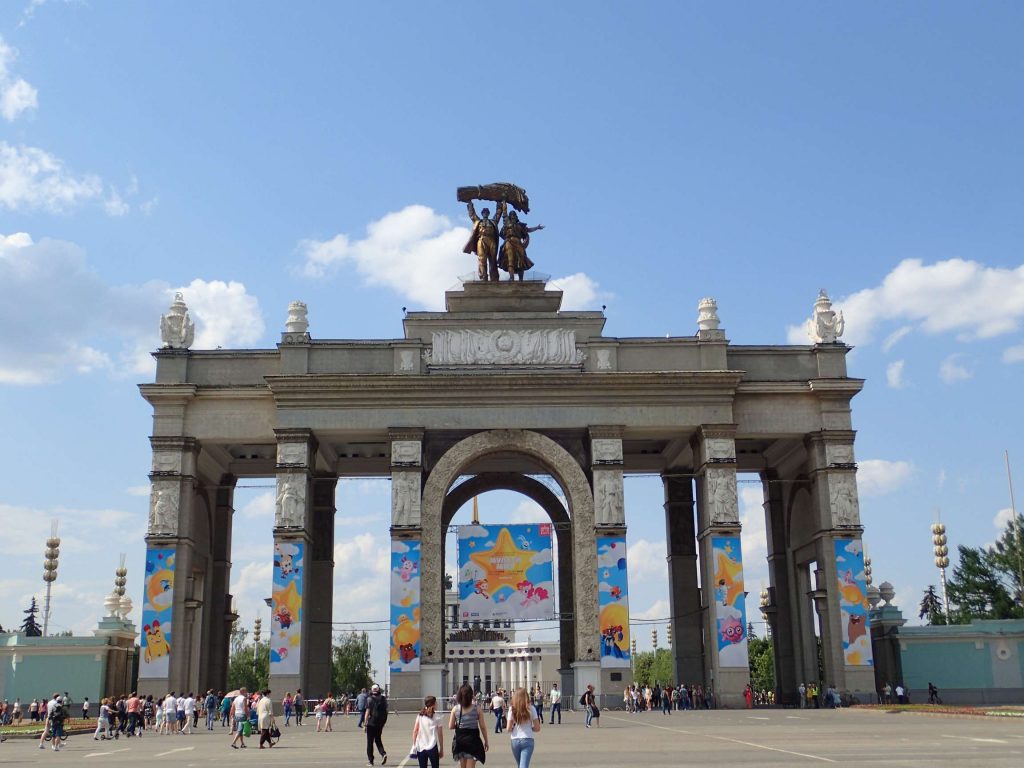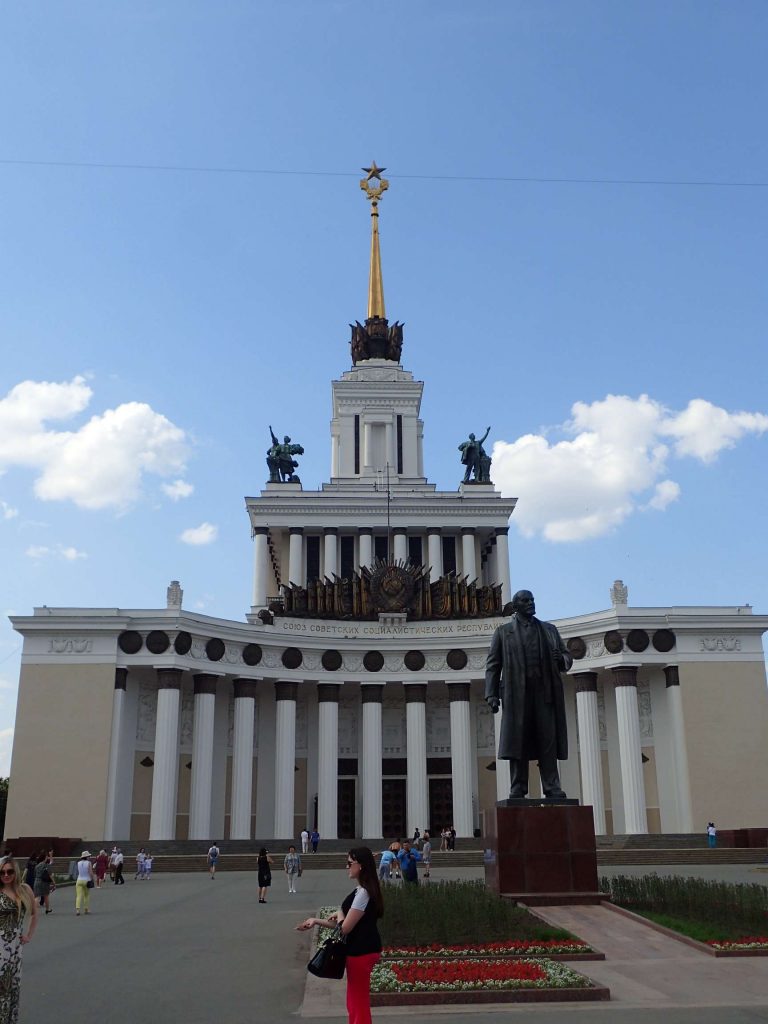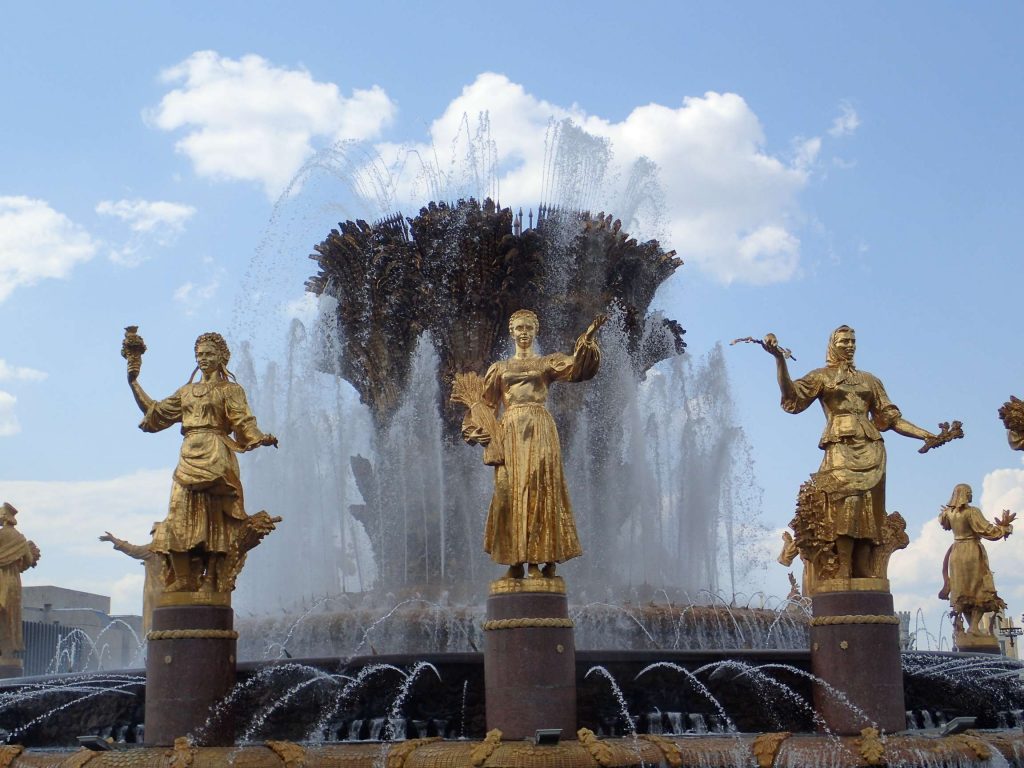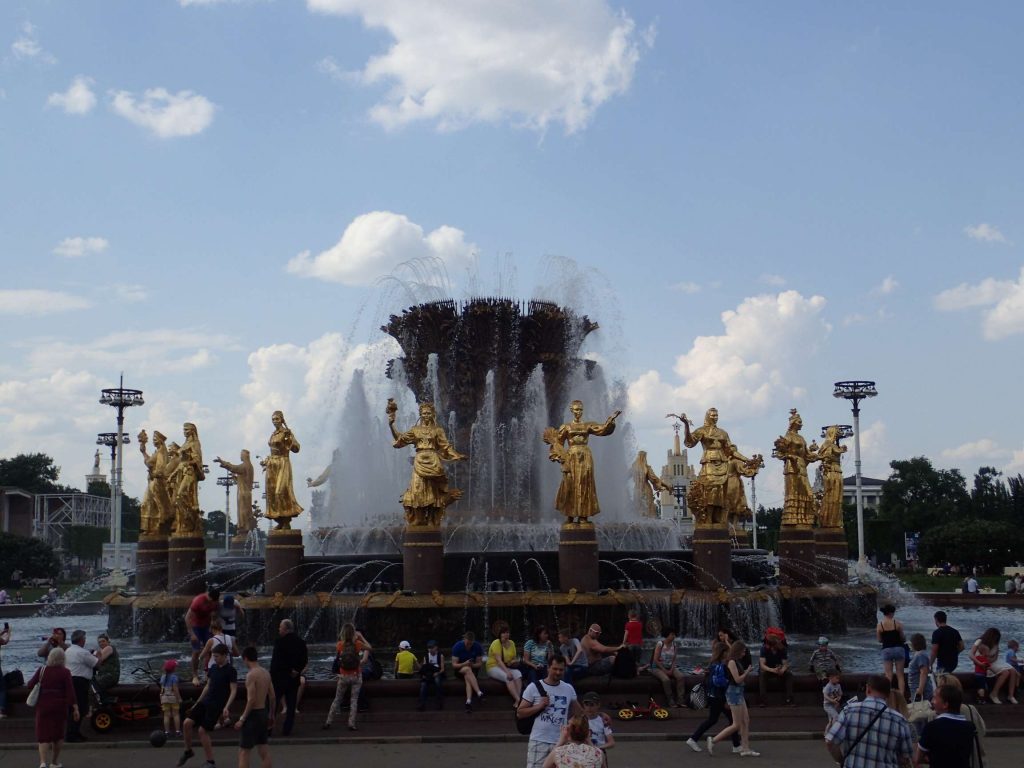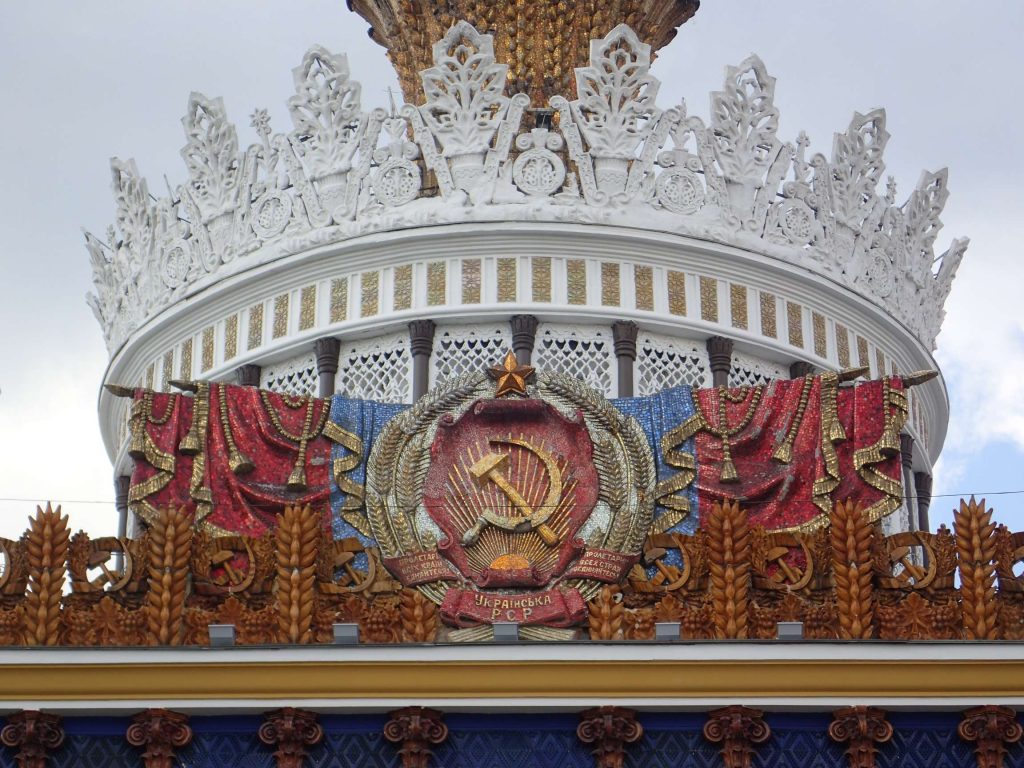 You walk around with your mouth hanging open for the first hour or so – the sheer scale of it is hardly believable. However, as bad as it sounds, before long you do get a bit 'numb' to all of this grandeur, gold trim, and Soviet symbolism.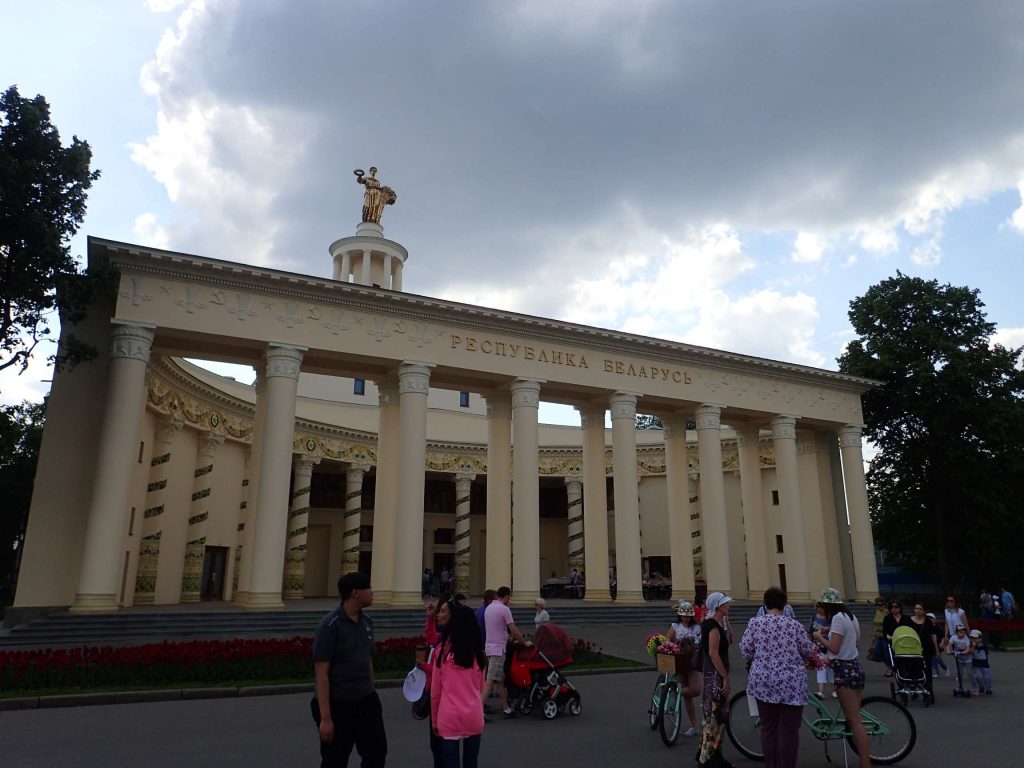 Outside was an bar serving beer and various fried eastern European things – by far the most popular were a version of deruny, fried shredded potato with a dash of greens and a dollop of sour cream; really hearty.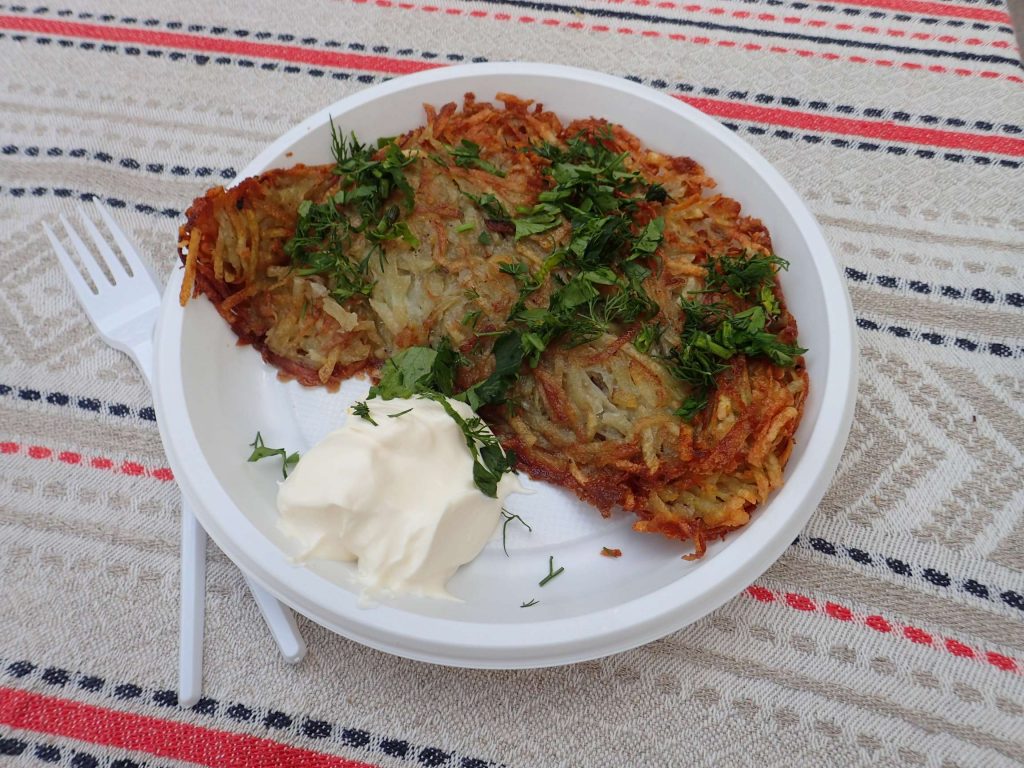 Finally I reached the space section of the park: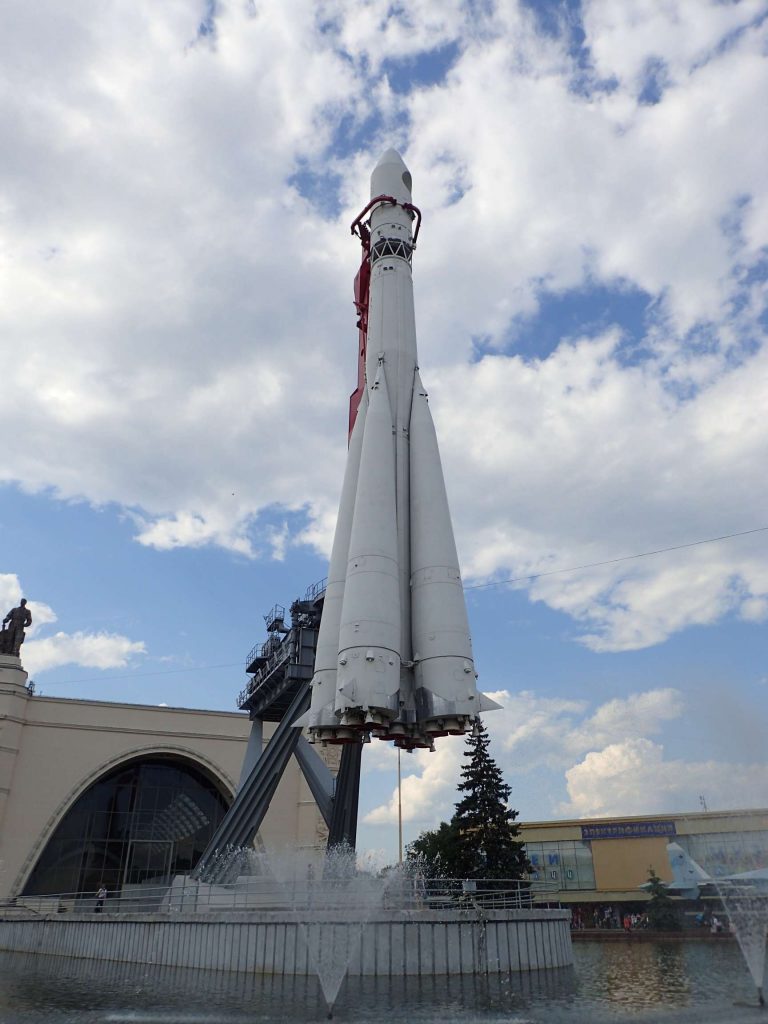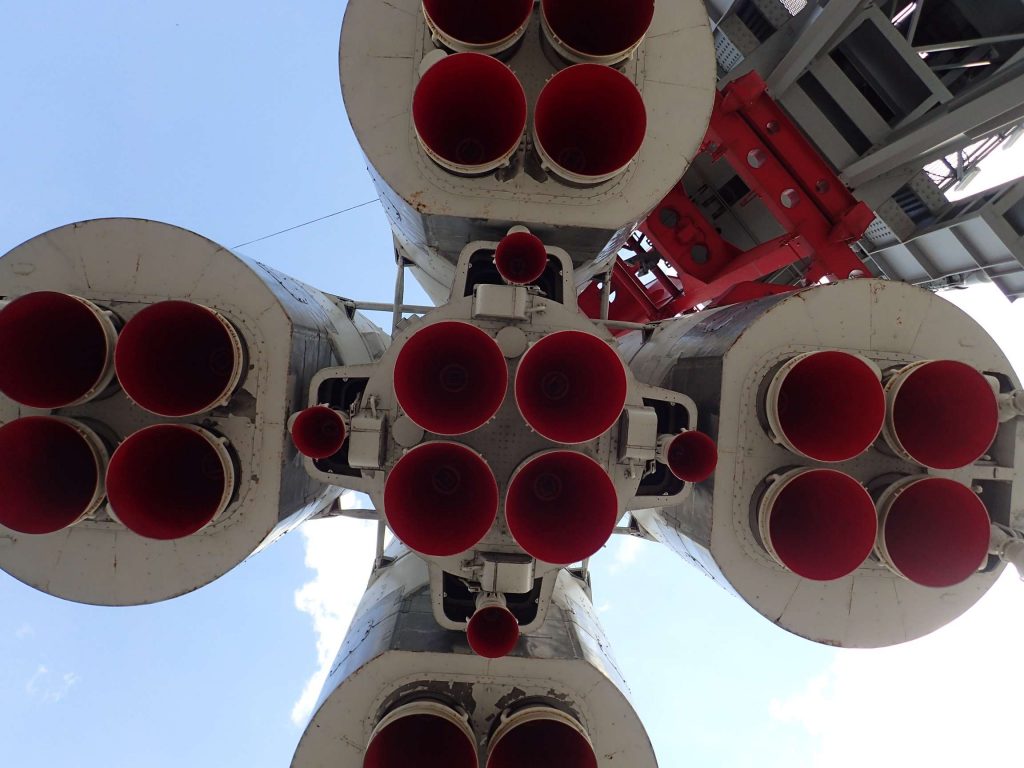 The space museum is crowned by a 100m tall vaulted structure topped by a little silver spaceship, very impressive to look at.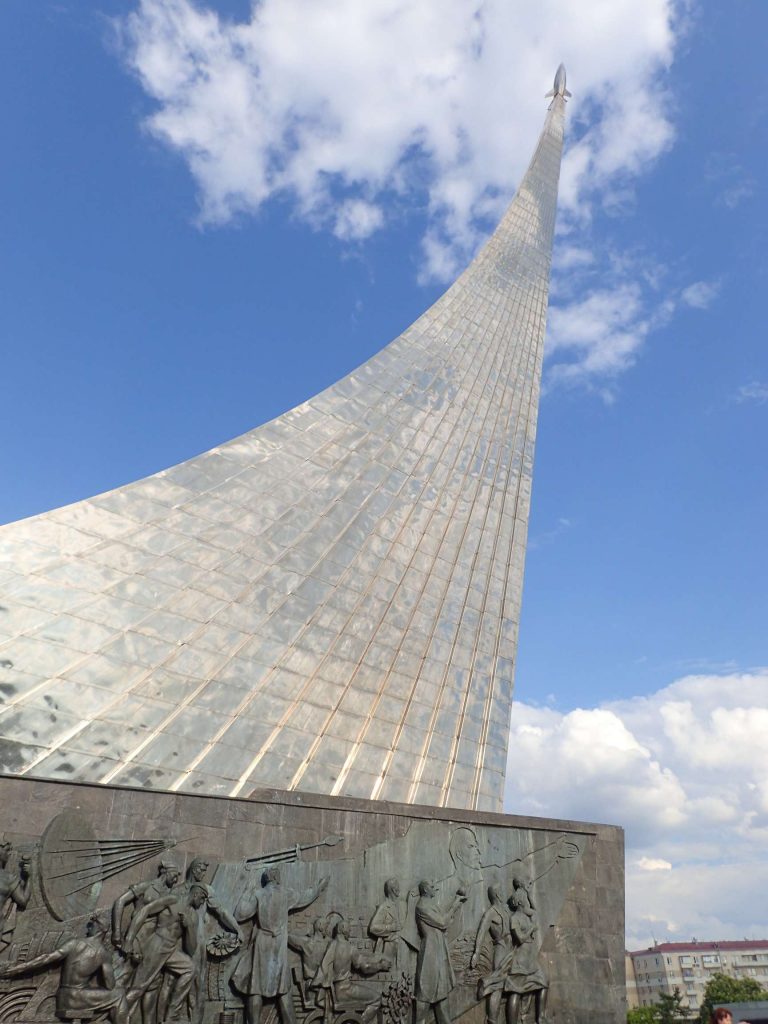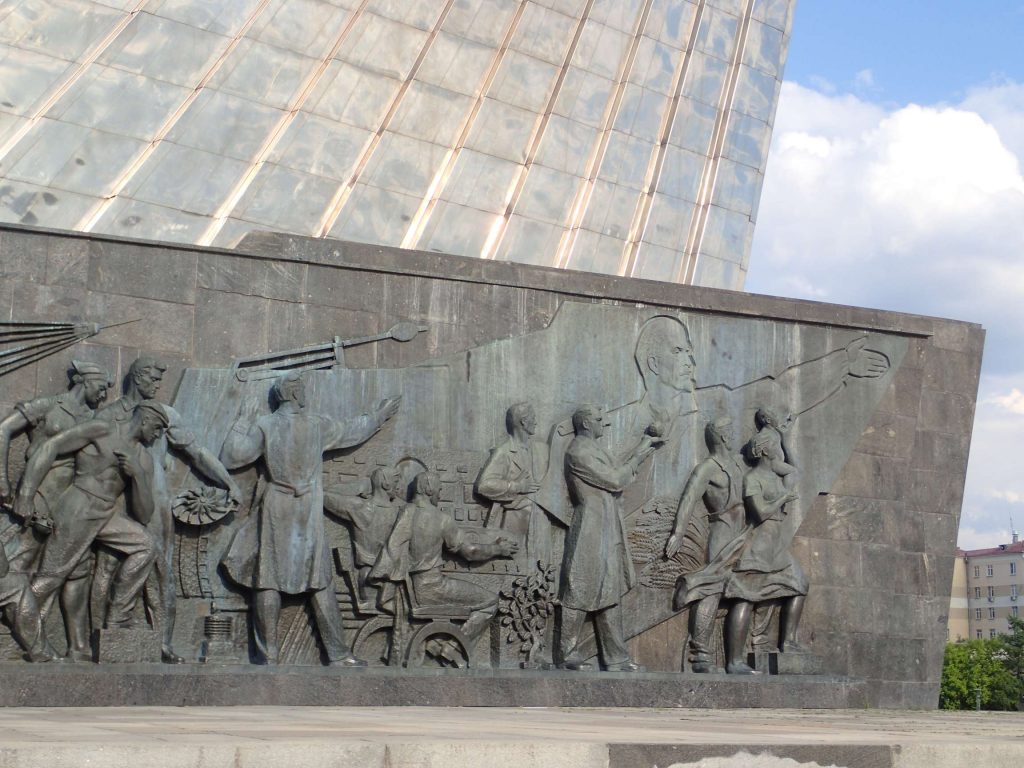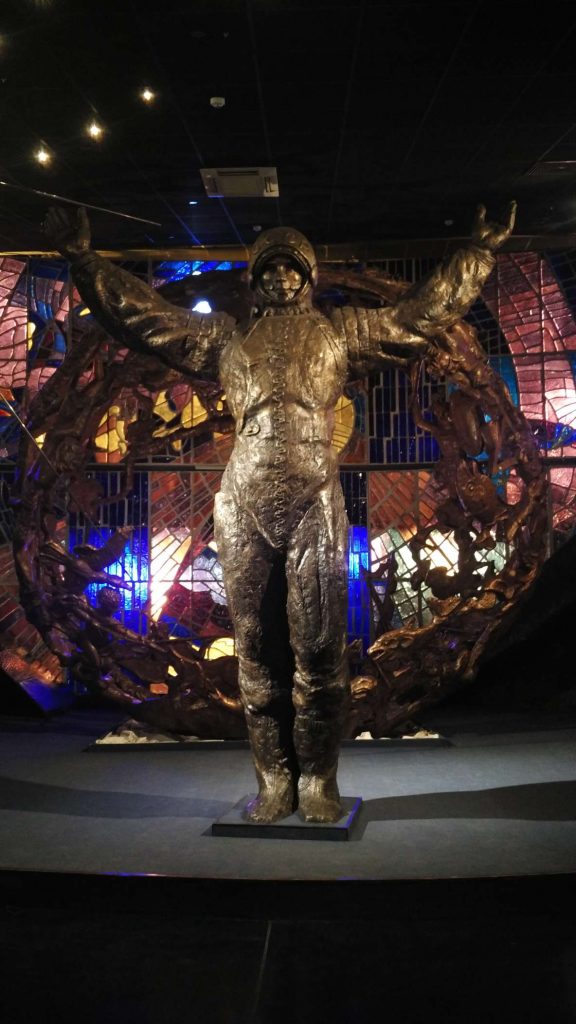 The museum was pretty interesting, there were some interesting exhibits like the first Russian satellites to enter space, but it was also heavy on the people behind the spacecraft. Understandable, but they went as far as to recreate the workspaces of the bosses and include things like their pens and watches – in short, it felt a bit like they were struggling to find enough 'meaty' exhibits. Funnily enough, they did have the (actual) space suit of Michael Collins, that third guy in Apollo 11 who nobody remembers. They also had on display a particularly funny piece from Richard Nixon: a USSR flag and some fragments of the moon. The plaque reads "The flag of your nation was carried to the Moon and back by Apollo 11, and this fragment of the Moon's surface was brought to Earth by the crew of that first manned lunar landing." In short, it's the middle finger with which America officially ended the space race.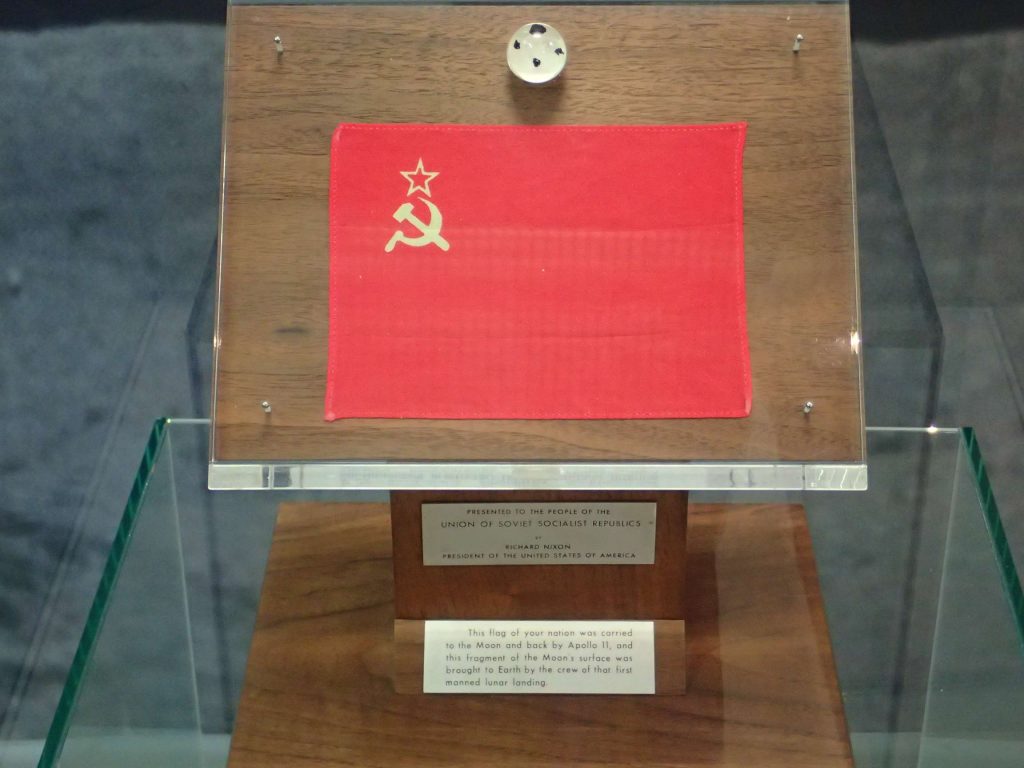 An interesting museum either way, and well worth visiting if you have even a passing interest in space.
That night I met up with the same friend again, this time with a few of her French exchange student friends. As the way of the world would have it, I found myself in Moscow, surrounded by French people, in an Asian restaurant, eating Japanese food drunk at one in the morning.
The following morning I trundled my hungover self to a large UFO-shaped building which houses Danilovsky Market, a popular food/produce market. In the heart of the market are traditional vendors selling meat, cheese, veggies, and everything in between, but the best part is the ring around the outside, which has little shops selling ready-to-eat food: bread, pho, pies, hot dogs, even beef tartare.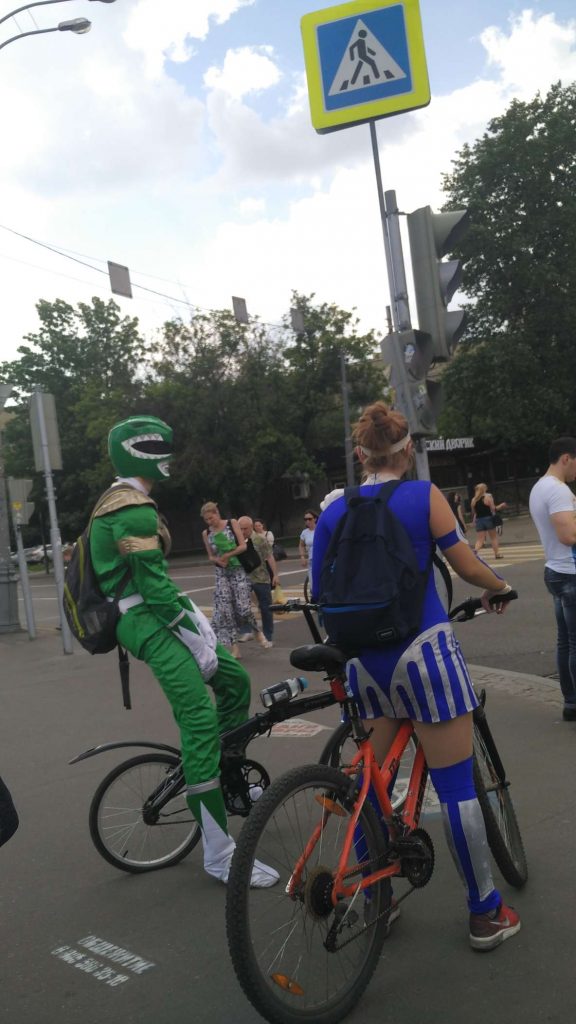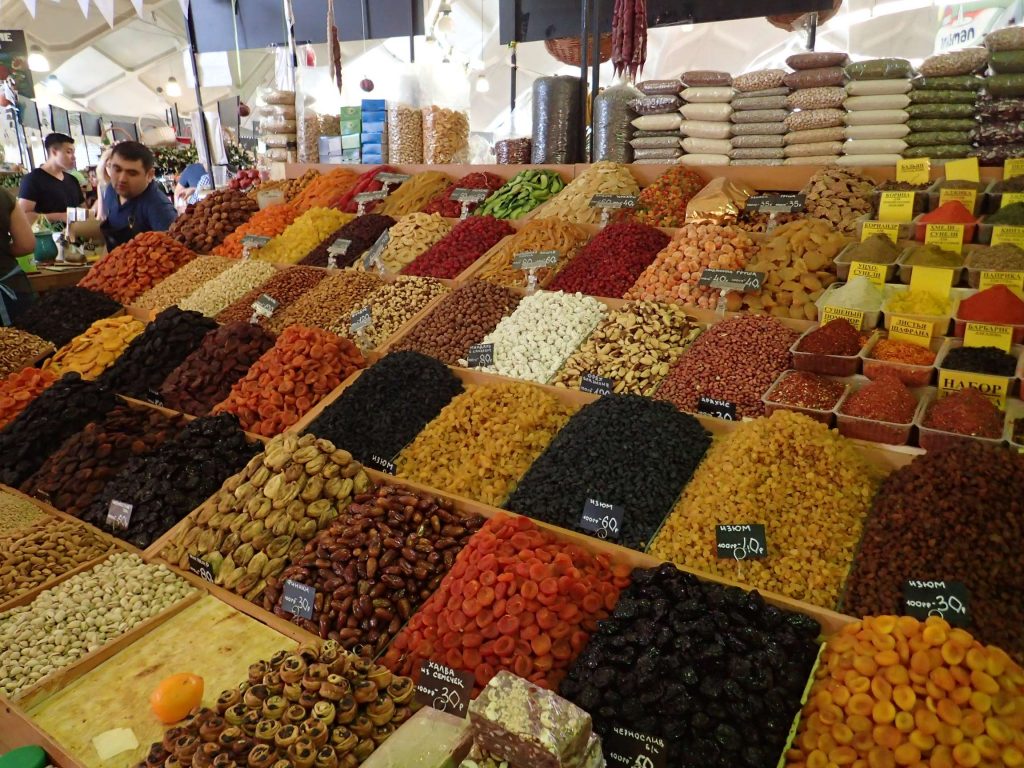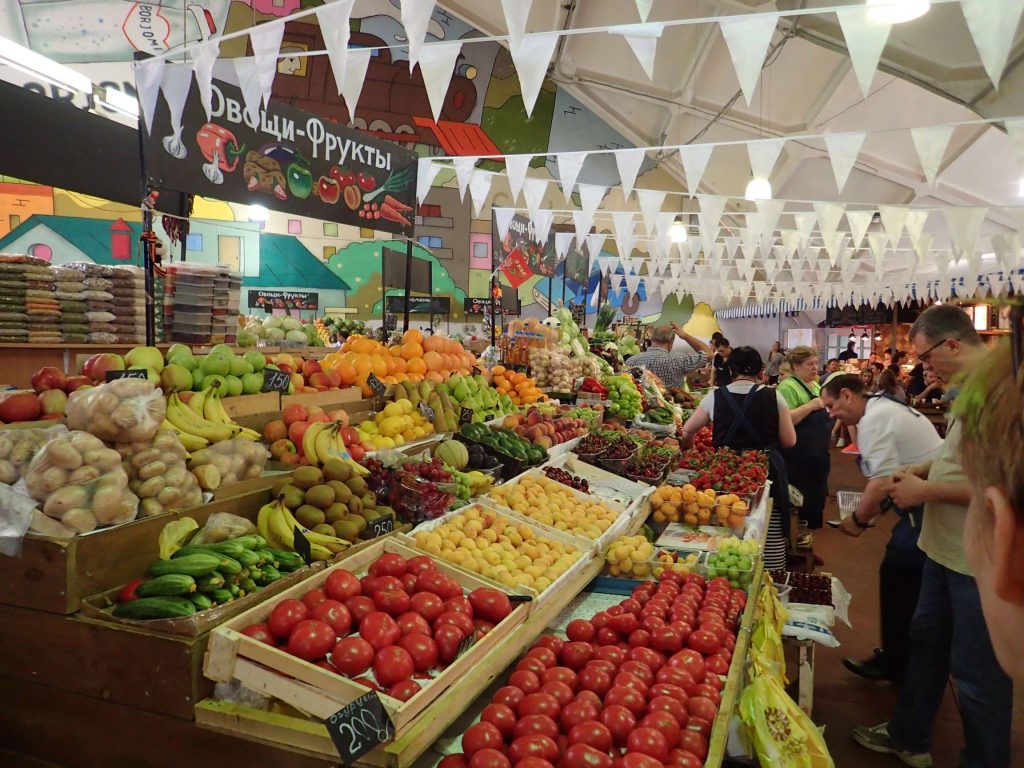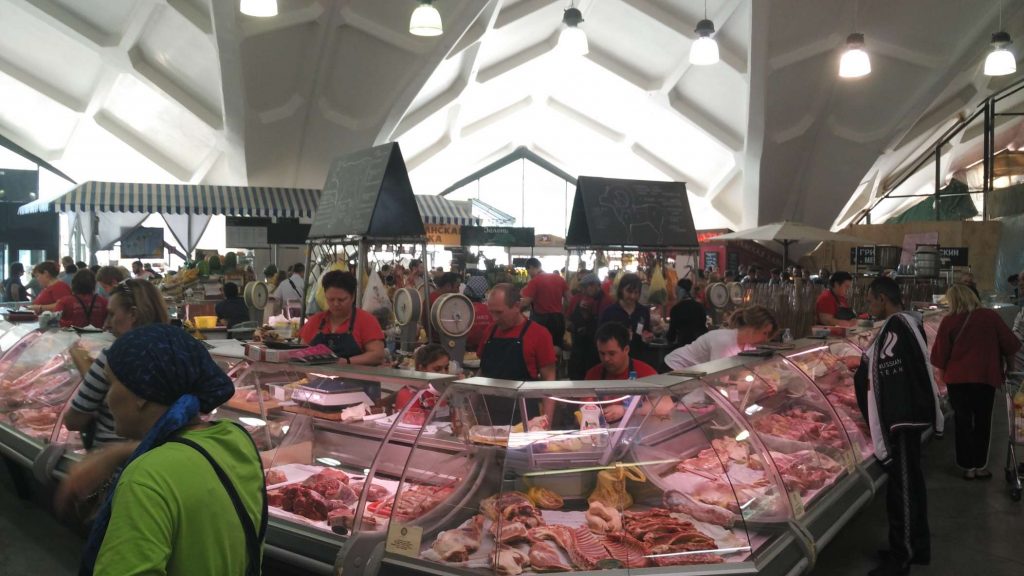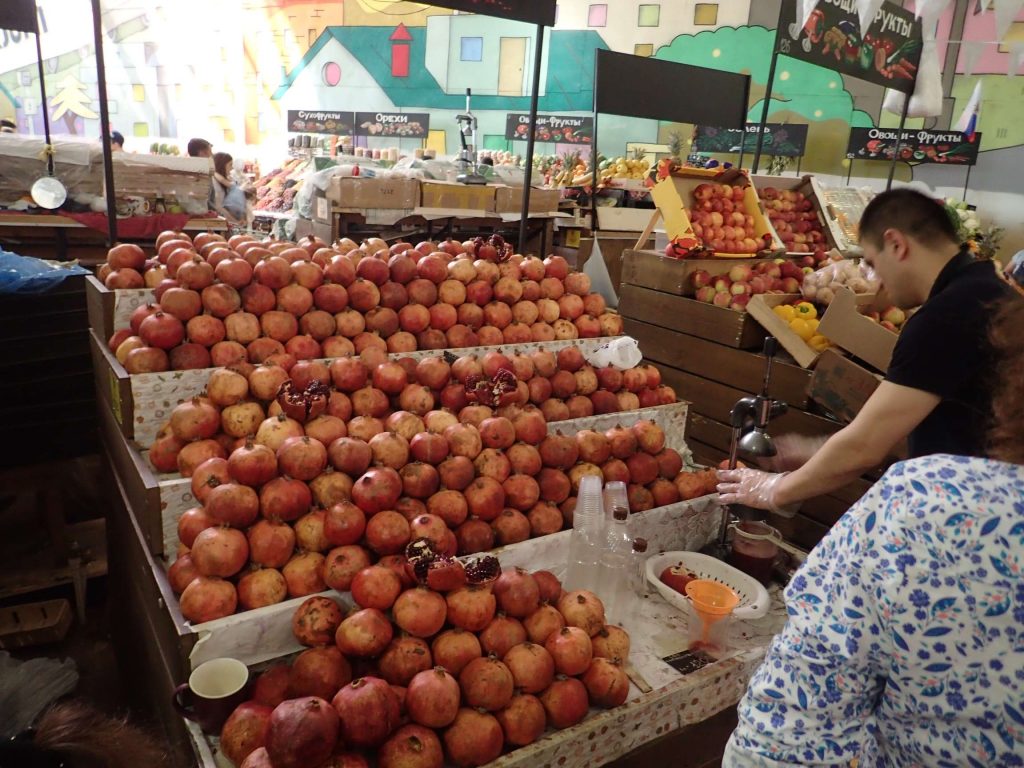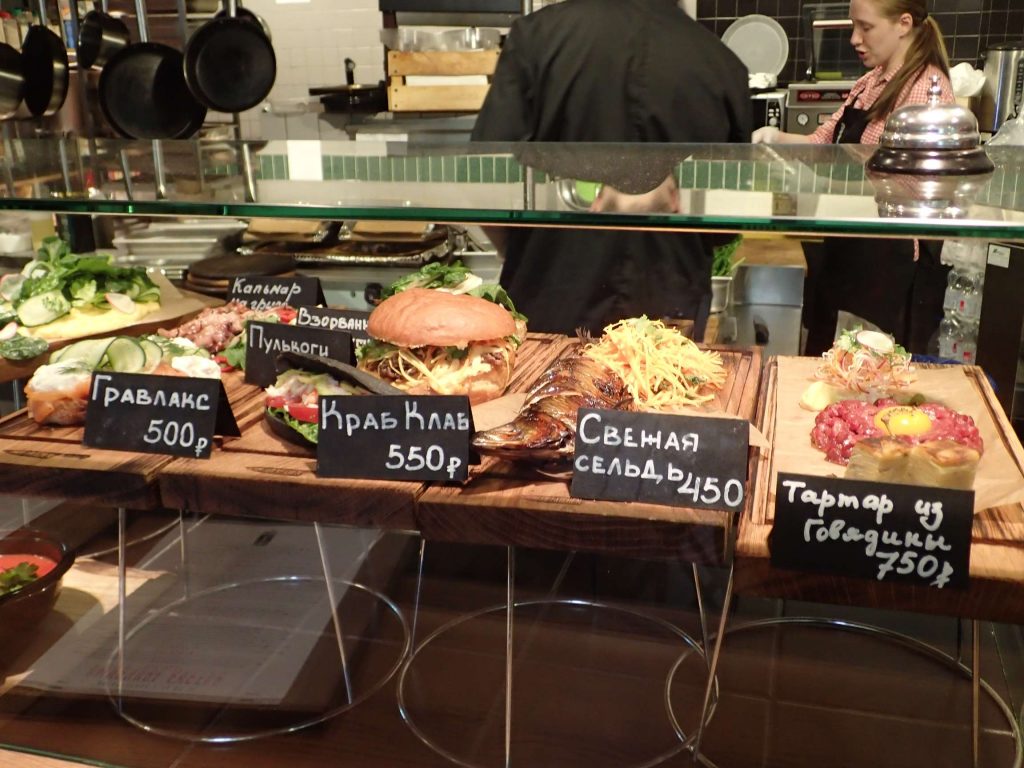 Thankfully I had skipped breakfast and so had an excuse to gorge on fantastic pies and fresh cheese-filled bread. The pies in particular were almost beyond belief, $3 AUD for a chunk of buttery pastry filled with tender chicken and sundried tomatoes, or a not-too-sweet crosshatched lemon pie. Looking back, this was the best food I ate in Moscow. If you come to Moscow, go here!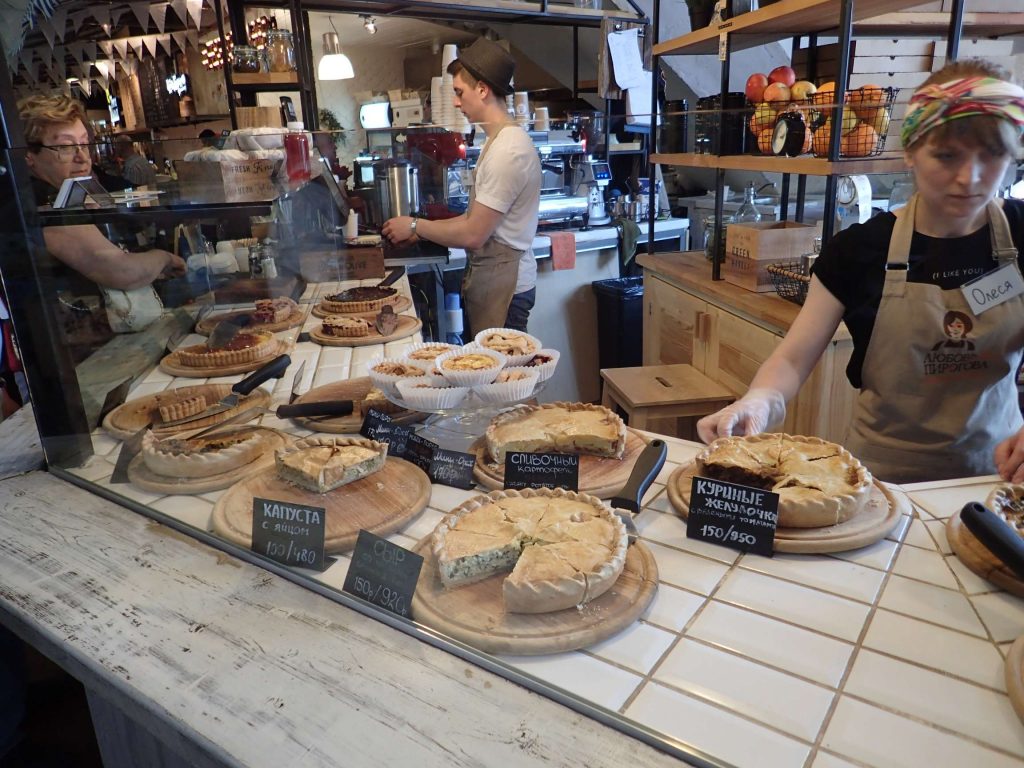 By virtue of 'connections' (otherwise known as 'my new friend's ridiculous generosity'), I got a ticket to that night's orchestra performance at the Kremlin. Her father works in the orchestra and so got a couple of free tickets.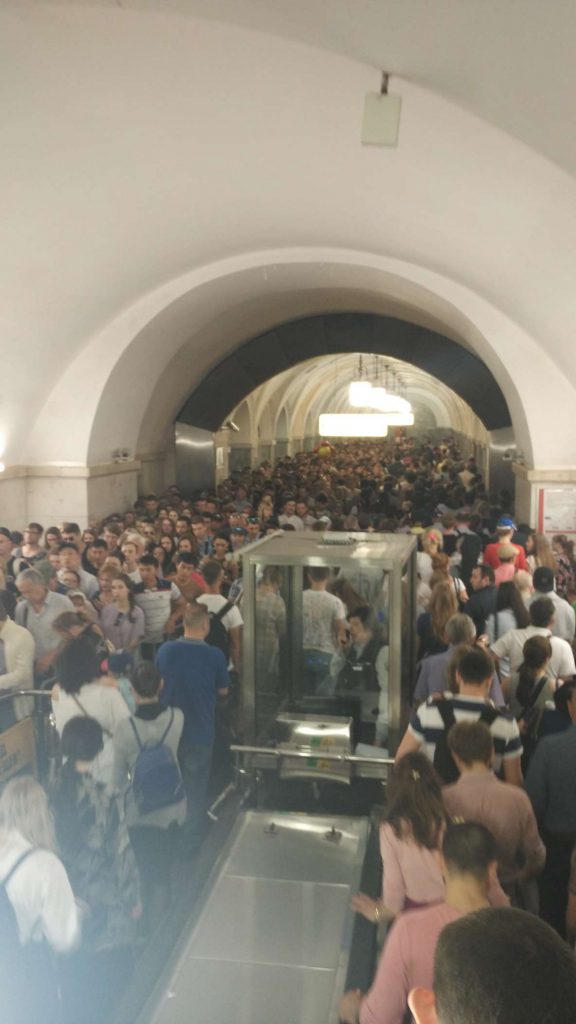 The interior of the Kremlin is basically a bunch of churches with high security and good views over Russia.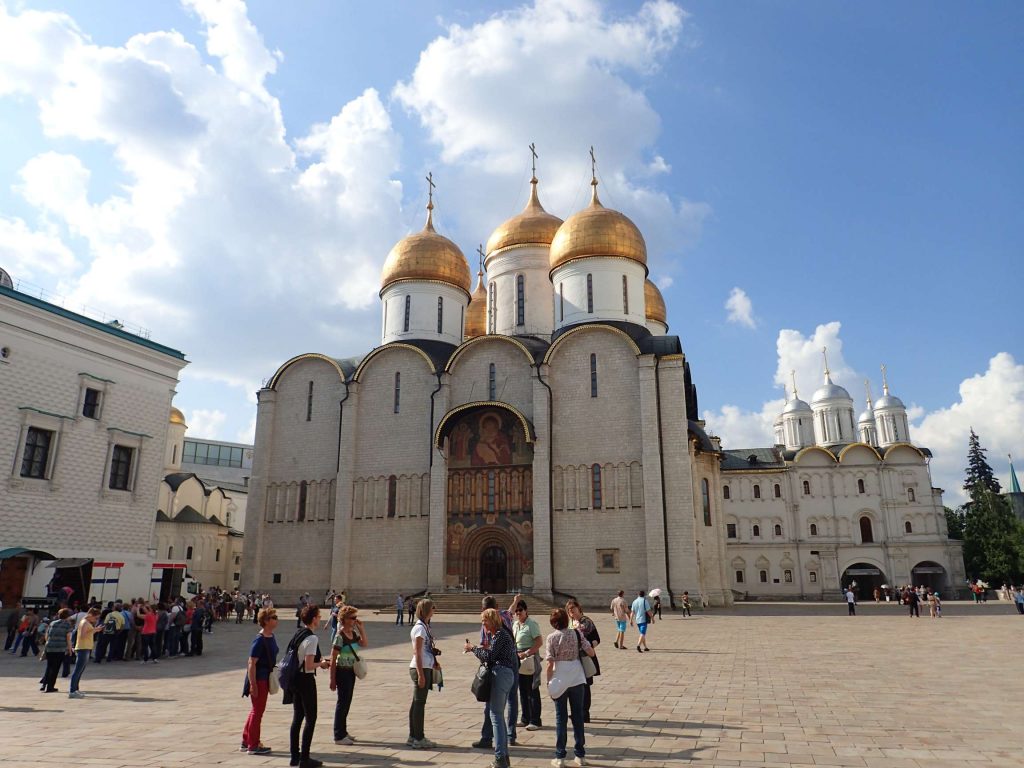 The concert was through an unassuming door with a 'staff only' sign. We walked into the entrance hall where a suited conductor was milling around, greeting people as they filed through the doors. The carpeted steps at one end of the room were flanked by bayonet-wielding, dress-uniformed soldiers – but it was when we passed through the door at the top of the stairs that my jaw dropped. The room seemed to literally glow from the sheer amount of gold everywhere: on the walls, the doors, the roof, the door handles. Russian crests and priceless paintings lined the walls while ornate chandeliers hung from the roof – with too many hammer-and-sickles to count hidden throughout all of this. I'm definitely not in Asia any more.
The pictures speak for themselves: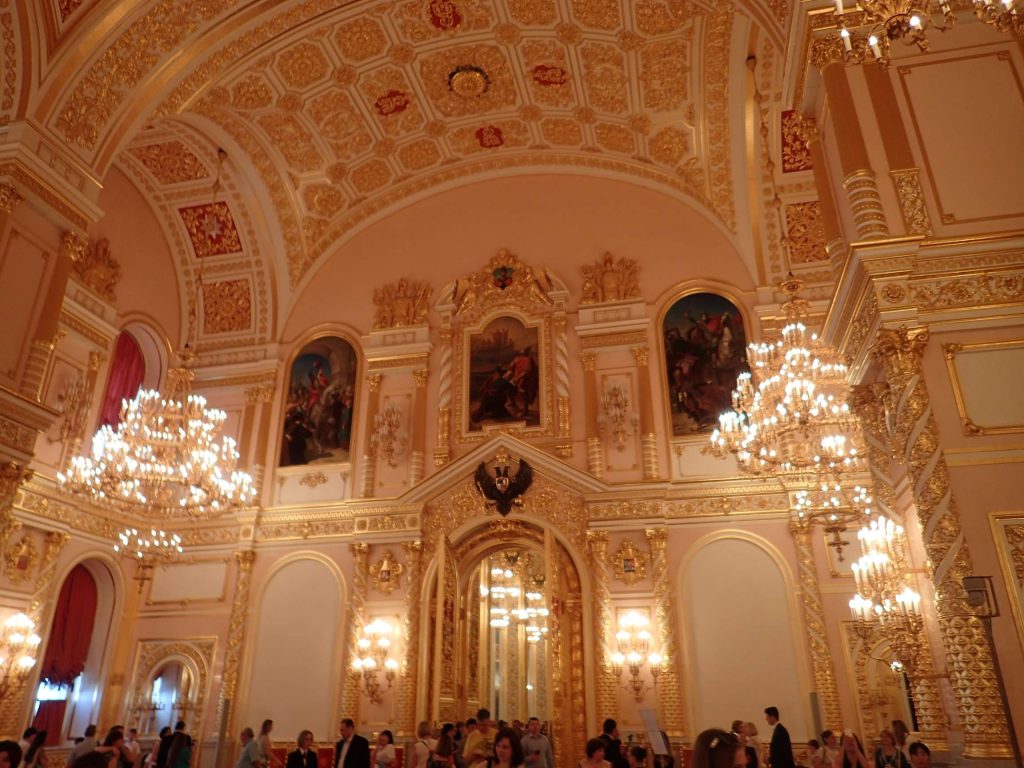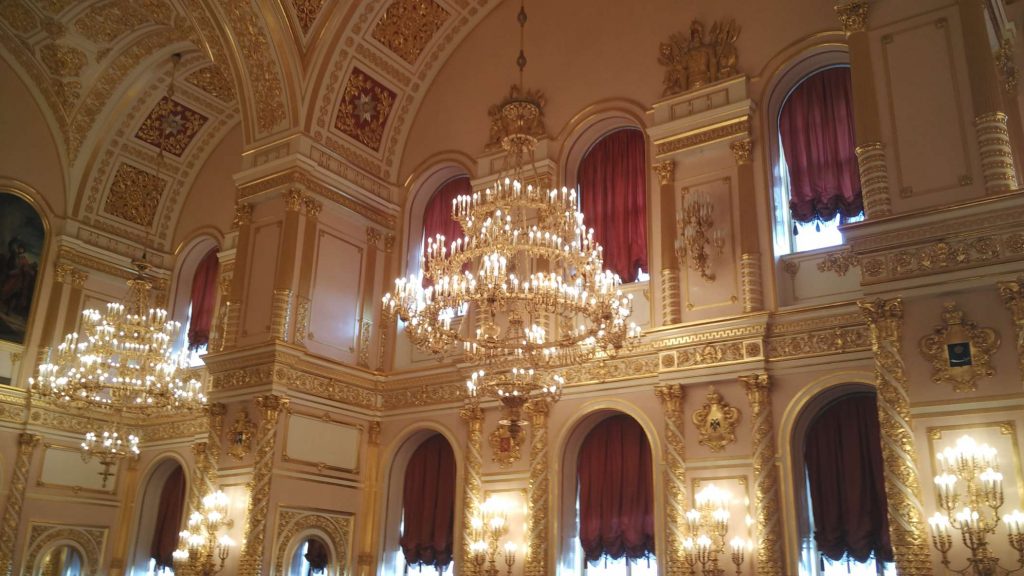 Once again, I realised I was hopelessly underdressed in my t-shirt, which had been fine for milling about the Kremlin grounds, but now I was in the company of moustachioed men wearing white suits with war medals attached, holding shining golden trumpets. Thankfully I later spotted some shorts-socks-and-sandals-wearing Russians and my shame lessened somewhat.
My friend's father, Anton, is a trumpet player in the orchestra. He proudly showed me around the various rooms, one containing portraits of every Tsar of Russia.
And explained that embossed into the door were the medals of one of the later Tsars: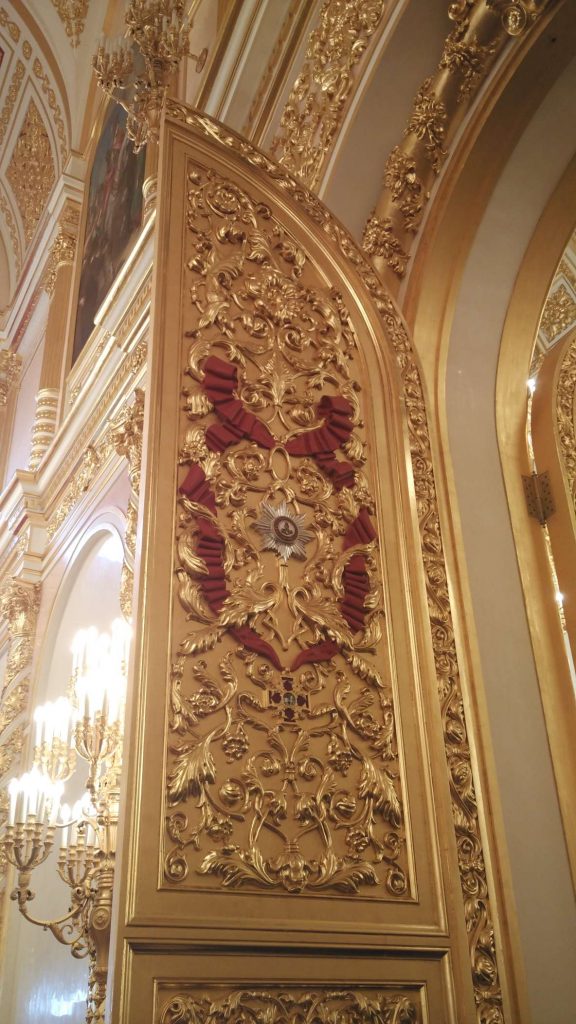 Anton also joked that this place is technically Putin's residence – he 'lives' here, though conducts most of his business from elsewhere. Unfortunately, I didn't catch the guy dashing to the toilet. The fascinating thing is that all of this wealth and grandeur was stripped down into as plain a hall as possible following the Bolshevik revolution – in keeping with Communist philosophy. It was then returned to its former glory in Yeltsin's era.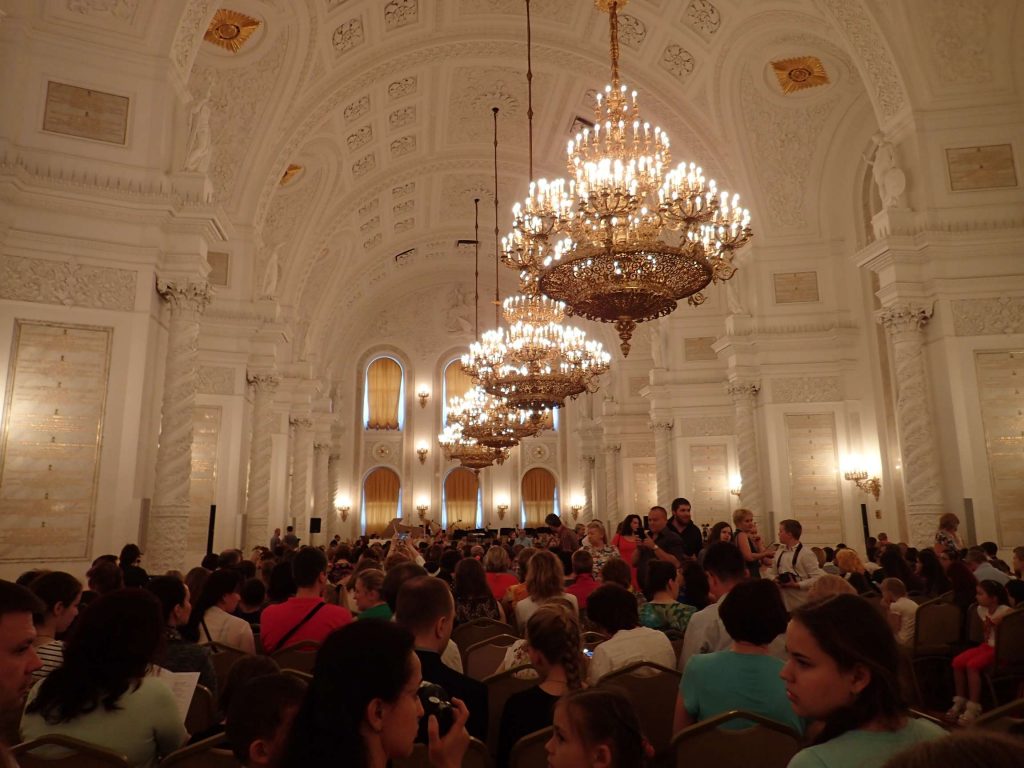 The performance turned out to be a 'Communist kids' performance – there was a full orchestra and for each performance there was a child of 10-12 – all from a different country – on a leading instrument. There was a pianist from Vietnam, a trumpeter from Belarus, a violinist from China, a harpist from Russia, all playing pieces from Mozart, Bach, Tchaikovsky. The interior of the Kremlin: another place I never thought I'd find myself in, much less watching kids far more talented than me perform orchestral pieces.
'Til next time,
– Alex
This entry was posted in
Daily
,
Russia